La Jolla Country Day captures CIF championships in boys basketball and soccer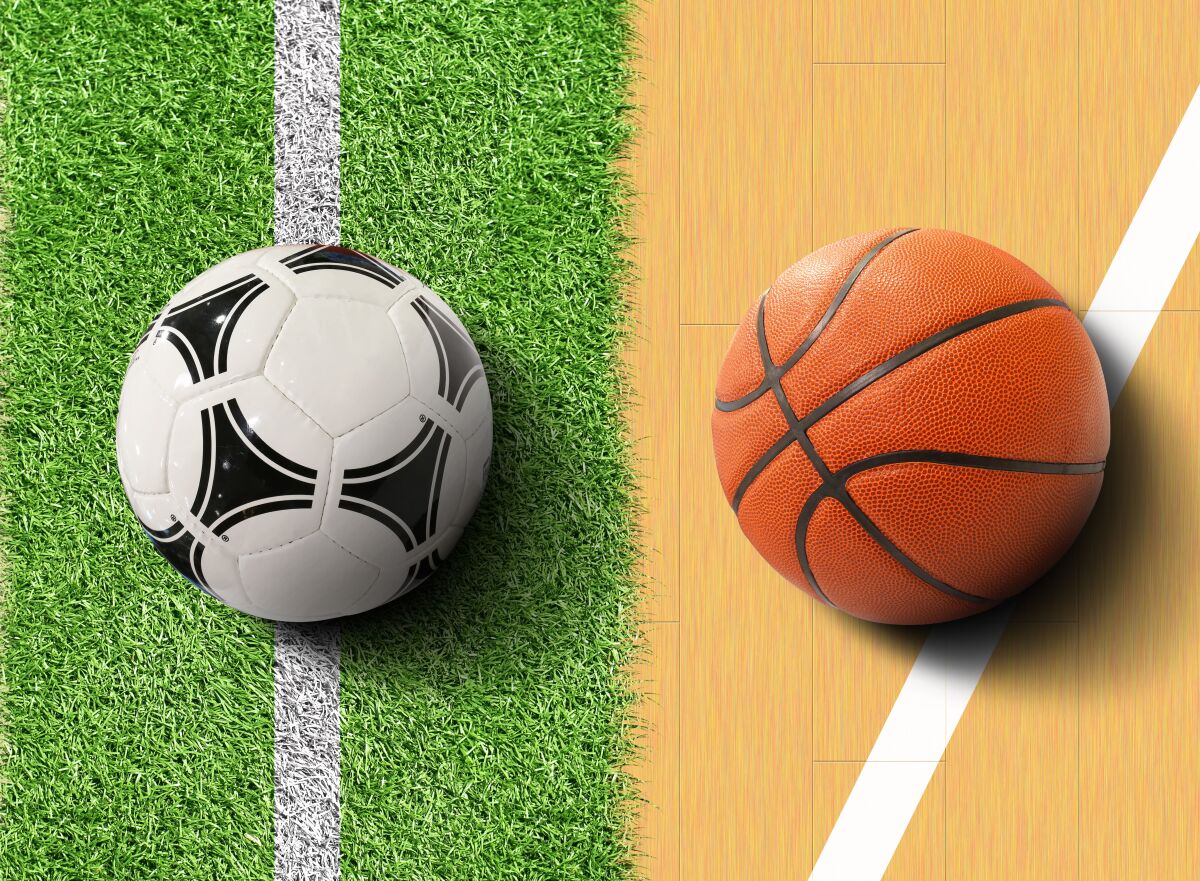 The girls basketball team will try to make it a trifecta on Saturday, Feb. 25.
La Jolla Country Day School sports had a very good day Feb. 24. The boys varsity basketball and soccer teams both won CIF San Diego Section division titles.
And the party may continue Saturday, Feb. 25, as the top-seeded girls varsity basketball team goes for a repeat of its 2022 division crown.
Boys basketball
Going into the Division I boys basketball championship game, last year's title game was still on the minds of most of the La Jolla Country Day players. The Torreys suffered a loss to Carlsbad that just wouldn't go away.
Then earlier this season, the Torreys lost an 18-point decision to Mission Bay, their top-seeded opponent in this year's title game.
But this time, No. 3 Country Day used a productive first quarter to take charge and never relented en route to a 63-56 victory over Mission Bay at St. Augustine High School in San Diego.
Get the La Jolla Light weekly in your inbox
News, features and sports about La Jolla, every Thursday for free
You may occasionally receive promotional content from the La Jolla Light.
Sophomore Ely Elegado hit five of eight free throws down the stretch to keep the Buccaneers at bay.
"We made some big shots all day," Torreys coach Mike Ricchiuti said. "We're such a different team from earlier this season since we lost to them. Early this season we blew some games in the fourth quarter."
Elegado scored 10 points in the fourth quarter, giving him 19 for the game.
Senior Anthony Aruffo opened the game with nine first-quarter points and finished with 15 points for the game.
Junior James Wei had nine points in the third quarter to finish with 13 points overall.
That trio offset the Bucs, who did not have a player score in double figures other than senior guard Angelo Gil's 32 points.
"Our defense all day was the difference," Elegado said. "We managed to slow down [Gil] just enough to keep them behind us. He missed some chances in the final quarter and we didn't."
"Over the year, we grew," Aruffo said. "Our chemistry just grew. Thinking about losing last year's finals motivated all of us in this game. We came in and wanted to throw the first punch like Carlsbad did to us."
With 6-foot-5 senior Garrett Bass-Sulpizio back in the lineup, he anchored the defense in the paint. He added seven points and five rebounds.
"With him, we had a chip on our shoulder," Elegado said.
The Torreys (23-7) had last won a section title in 2016, when they took the Division II crown. They advanced to this year's championship game after playoff victories over Patrick Henry (74-42 on Feb. 14), Mission Hills (48-44 on Feb. 17) and Del Norte (61-59 in double overtime Feb. 21).
La Jolla Country Day takes aim at championships in boys soccer and boys and girls basketball. Bishop's girls water polo team is defeated in regional semifinals.
Country Day now moves on to the CIF Southern California Regional playoffs as the top seed in Division III. The Torreys will begin play at 7 p.m. Tuesday, Feb. 28, at home against No. 16 Bonita of La Verne.
The rest of the Division III playoff schedule: quarterfinals Thursday, March 2; semifinals Saturday, March 4; regional final Tuesday, March 7; and state final Friday, March 10.
Boys soccer
The La Jolla Country Day boys soccer team lived up to its No. 1 seeding in the San Diego Section Division IV championship game, erupting for five second-half goals to shut down second-seeded Morse 5-0 at University City High School.
The Torreys finished the season with a 17-4-2 record while securing the second CIF crown in program history and the first since 2003.
The title completed the team's transformation from a year ago, when it won just three games.
"This year turned our program around," said third-year coach Corbin Prychun. "And it was all these boys who did it. They really wanted it."
"We brought in a lot of key players this season," said senior forward Colin Guckian, who led Country Day's charge in the championship game with a hat trick. "We had a pretty terrible season last year. This feels a lot better."
The Torreys cruised to the Pacific League title this season with a 9-0-1 record and then reached the Division IV final after surviving a harrowing playoff run in which they edged Mission Bay in a shootout to break a scoreless tie Feb. 18 and defeated Pacific Ridge 3-2 on Feb. 22.
Country Day now goes to the Southern California Regionals as the eighth seed in Division IV. The Torreys will open at 5 p.m. Feb. 28 at No. 1 Orange Lutheran.
The semifinals are scheduled for March 2 and the final on March 4.
Girls basketball
The top-seeded La Jolla Country Day girls basketball team will defend its title in the CIF San Diego Section Open Division championship game against No. 7 Del Norte at 2 p.m. Saturday, Feb. 25, at Cathedral Catholic High School in Carmel Valley.
Earlier in the playoffs, Country Day (28-3) defeated Scripps Ranch 81-32 on Feb. 18 and Mission Hills 73-47 on Feb. 22.
— La Jolla Light staff contributed to this report. ◆
Get the La Jolla Light weekly in your inbox
News, features and sports about La Jolla, every Thursday for free
You may occasionally receive promotional content from the La Jolla Light.