Injury can't keep La Jolla tennis player from Pac Coast Doubles finals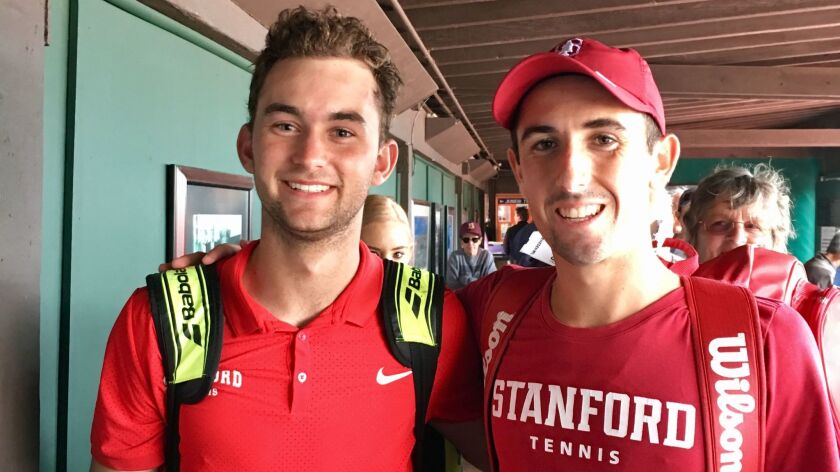 When La Jolla native (and Stanford University sophomore) Jack Barber was a toddler, he played tennis at the La Jolla Beach & Tennis Club with his mother Carolyn. Fast forward nearly 20 years to the recent Pacific Coast Men's Doubles Tournament, where Barber made it all the way to the finals on the very court on which he learned the game.
"It was one of the most fun experiences I've had on a tennis court," he said of competing in the March 2-5 tournament. "I've competed all over the world, but growing up playing at the Beach & Tennis Club and returning there, plus having my whole family and friends there to watch me compete, made things lighthearted and memorable."
Carolyn said that though she played junior varsity tennis at Princeton, league tennis and some tournaments, nothing compared to when she would get to play with her son. "Jack and I played in mother-son nationals together, which are my favorite! My strategy was to duck up by the net and let Jack hit all the balls!"
At the Pacific Coast Men's Doubles Tournament, Barber, 20, and his tennis partner, William Genesen, fell just short of the title, but the experience was still rewarding for Barber — especially considering the obstacles he had to overcome to reach this point.
In the two years leading up to the tourney, Barber had two wrist surgeries. He was in surgery, rehab and recovery for 22 months. "Two bones came together in my wrist and I had to get them shaved down," he explained. "I went to a surgeon who was supposed to be the best. Afterward, I re-habed at Stanford for six months, plus recovery time, but it turned out the doctor messed up, and I had to get another surgery. That second one took a year to heal, which was a long time for me not to be able to compete."
But when he got back on the court, Barber took on a player ranked No. 10 in the country — and won. With the Stanford team, he made the rounds in national tournaments, including the Pacific Coast Doubles with Genesen.
"We never practiced together, let alone competed together, and William is a freshman, so this was one of his first tournaments," Barber said. "We learned to play with each other at each match. We gelled, and got better and better throughout the tournament."
That spirit of cooperation extends to the whole team. "I love my team," Barber said. "I can't imagine any team in the country that has better camaraderie than we do. My freshman year, there were 13 people on the team, now we have nine players. We're closer because we're a smaller team. It's easy to get along with everyone and it's a great mix. We're lighthearted, but serious in competition."
The team has since hit the road for more collegiate tournaments. "Getting back into competition mode is crucial so the (Pacific Coast Doubles Tournament) was a big step forward for me. Now, I just want to get the W with my team," Barber said.
---
Get the La Jolla Light weekly in your inbox
News, features and sports about La Jolla, every Thursday for free
You may occasionally receive promotional content from the La Jolla Light.