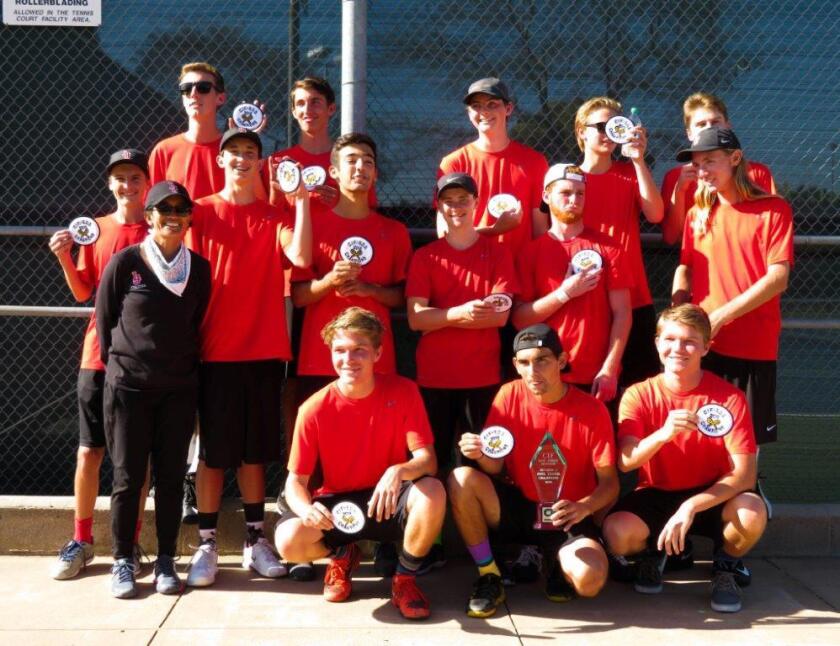 Most of the teams participating in spring sports at La Jolla High School made it to higher levels of play — some got knocked out in the early rounds, others won it all! Here's a look at the teams that brought home the CIF trophy, the ones that battled to the bitter end, those whose winning track records will make for promising CIF play, and where you can catch the final action.
Boys Tennis
Starting strong, the Vikings boys tennis team won the CIF championship in Division 1 on May 7, defeating Coronado. Coach Darice Carnaje said the two teams were split throughout the season, and the CIF championship could have gone either way.
Of her Vikings she said: "They really wanted it, and they went for it. They came out strong and kept with it."
Boosting the team mentality was the return of two players who suffered injuries earlier in the season who were "hungry" to participate in the play-offs.
"We've had our struggles this season, but the boys have been able to win matches without everyone on the team," Carnaje said. "They are a well-rounded group; talent wise, they have really good chemistry. Everyone can play with everyone and do their part for the team win. They were a fun group to coach. They really stepped up. We won eight of the nine sets in doubles and four of nine in singles, which is tough."
Doubles pairs that stood out include Carson Kellogg and Matthew Moses, and Sam Rudenberg and Alex Dobak.
Singles players that Carnaje noted included: Ryan Phillips, Alec Manriquez and Alec Strumlauf.
Girls Lacrosse
Under the direction of coach Kitty Cullen, the girls lacrosse team won the 2018 Western League Title in April before getting knocked out of the CIF semifinals round May 9, when they lost to La Costa Canyon, 15-6.
Nevertheless, Cullen said she is proud of her team: "We're super bummed to have lost, but we fought hard. We played awesome in the quarterfinals but couldn't get it together for the semifinals."
Reflecting on the team and the season, she added: "We had seven seniors on the team, six of whom were varsity players since their freshman year. We watched them grow up in this program; they've built the lacrosse program and put LJHS back on the map!"
These players include Maggie Garvey, Sadie Lee, Nora Joyce, Josie Ballard, Julia Tomasula, Hannah Austgen and Yassi Meseri.
"We're going to miss them," Cullen said. "They were great players on the field and leaders off the field. But we have great underclassmen on this team, we have strong sophomores and juniors. They're going to step up and fill those roles next season."
Boys Lacrosse
Because the La Jolla High School boys lacrosse team was seeded No. 1 going into CIF, the team had a bye week and did not have to play in the first round. But in the quarterfinals May 11, the Vikings were victorious, 14-4.
Coach Kyle Smedley said the team is predominately made up of juniors — the same juniors who won CIF as freshman two years ago and last year as sophomores.
"They aren't cocky about it, but they aren't used to losing," he said. "We don't rely on one player, everyone has their strengths. We preach family and brotherhood of sports ... that translates to playoffs quite well and we're trying to get things dialed in right now. They don't hang their hat on the past, they're proud of it, but they don't walk around thinking they'll show up and win. With that mentality, we've had a good season so far."
Boys Volleyball
Entering the CIF tournament with a 33-4 record, the Vikings boys volleyball CIF Open Division run started the first week of May. Coached by Dave Jones, the first round was May 8 and the team defeated Francis Parker School, 3-0; and two days later, they defeated Sage Creek High School, 3-1. The series continues May 15 (beyond La Jolla Light deadline), May 17 if needed and the championship is May 19.
"We have been ranked No. 1 all year long and I believe we are deserving of that ranking, but that does not guarantee a championship," Jones said. "We take care of business when we need to, a lot rides on us being prepared. If we do the things we are capable of, we'll be fine."
Noting three seniors in particular who were recruited to NCAA Division 1 schools, he commended Luke Lentin, Berkeley Miesfeld and Gabe Vargas. Jones also said junior Nathaniel Gates will be an "absolute asset" next season.
Boys and Girls Track
The La Jolla High School boys and girls track teams had success, with the girls team winning the Eastern League team Champions. According to school reports, the following individual athletes move on to CIF: Max Ippolito, 800 meters; Evan Brown, Triple Jump; Jackson Scherrer, Pole Vault; Maddie Fike, 100 meters and 200 meters; Sierra Roberson, 800 meters; Sydney Pastore, Pole Vault. The two follow 4 x 100 relay teams will also advance: Petra Eaton, Roberson, Lilly Grunski, and Fike; Zoe Guidry, Hannah Kinsey, Eaton and Roberson.
Boys and Girls Swimming
Note: The 2018 San Diego City Championship Swim Meet, held at La Jolla's Coggan Pool, brought teams together from across San Diego, May 1-4. Races included medley relays, freestyles, butterfly strokes, back strokes, breast strokes and more. However, the Light was unable to connect with coaches to learn how the Vikings fared.
Upcoming Games
Boys Lacrosse: Semifinals 7 p.m. Tuesday, May 15 vs Carlsbad High at La Jolla High, 750 Nautilus St. Should they win, Championships are 5 p.m. Saturday, May 19 against an opponent at a location to be determined.
Boys Volleyball: The next round of CIF play is 7 p.m. Tuesday, May 15 at La Jolla High, 750 Nautilus St. vs Sage Creek High. Because the boys play in a double elimination format and need to lose twice to be knocked out, should they lose, they play 7 p.m. May 17 at a location to be determined; should they win, the Championships are 6 p.m. Saturday, May 19 at St. Augustine High, 3266 Nutmeg St., Altadena, San Diego.
Boys and Girls Track: The individual athletes participating in CIF take to the track for the preliminary meet May 19 at Mt. Carmel High School, 9550 Carmel Mountain Road. Girls 9 a.m., boys 2 p.m. The finals are 10 a.m. Saturday, May 26 also at Mt. Carmel High.
Baseball: La Jolla High continues its run in the Eastern League championships, 3:30 p.m. May 16 at Muirlands Middle School, 1056 Nautilus St.
Softball: The girls entered the CIF Division III championships May 15 (beyond La Jolla Light deadline) against La Jolla Country Day in the play-in game, 9490 Genesee Ave. If they win, the CIF first round is 3:30 p.m. Thursday, May 17 at a location to be announced. After a series of rounds in between, the Championships are 2 p.m. Saturday, May 26 at UC San Diego, 9500 Gilman Drive.
---