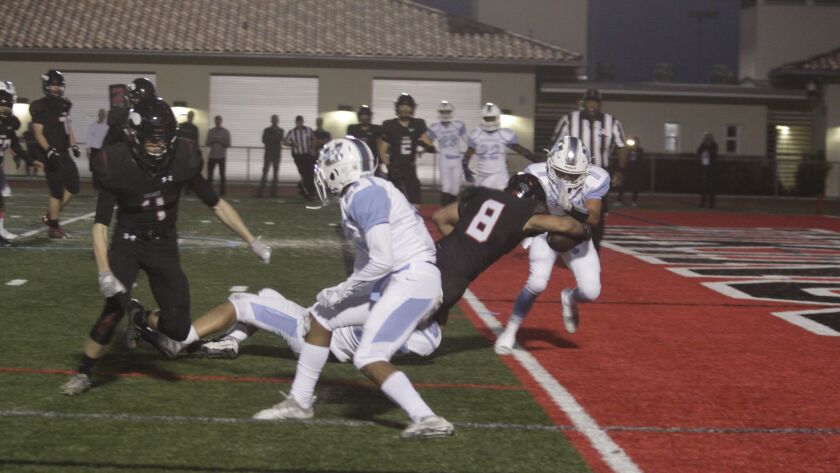 As the La Jolla High School Viking football team took the field for its Homecoming game Oct. 12, they must have been motivated by the cheers from the excited crowd and a teammate who distinctly called out from the sidelines "Set the tone! Set the tone!" Because that's exactly what they did.
Although the game was subject to an extensive rain delay in the second half, the damage was done in the first half that led to a Vikings victory over the University City Centurions, 17-0.
After some well-executed plays by seniors Noah Marquez (No. 1) and Gabe Solis (No. 2), the Vikings scored its first touchdown half way into the first quarter and successfully executed the extra point kick to take the lead early, 7-0.
Less than three minutes later, sophomore Max Smith (No. 8) pushed through the Centurion defense for another touchdown, reaching the ball into the end-zone to boost the score 14-0 Vikings. The only glimmer of hope for University City came in the last few minutes of the first quarter, when the Centurions were able to get the ball, down by down, to within two yards of their end-zone.
However, the Vikings intercepted a last-minute fumble and took possession with just a minute and a half left in the first quarter. Making their way down the field, but without scoring, the first quarter ended 14-0. In similar explosive fashion, the second quarter started with a Centurion throw aimed at the UC end-zone that was intercepted by a Viking a few feet away from the goal. With extensive yardage to cover, the Vikings started their journey up the field. But at 7:07 p.m., with 8 minutes and 50 seconds left in the second quarter, the first sprinkles of rain started to fall.
Nevertheless, the Vikings successfully completed a field goal to bring the score to 17-0.
As the second quarter drew to a close and the Homecoming parade was getting ready to start, occasional glimpses of lightning in the distance got as much attention as the action on the field.
At the half, the Vikings held its lead 17-0.
Celebrating the students that will one day attend La Jolla High School, a "Future Vikings" parade kicked off the halftime festivities. Rolling around the field in specialty golf carts, La Jolla Elementary School principal Donna Tripi and Muirlands Middle School principal Geof Martin served as co-grand marshals.
As the Homecoming halftime concluded and the Vikings made their way back onto the field for the third quarter, the steadily increasing rain forced a delay. The game resumed after an hour but neither team scored in the third or fourth quarters, so the Vikings kept its 17-0 lead to the end.
The next — and last — Viking home game is 6:30 p.m. Friday, Oct. 26 at 750 Nautilus St.
---