Sticks and Stamina: La Jolla athletes will play in youth lacrosse World Series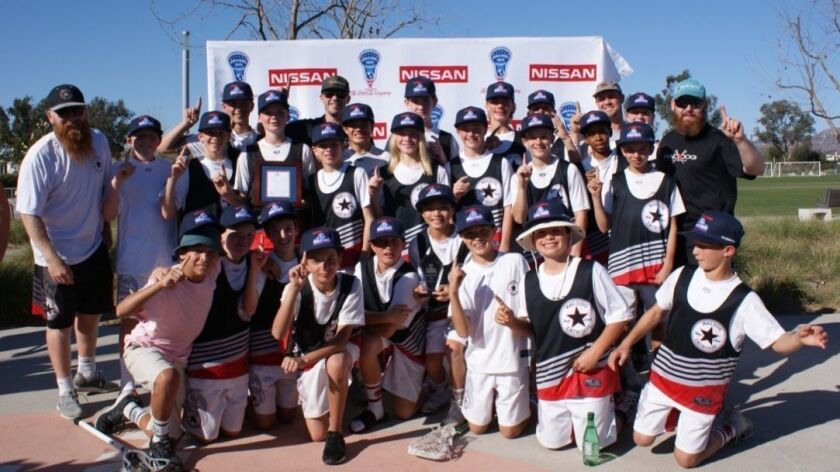 Two La Jolla athletes will make their way to Denver, Colorado in July to participate in the World Series of Youth Lacrosse, as part of the Mad Dog West team.
Brooks Rodger, 12, of All Hallows Academy, and Dane Jorgensen, 12, of Muirlands Middle School, are part of the select Southern California-based team with players from San Diego to Los Angeles.
At the World Series, the top teams from around the world — in different regions of the United States, Canada, Israel and more — will play a minimum of six games, July 1-4, culminating in the championship game that will be played at Sports Authority Field at Mile High on Wednesday, July 4 and broadcast live on ESPN2.
Lacrosse, described as a combination of field hockey, basketball and soccer, uses a long-handled stick with a triangular net on the end known as a crosse to pass a ball from player to player and ultimately into a net. Players must be skilled in scooping, passing, catching, cradling and shooting, as well as checking and dodging.
Coach Tommy Duerr called the two La Jolla Mad Dog players "very athletic all around" and "both great kids that play hard."
He said Brooks is a midfielder and "could run for days and is very coachable. He's a fundamental player with a phenomenal attitude."
Dane, he continued, is a defenseman. "He's a big bull out there. He's a teddy bear off the field, but very physical on the field and a fundamental defender."
The Mad Dog West team is seeded No. 4 in the world.
"We're ranked higher and considered one of the top teams, so if we don't show up, we could get knocked out. … But this year, this is one of the better teams we have in the Series," Duerr said.
To acclimate and prepare for the World Series, the team will travel to Colorado for a week in June ahead of the July tournament.
And the two La Jolla athletes could not be more excited.
"It's so awesome. I've been trying not to think about it so it comes sooner, but it's not working!" said Brooks. "To make it to the World Series is an honor."
As for the prospect of making it to the final round and having their game broadcast on ESPN2, he added, "There is nothing a kid could dream of more than to play a sport on a channel you grew up watching with your dad."
Dane added that he looks forward to solidifying the West Coast's place in a predominantly East Coast sport. "We're the best of the best. I'm really proud of the team and myself, we're the only team from California and it's a really big deal considering how many clubs there are. We're representing the West Coast in the World Series," he said.
"Lacrosse started on the East Coast, so we need to show them what we're about on the West Coast. While sports like soccer are huge over here, over there, everyone has a lacrosse stick from the time they are in preschool. The sport has only recently come to the West Coast and is getting bigger."
Both athletes say they have been playing lacrosse since they were children.
Brooks was introduced to the sport as a Bird Rock Elementary student, and was hooked from the onset. "I used to play soccer and it was starting to wear out for me. Lacrosse is more fast-paced than soccer, and you get multiple possessions in a game. Now I have a passion for the sport, and love that it's so high pace."
Similarly, Dane said a family friend gave him a crosse when he was a child, and has been playing on teams since he was 6 years old.
"I feel like when you play lacrosse, everyone relies on each other. We all need to play as one for things to work out successfully, if someone tries to take all the glory, it doesn't work. When we work together, it has its own glory," Dane said. "You play more as a team than other sports. The community in lacrosse is stronger than anything else."
Brooks agrees, "Your team is a family, we're all fast and get along really well. We don't have set plays, we usually work it around and dodge as best we can. If you have set plays, the defense will start to figure it out and be able to predict what you'll do. Whereas if you have calls and formations like we do, it's easier to work.
"When we play in the World Series, they won't know what we throw at them. They won't know what hit them!"
---
Get the La Jolla Light weekly in your inbox
News, features and sports about La Jolla, every Thursday.
You may occasionally receive promotional content from the La Jolla Light.