La Jolla star student-athlete: Bishop's School's Destiny Littleton selected for All-American Game; More than 800 vetted for national team
The Bishop's School hoop-star Destiny Littleton has been selected from a national pool as one of 24 girls to compete in the 40th annual McDonald's All American Game, which will be held and televised on ESPNU (check local listings for the channel) on March 29, when Destiny will compete against "some of the greatest talent" in America.
At a special ceremony at The Bishop's School Feb. 9, Destiny was recognized by McDonald's and School officials, and given an honorary jersey to commemorate her selection to the All American Games. Hosted in the big gym, the stands were packed with supporters and classmates to celebrate her achievement.
"I just want to thank my classmates, teachers, coaches, friends and family for the love and support. This means a lot to me to be one of the 24 selected for this team. It's a dream come true," Destiny briefly said.
"Every year, 24 boys and 24 girls are selected from a nominee group of more than 800, and are selected to play in the Games. These are the most talented student athletes in the country and they are going to compete on the grand stage, at the United Center in Chicago," said Hometown Heroes (the organization coordinating the recognition ceremonies) program rep Ryan McKay.
"Since 1978, the McDonald's All American Games have hosted some of the highest talent across the nation — including the likes of Magic Johnson, Kevin Durant, LeBron James and Michael Jordan. And now, your own Destiny Littleton."
Since 2013, Destiny has consistently been an asset for The Bishop's Knights. She has been named Max Prep's Player of the Game a whopping 70 times, Player of the Year for the 2015-2016 season and Player of the Week three times in the last four years.
Her coach, Marlon Wells added, "I don't think everyone realizes or understands the records this kid has broken. She is the all-time leading scorer in the history of California, and the first one in California — boy or girl — to go over 4,000 career points. That didn't happen easily. There were a lot of late nights in this very gym, a lot of sweat and hard work. (We are so proud that) Destiny is about to join the ranks of the one of the most elite basketball players in the United States."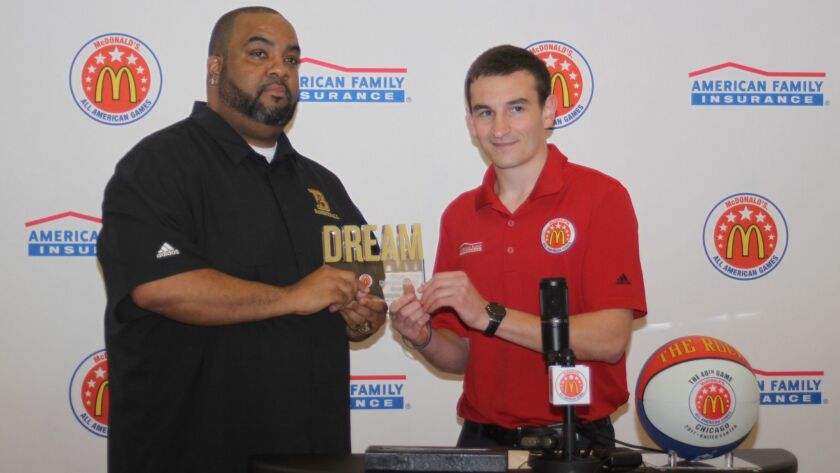 Anecdotally, he said, Destiny used to watch the 2000 film "Love and Basketball," starring Omar Epps and Sanaa Lathan, all the time. "It's about girl who plays high school ball and fulfilled her dream of going to USC and making it to the WNBA, and she lives happily ever after," he said. "That's where Destiny is headed. We should be proud of this girl." Destiny, a 5-foot-9 senior, will attend USC this fall.
Bishop's School athletic director Joel Allen said, "On behalf of the school, teachers, athletic department, we want to thank Destiny for taking us on this ride. It has been four years of coming to basketball games and being proud of what's on the court, and proud of what you and the team have put in. As a school, you have allowed us to be part of the journey. We love you and we thank you. We know the best is yet to come."
According to press material, each All American has been recognized in their community to showcase the mutual support impact.
"Earning that distinction can be an unparalleled source of joy for not only the player, but also for the friends, family and community that have loved, supported and mentored them every step of the way," it reads.
"The feeling of representing those who have guided each All American will help support these players in their future aspirations, while those in their hometown — young and old — will beam with the pride that, 'they're one of ours.' "
---
Get the La Jolla Light weekly in your inbox
News, features and sports about La Jolla, every Thursday for free
You may occasionally receive promotional content from the La Jolla Light.