Knights Triumph Over Torreys 66-6: La Jolla's Bishop's School football team heads to CIF after Bish Bowl win
There was just no stopping The Bishop's School Knights during the "Bish Bowl" game against the La Jolla Country Day School Torreys, Nov. 3. The Knights walked away victorious, 66-6, and heading straight to CIF. The Bishop's School's version of a homecoming game, the Bish Bowl was played at Gene Edwards Stadium at La Jolla High and featured a costumed "mascot race" at half-time, with a runner representing each class.
Bishop's football coach Joel Allen called the victory the "ultimate team win," adding "We scored in all three phases of the game — offense, defense and special teams — with many different players making big plays."
The game belonged to Bishop's from the start, when a Torrey offside kick opened the match on the Bishop's 37-yard line, giving the Knights an early advantage. The Torreys did their best to block the Knight's incremental movement toward the end zone, at one point stopping them within a few feet of the goal line. But banding together, the Knights literally pushed through into the end zone for the first of many touchdowns.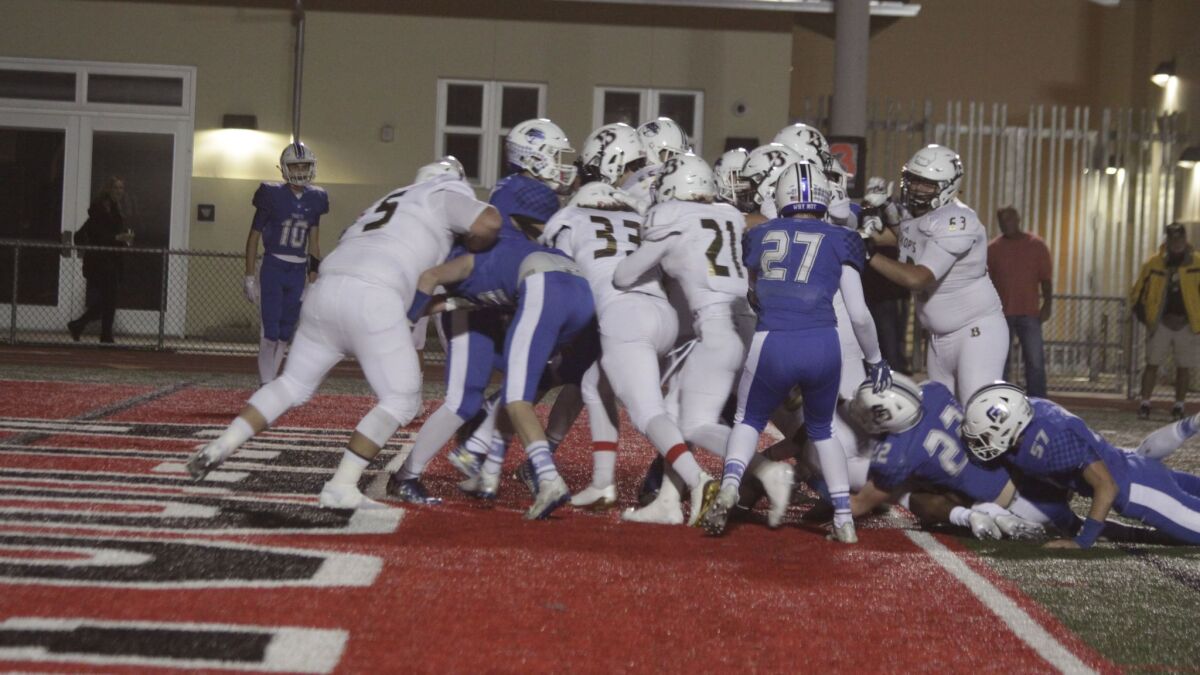 Despite a tough Torrey defensive line, Bishop's was just as relentless when it was their turn to defend, preventing the Torreys from gaining any real yardage during their first offensive run. Again within 40 yards of the end zone, the Knights resumed offensive positioning and freshman quarterback Tyler Buchner barreled the ball into the end zone, where a Knight was waiting to make the catch.
This first four minutes (at which point the Bishop's was ahead 14-0) set the tone for the rest of the game. While the Torreys adjusted their strategy to focus more on long passes — which did yield more first downs — that also lead to several footballs being thrown out of bounds, incomplete passes and Torreys being knocked down.
Bishop's athletes also took great advantage of opportunities presented, including an interception and long run into the end zone and, surprisingly, Buchner running the ball several yards to pave the way for additional TDs.
From here, the Bishop's Knight proceed to CIF championships. They will play an unknown opponent at a location to be determined on Nov. 17.
---
Get the La Jolla Light weekly in your inbox
News, features and sports about La Jolla, every Thursday for free
You may occasionally receive promotional content from the La Jolla Light.