La Jolla sends three teams to CIF: Bishop's girl's water polo, basketball teams and La Jolla High girl's water polo team enter playoffs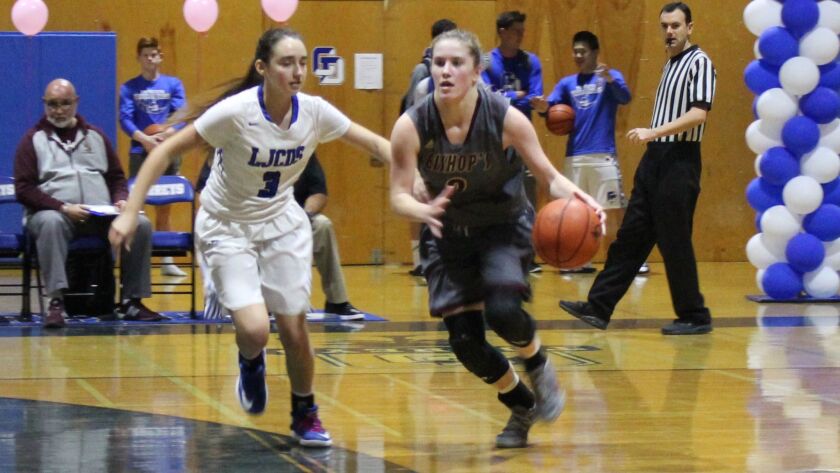 La Jolla High School and The Bishop's School girl's water polo team each will compete in the CIF San Diego Open Division playoffs this week, after clearing the quarterfinals on Feb. 18.
The La Jolla High School Vikings defeated Westview High School from Mira Mesa 15-5 and the Bishop's School Knights defeated El Camino High School from Oceanside 17-2, to advance to the semifinals on Feb. 22 at La Jolla High School's athletic complex at 750 Nautilus St. (Bishop's plays at 5:45 p.m. and La Jolla plays immediately after.)
In the semis, the Knights will challenge Cathedral Catholic High School and the Vikings will take on Carlsbad High School. Bishop's enters the match with a 20-4 overall win-loss record, while the Cathedral Catholic Dons have had an 18-13 season.
Bishop's water polo coach Doug Peabody said the quarterfinal match was "a strong game for us" largely due to great defense, which they will take to the next round. He explained, "We're going to rely on solid defense, good passing and strong offense. We have five seniors, and all five are coming to the end of the career, and they are playing knowing these could be their last games. So we're looking for strong senior leadership going forward." Those five seniors are Cassidy Ball, Robyn Carter, Georgia Gilmore, Lily Keck and Kayleigh Schultz.
The Vikings enter the competition 25-3 overall while the Carlsbad Lancers come in with a 21-4 record.
The last time these two teams squared off, Carlsbad defeated La Jolla 10-4, and Viking's coach Amy Jennings said the loss is motivated the team to play that much smarter. "We need to find our confidence again and not be scared. Carlsbad beat us by a lot last time, but we aren't going to let them get in our heads. Just because they did it once, doesn't mean they will do it again," she said. "We want to stick to our game plan and do what we do best. Our shooting is good and we're a quick team. We just have to be smart."
In addition to the team's "standout" seniors, such as Karli Canale and Ciara Franke, Jennings said she would rely on select underclassmen as a secret weapon. "Everyone knows to target Karli and Ciara, but we have some sophomores and a junior that I expect will play the game of their lives if they have the opportunity. We had a game (in which certain seniors couldn't play due to injury) where we relied on them and we won. In the playoffs, I know they can put the ball in the back of the net, but they are going to have to make some quick decisions, which I know they can because they are smart, they know the game and have been training for this."
Should both La Jolla teams come out on top, the CIF championship game is Saturday, Feb. 25. Regardless of its competitors, the finals will be played at Coggan Pool on the La Jolla High School campus.
This will not be the first go-around for either team at CIF. In February 2016, it was hometown showdown when Bishops and La Jolla High School battled through the ranks to eventually make it to — and square off in — the CIF championship round. In tight, back-and-forth match, Bishop's ultimately claimed a 5-4 victory.
In other sports news:
Bishop's basketball enters CIF: The CIF-playoff bound Bishop's School girls basketball team took on La Jolla Country Day School Feb. 16 in a cross-town rivalry. And the Country Day School Torreys (16-10) defeated the Bishop's Knights (27-2) in a narrow victory, 44-42. However, based on their success this season, the Knights will proceed to CIF San Diego Open Division playoffs starting Saturday, Feb. 25. The Knights will take on La Costa Canyon from Carlsbad at home, 7607 La Jolla Blvd., 7 p.m. tip-off.
---
Get the La Jolla Light weekly in your inbox
News, features and sports about La Jolla, every Thursday for free
You may occasionally receive promotional content from the La Jolla Light.