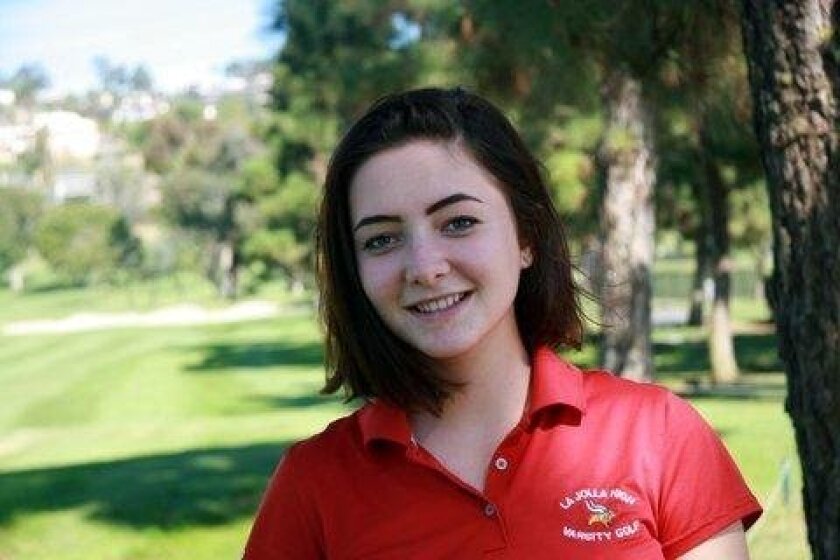 When La Jolla High School senior Rebecca Ryan first took to the golf course at age 11 with her father, she didn't expect the sport to become a passion. Now 17 years old and considered among the best golfers on the Vikings girls golf team, she credits the sport with providing her with a guide for how to approach other life challenges, including her academic success.
A recipient of academic and athletic honors, Ryan looks at her achievements in the classroom and on the golf course as symbiotic, neither necessarily taking precedent but each working to foster accomplishments in the other.
From the nine advanced placement courses she's taken at LJHS to other honors courses, an honorable mention in the 2014 WordWright National Reading Competition, her designation as an AP Scholar, and being named to the 2014 San Diego Union-Tribune All-Academic Team for Varsity Golf, Ryan's resume includes academic accolades many students would take on their own. But those distinctions paint only half of Ryan's already illustrious accomplishments. She's also spent four years on the school's varsity golf team — standing as team captain in her senior year — and earned scoring placements on the first-place team in each year's San Diego City Conference Tournament since 2012.
In 2015, she was not only a scoring member of the first-place team at the tournament, but finished at her highest overall position yet — 10th out of 42. In 2014, 2013 and 2012, she finished 20th out of 108, 14th out of 67 and 23rd out of 60, respectively.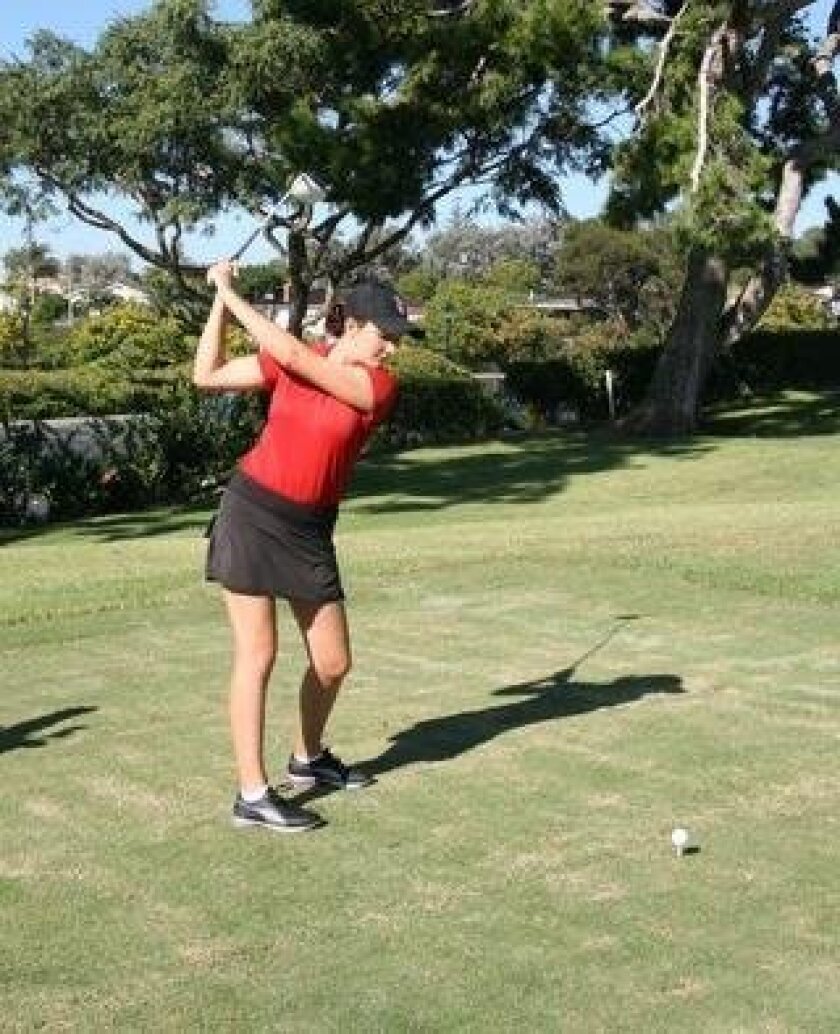 How Ryan went from being academically focused from the start of high school to becoming an equally talented student-athlete in just a matter of a few years speaks to the values that can be gleaned from the game of golf, she said.
"I always thought that my dad got me into golf, but he claims that I wanted to start playing," Ryan said. "I definitely didn't enjoy it in the beginning, but now it's definitely a part of me, and I don't think I could ever stop, or ever not enjoy it."
She hasn't decided yet if she'll pursue golf at the college level, or where she'll attend college, but the thoughts are on her mind. One thing she knows is she enjoys the team aspect of the sport more than the option of playing on her own, despite her growing involvement in individual tournaments, like the one she just competed in in Riverside County.
"I really like being part of the team, in high school," Ryan said. "It's definitely more fun than playing individually."
But a desire to continually improve her golf game, and to challenge herself against others who've had experience competing in that higher-stakes individual environment, is what motivated her to start competing outside the comfort of her La Jolla High School team. Since 2011, she's competed annually in the San Diego Junior Golf Association tournaments, and was invited in 2014 and 2015 to compete in the invitation-only SDJGA Tour Championship. She's separately competed in the Future Champions Golf tournaments each year since 2012, and finished in first place in the 2014 Founders Cup.
Through her time becoming more proficient at the sport, Ryan said she's learned a few things. Among them, is that there's a perception golf is a sport for older men. Even in an era that has seen the likes of Michelle Wie and Annika Sorenstam, the thought remains, she added, among people she comes across.
"But there are a ton of girls and younger guys that play, too," Ryan said. "It's a sport that's becoming more popular in our age group. Today, I played a tournament in Riverside, and there were 122 kids playing."
She also said she's learned how frustrating golf can be, but that the struggle can be a catalyst for improvement and perseverance. "It takes a lot of time and patience," Ryan said, recalling her first competitive tournament in 2011, when she played against Haley Moore, a standout amateur herself who has since signed on to join the women's golf program at the University of Arizona. "It was so terrifying and discouraging," Ryan said. "But then I realized, it is an individual sport and I can't really compare myself to others, as long as I'm improving. That's definitely something I've learned to deal with the past couple of years, not to think about how other people are playing."
Playing against the likes of Moore has raised Ryan's expectations of how other golfers take the sport, and how she had to perform to try to keep up with others that might potentially go pro. Her choice to compete individually came down to a desire to succeed, Ryan said.
"Seeing how these other girls were playing — I wanted to be like that," she said. "Seeing other people do so well made me want to try harder."
But in that time, she never let up on the student half of being a student-athlete. Her parents, she said, supported her passions for striving to achieve excellence in both arenas. Ryan's mother, Petra Ryan, said that through golf, Rebecca has learned to be more focused. "That has really transferred over to her academics," she said.
The time-consuming qualities of golf, Petra added, have only helped Rebecca learn to manage her time better, recalling the nights Rebecca would show up after dark from her golf duties and have to jump into studying upon arriving home. "You have to be very well organized and well-focused," Petra said.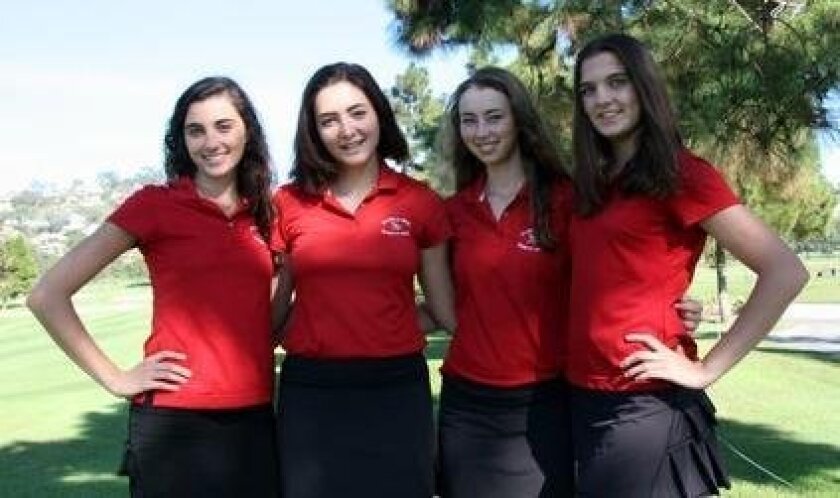 Rebecca said she has a mere desire to spend time with her dad to credit for getting it all started. That connection with her family also played a role in her academics, even beyond the walls of La Jolla High School.
Fluent in German, and with a mother who was originally from Germany, Rebecca spent a dozen years — from 2002 to 2014 — studying on Saturdays at the German American School of San Diego, and is now a member of the German American School Association. She's served since 2014 as an advanced-level German class teaching assistant, and earned in 2014 the Silver Award on the Level 4 test of the American Association of Teachers of German. Rebecca also took four years of French classes during high school, and was one of eight AP English students selected to attend the 2015 Author's Luncheon hosted by the La Jolla Literary Society.
German is a language Rebecca grew up speaking with her mother, but she said it has also been a joy to build on that experience over the years to be able to connect with her German heritage. Until recently, Rebecca's grandmother still lived in Germany, and Rebecca said she hopes for Europe to become a bigger part of her life, as she's had opportunities to visit Germany many times.
Her fluency in German could almost pass her off as a native German speaker, Petra said. "She speaks it very well," Rebecca's mother said. "She has a very slight, slight accent."
More than wanting to get the accent perfect, Rebecca looks at all the time spent learning the language as a chance to grow, both academically and in her worldview. "I love traveling, and I love Europe in general," Rebecca said. "I just want to be more a part of that culture. More than, oh, it just looks good on a resume, it's about being able to live internationally and be more cultured."
Looking back at all the academics, and the golf, Rebecca said the two have worked together to better her as a person with ambition. "Doing well, academically, was kind of just expected — not necessarily in a bad way," Ryan said. "I would never want to do poorly in class. So that wasn't exactly a choice. But the golf, I think I just enjoyed, in the beginning, spending time with my dad, and having something to work on. Then it just became this thing you can't stop."
---