With its no-fry zone, Seasons 52 offers UTC shoppers a healthful place to dine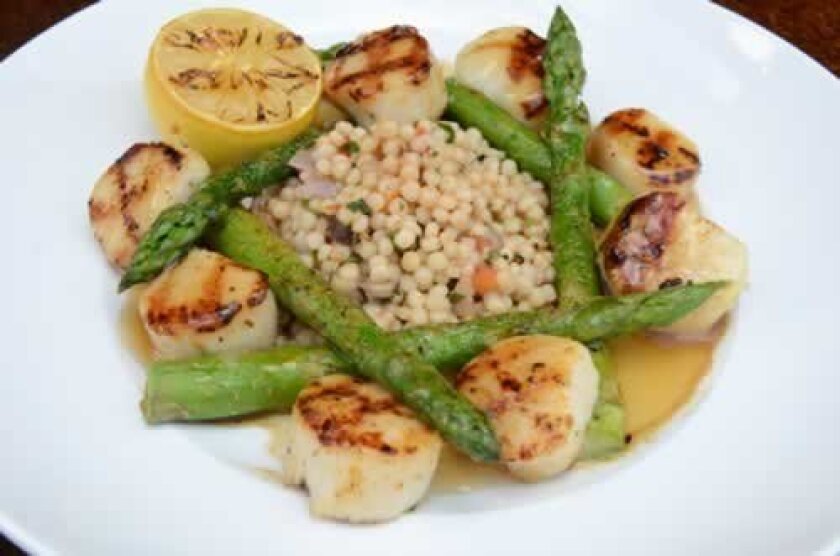 By Kelley Carlson
At the newly opened Seasons 52, guests won't find the traditional calorie-laden foods of the holiday season. Instead, they may be delighted to discover that there is nothing on the menu over 475 calories — not even the desserts.
"We use all-natural cooking techniques," Executive Chef Steve de Barril explained, which includes the use of a brick oven and an oak-fire grill. Other secrets to the healthy fare: no deep fryers, no butter, and no cooking with cream. "We let the product speak for itself," de Barril said.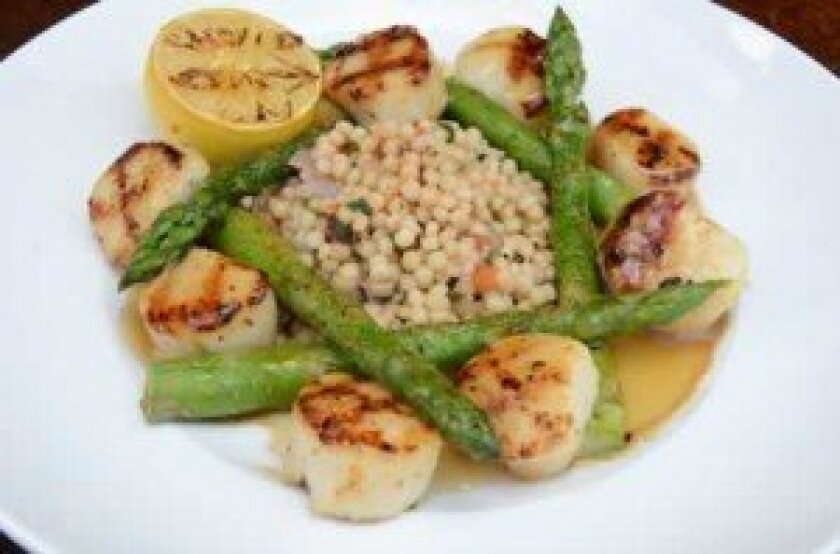 The cuisine apparently speaks volumes, as the restaurant — which opened Nov. 19 in the Westfield UTC shopping center — already seems to draw quite a few people, from shoppers and businessmen to couples and families.
Located in a brand-new building with a stone exterior, Seasons 52 -- one of 26 in the Darden-owned chain -- has a prominent spot next to Sears. When patrons first walk in, their attention is often drawn to the wine collection in the "Chateau" behind the front counter. It houses a sizable portion of the establishment's 2,000 bottles, from renowned wine producers such as France, South Africa and of course, California. Just a few steps away is the elegant Chef's Table room, which displays "spiced artwork" -- aromatic herbs and spices built into frames on the wall and table. Up to 10 people can feast on a seven-course meal chosen by de Barril.
In the heart of the restaurant is the main dining room, which is timeless and elegant, yet casually contemporary. Its design is inspired by the work of Frank Lloyd Wright, featuring autumn ledgestone and solid Honduran mahogany throughout, and hand-made vases add brilliant colors. Contributing to the ambience is a mix of tunes ranging from soft rock to jazz. Customers can witness chefs moving to their own tempo through the glass of the five-station open kitchen.
Just off the main dining room are two private rooms — Napa and Sonoma — that are equipped with state-of-the-art audiovisual equipment. The dividing "wall" is retractable, allowing the spaces to be merged if needed.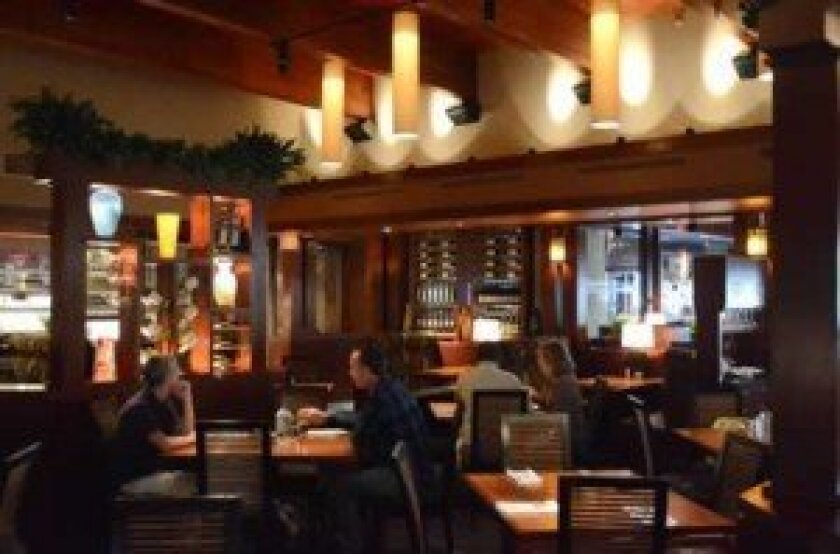 Also adjacent to the dining room is the full-service piano lounge/bar, with operable floor-to-ceiling windows. From 6 p.m. to close daily, and all day long on weekends for the remainder of December, live music emanates from a rotating piano in the center of the circular bar.
Guests often request songs while sipping on beers or signature cocktails such as the Blackberry Storm, with Atlantico Reserva Rum, blackberry preserves, lime juice, agave nectar and a hint of allspice; and the Pomegranate Margarita Martini, a blend of Patrón Silver Tequila, Patrón Citrónge and pomegranate juice.
Diners who relish the outdoors may opt to sit on the wraparound patio and watch shoppers ambling along. Two fire pits are ablaze at night, for the enjoyment of people sitting at the tables or lounging on the couch in the corner. Some of them will linger after full menu service stops, as appetizers are available for an hour past the listed closing time.
While Seasons 52 does not have a traditional happy hour, it offers "Flights and Flats" from the time it opens until 6 p.m. daily. For $15, patrons may choose three samples of wine from eight varieties, and then receive a full glass of their favorite along with a flatbread. Among the flatbread selections are Artichoke & Goat Cheese, with leaf spinach, balsamic onions and roasted peppers; and Steak & Cremini Mushroom, which also includes spinach and crumbled blue cheese.
Since Seasons 52 relies on fresh produce and seafood for its fare, its menu is constantly changing. Nearly all of the core dishes shift with the season, but a handful of new items -- primarily soups, flatbreads, fish and desserts -- are introduced every Tuesday.
Some of the primary items on the fall menu that may change slightly for winter are the BBQ Chicken salad; the Vegetarian Tasting, currently with quinoa-farro salad, soft taco, chili relleno, vegetables, cedar roasted tofu and mango chutney; and the Springer Mountain Farm All-Natural Grilled Chicken, with tamarind glaze, sweet potato mash and pumpkin seeds.
However, there are some plates that will remain the same, including the Kalymnos Greek salad, topped with feta cheese, cucumbers, tomatoes, sliced red onions and kalamata olives; Caramelized Grilled Sea Scallops and roasted asparagus, served on a bed of sun-dried tomato-mushroom pearl pasta; and Cedar Plank Roasted Pacific King Salmon, with roasted rainbow carrots, asparagus and Weiser Farm roasted potatoes.
Children generally have a choice of a turkey burger, grilled chicken tenders, pasta with tomato basil sauce and flatbreads from a verbal menu.
As for dessert, Seasons 52 presents Mini Indulgences -- individually sized portions of classics such as Meyer Lemon Pound Cake, Chocolate Peanut Butter Mousse and Rocky Road.
"With 60 (wines offered by the glass), there's always something new to try," de Barril noted.
Address: 4
505 La Jolla Village Drive, Suite C-1, UTC
The Vibe:
Relaxed, Elegant, Contemporary
Signature Dishes:
Cedar Plank Roasted Pacific King Salmon, Caramelized Grilled Sea Scallops
Open Since:
November 2012
Hours:
11 a.m. to 10 p.m. Sunday-Thursday, 11 a.m. to 11 p.m. Friday, Saturday
Web:
www.seasons52.com
Phone:
(858) 450-1252
Reservations: Recommended
Patio Seating: Yes
Take Out: Yes
Happy Hour: No
On The Menu Recipe
Each week you'll find a recipe from the featured restaurant online at lajollalight.com. Just click Get The Recipe at the bottom of the story.
This week: Seasons 52's Cider-glazed Chicken Skewers

---