Wild Rescue:Project Wildlife marks its 40th year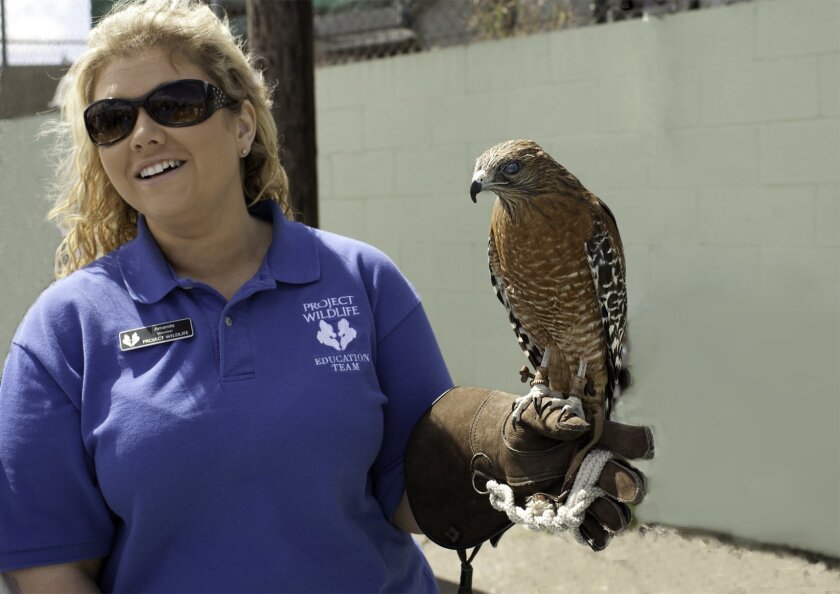 By Linda Hutchison
Living as we do in San Diego County, homes sprawled from ocean to desert, around canyons, lagoons and bays, it's not surprising we share space with much wildlife. Most of us are used to waking up to songbirds, watching hummingbirds hover in our gardens or gulls swoop down from high wires. And we are not always surprised when we open our front doors to see an opossum on the porch. But what do we do if we find abandoned baby rabbits in the garage or an injured animal or bird in the driveway?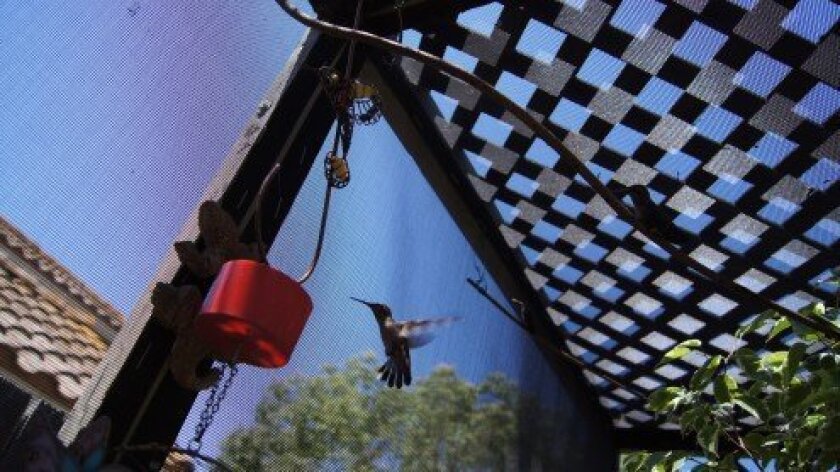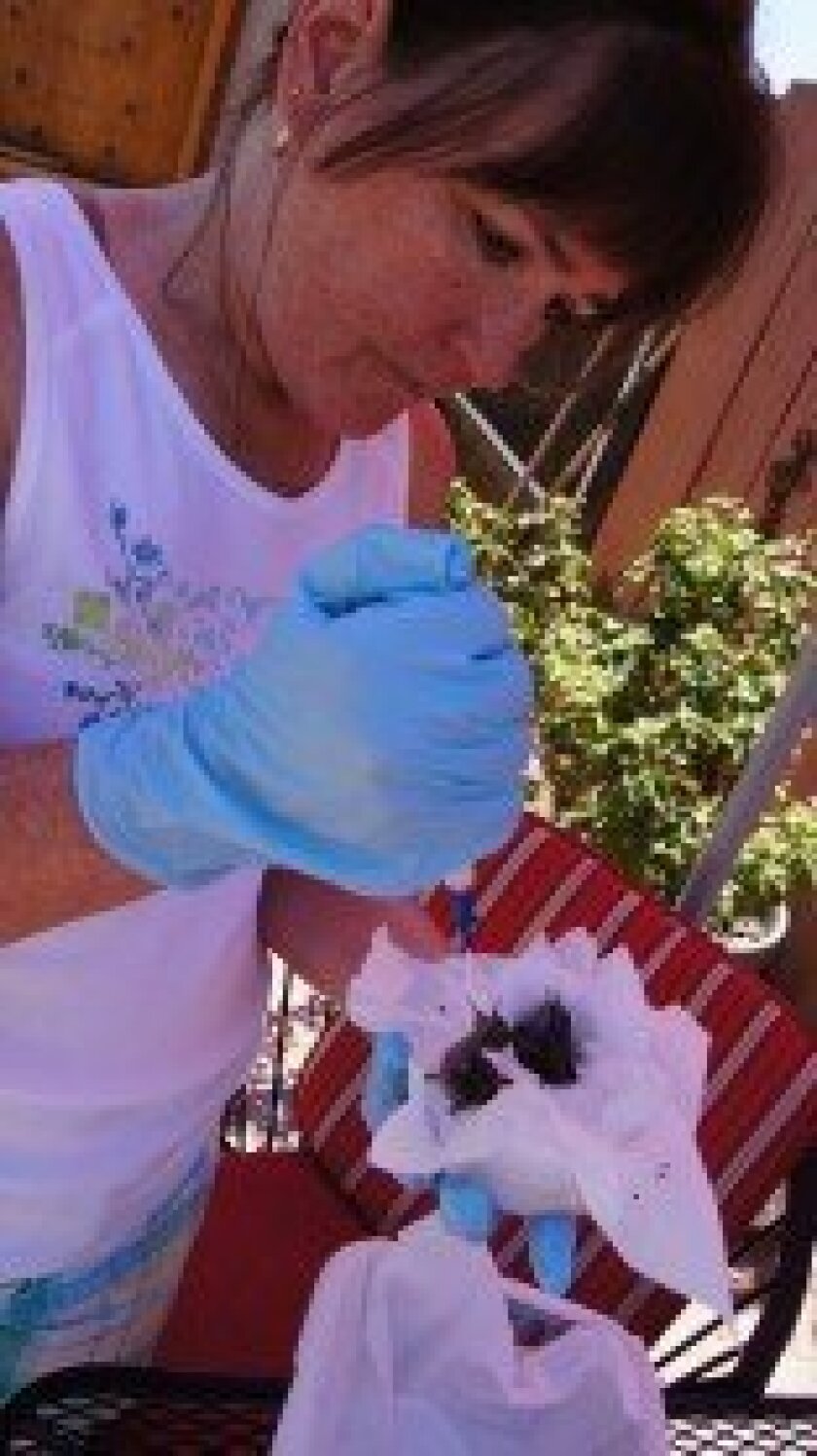 We can turn to Project Wildlife, an organization that has been helping San Diegans live in balance with wildlife for 40 years. What started in 1972 as a husband and wife team rescuing wild animals in Alpine and training others to do the same has since grown into one of the largest non-profit wildlife rehabilitation organizations in the United States. The group takes care of about 10,000 animals a year from more than 320 different species in San Diego County, which is one of the most biologically diverse
areas in the country, according to Sarah Whorley, Project Wildlife communications manager.
Project Wildlife includes a full-time staff of nine, a part-time staff of 20-25 veterinary technicians, and about 525 volunteers who do everything from office work and educational outreach to transporting and caring for animals, cleaning cages and running rehabilitation centers in their homes.
The organization operates two triage centers where San Diego residents can drop off injured or abandoned animals. The North County center in Carlsbad is open only from mid-April to mid-September, the busiest time of the year, when most baby animals are born. The central center, at 887½ Sherman St., off Morena Boulevard, is open year round.
After being admitted, each animal is examined and stabilized, and given water and food if necessary. If it is a bird, it stays at the center, where care can include incubation and round-the-clock feeding for neo-natals, until the birds are ready for larger cages and, finally, release back into the wild. About 80 percent of the animals brought to the center are birds; the most common are the house finch, house sparrow, and mourning dove.
Birds with special needs and all mammals are transported to one of Project Wildlife's satellite rehabilitation centers, categorized by type of animal — bat, opossum, fox, rabbit, raccoon, skunk, small mammal, hummingbird, raptor (owls, hawks, falcons, etc.), duck, songbird, and sea/shorebirds. The most common mammals brought to the center are the Virginia opossum and the cottontail rabbit.
In the busy season, this can mean as many as 100 animals a day, with people lining up and down the street, according to Whorley. In the less busy months, the average daily intake is about 10-15 animals. The amount of time animals spend recuperating varies from a few days to a few months, with the average being about 12 weeks.
About 40 percent of the animals people bring to the center survive, which is 8 percent above the national average. As soon as they recover, they are released back into their natural habitat, within three miles of where they were found.
As a non-profit organization, with an annual budget of $1.3 million, Project Wildlife relies on its volunteers and donations. In 2011, its volunteers contributed about 80,000 hours, according to Whorley. The organization also brings in money from two of its services: wildlife extraction (helping people remove animals safely and humanely) and educational outreach programs for schools, scouting, and other groups.
Project Wildlife's educational program won the third annual ECO Ambassadors People's Choice Awards last year sponsored by The San Diego River Park Foundation, SDG&E, and KFMB-TV Channel 8. This support and positive feedback from the community was very gratifying, according to Whorley.
And the more we can learn about living in balance with wild animals the better, said Whorley.
One common misunderstanding is that baby birds (or animals) have been abandoned if they are alone. Some mammals only check on their young every 12 hours, so it is best to wait. Some birds are fledglings learning to fly and can be put back in their nest or a makeshift nest.
Another misunderstanding is that opossums are dangerous or dirty. "People think they are a nuisance or that they have rabies but that's not true. They clean up rodents, insects, snails, fruit and garbage and are good to have around," said Whorley.
Project Wildlife
Emergency Wildlife:
(619) 225-9453
projectwildlife.org
Donations: (858) 866-0555, ext. 20
Wildlife Triage Centers
Central San Diego
887 ½ Sherman St., San Diego
Open 7 days a week, drop-off area open 24/7
North County
2481 Palomar Airport Road, Carlsbad
Open mid-April through mid-September
Open 1-4 p.m. Tuesday-Saturday
Tip: Wear Gloves
— The advice people receive when they call the Project Wildlife Hotline is to
always
wear gloves before picking up an animal and to not feed it. Unlike opossums, many animals such as bats and rodents do carry rabies and if they are brought in and handled without gloves, they have to be euthanized.
---