Who's on the hook for La Jolla's busted payphones?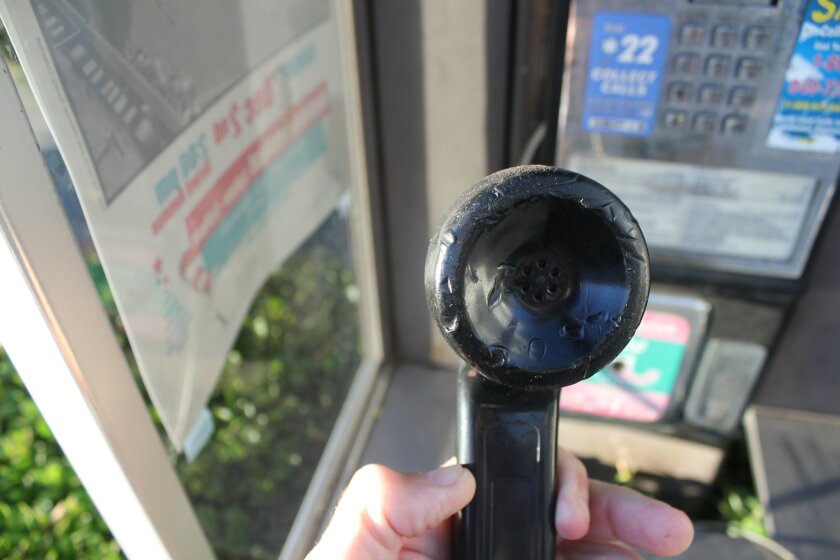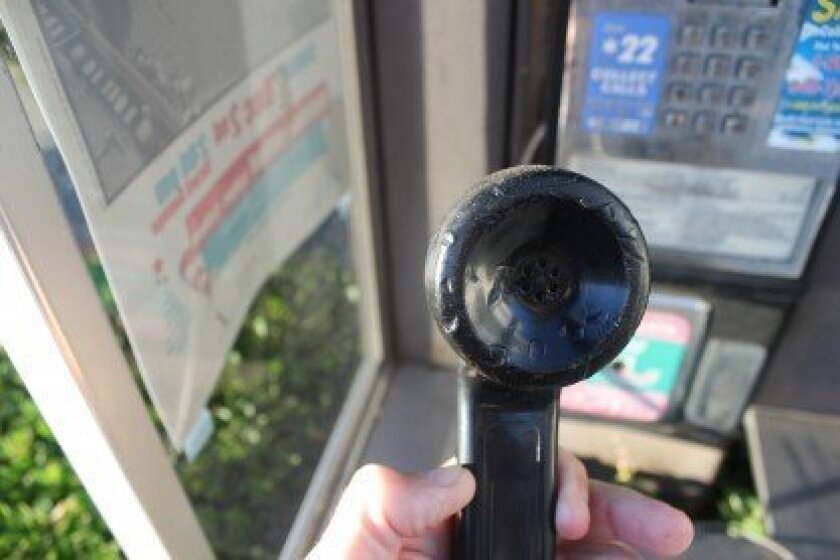 To report a shoddy payphone:
■
Call tbe CPUC: (800) 649-7570
By Pat Sherman
Though cellular communications and Skype have rendered public payphones obsolete, three of these archaic curiosities still gracing the Village remain in place, albeit dented, weathered and worn.
The holdouts are two near the corner of Fay Avenue and Pearl Street (one owned by Orion Payphones of San Diego) and another in front of the historic Wall Street post office.
While two of the phones still produce dialtones, one at 7521 Fay Avenue (in front of Home Care Assistance) has sat busted, vandalized and inoperable for at least a year.
A
La Jolla Light
investigation found the company listed as owner/operator of the payphone, as required by the California Public Utilities Communication (CPUC), San Marcos-based Waterville Communications, has gone out of business.
A representative for La Jolla resident and former Waterville Communications President Mike Barone said he sold the business about five years ago.
David Thatcher, who owned Waterville Communications with Barone and was listed as the company's vice president, said they sold the business to someone they eventually filed suit against for alleged "lack of payment on a note associated with the sale."
As a settlement, Thatcher said, "we received the California assets (of Waterville), including the phone located in La Jolla, plus some cash.
"We immediately (in 2008) sold the assets to a company in Northern California by the name of TSI. TSI immediately sold the Southern California assets, including the phone in La Jolla, to Mark Edgecombe."
Edgecombe, who could not be reached for comment by press time, lists his business as "Public Payphone" in a voice greeting.
"I assure you that this is the slimiest business I have ever known — that is why we are out," Thatcher responded, via e-mail.
Jack Poyer, owner of the building to which the phone is attached, said his family trust used to receive a percentage of payphone sales.
"It's been so long since I've dealt with them I couldn't even tell you who they are anymore," he said, referring all calls to his son, Mike Poyer.
Mike Poyer said the family, largely based in Los Angeles, hasn't had a contract with the phone operators for years.
"We don't have a lot of resources down there, but I contacted a friend who manages shopping centers and got the name of two different contractors, so I'm going to look into having them take care of that," he said, assuring that the broken phone will be removed.
CPUC spokesperson Christopher Chow said the CPUC will send a commissioner to inspect a dilapidated payphone upon request.
"Ultimate responsibility for keeping payphones in working order lies with the payphone owner," Chow responded, via e-mail.
"The CPUC's payphone inspectors conduct targeted inspections of payphones throughout California, and when they find specific violations (no 911 access, missing information, misleading rates, physical damage or safety issues), they send corrective action reports to the payphone owners requiring that the payphone owners fix the identified problems.
"Inspectors conduct follow-up inspections to ensure compliance," Chow said.
---