Weather cancels Las Patronas' Jewel Ball, but can't dampen crew's spirits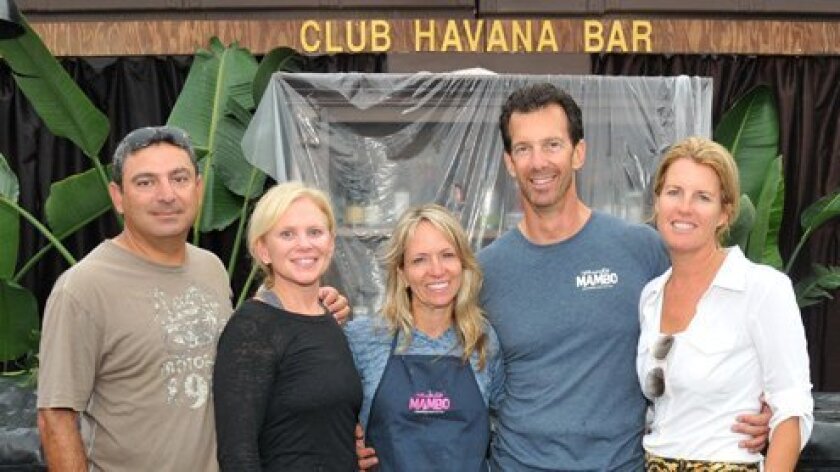 Photo by Vincent Andrunas
()
Photo by Vincent Andrunas
()
Photo by Vincent Andrunas
()
Photo by Vincent Andrunas
()
Photo by Vincent Andrunas
()
Photo by Vincent Andrunas
()
Photo by Vincent Andrunas
()
Photo by Vincent Andrunas
()
Photo by Vincent Andrunas
()
Photo by Vincent Andrunas
()
Photo by Vincent Andrunas
()
Photo by Vincent Andrunas
()
Photo by Vincent Andrunas
()
Photo by Vincent Andrunas
()
Photo by Vincent Andrunas
()
Photo by Vincent Andrunas
()
• PHOTO GALLERY:
Click on the
NEXT>
button above to see 16 photos from the rained-out 2014 Jewel Ball gathering of event organizers who were setting up, along with some guests who arrived and did not get the cancellation notice in time, but were still treated to a more casual reception.
By Vincent Andrunas
Although Las Patronas had to cancel its 68th annual Jewel Ball, "Moonlit Mambo," at 5 p.m. on the day of its scheduled event, Aug. 2, 2014 — due to persistent rains that caused danger from wet electrical wiring, slippery floor surfaces and the threat of lightning — the food was sent back to the Hyatt (frozen), and later distributed to La Jolla charity and 2013 beneficiary "So Others May Eat."
Las Patronas ladies and their husbands (the "Lost Patrons"), who had by then finished about 95 percent of the Cuban-themed ball setup, began to tear it all back down. Organizers paused for a little reception, 6-8 p.m., at which they were joined by guests who were either unaware of the cancellation, or (in most cases) received the call but wanted to come and see the décor and support those who worked so hard to make the event happen.
The La Jolla beach & Tennis Club (which donates the venue each year) laid out a buffet of shrimp, sushi, fine cheeses and cold cuts, and a bar served wine and cocktails.
For information about Las Patronas, visit
laspatronas.org
• Las Patronas released the following statement regarding the cancellation of the 2014 Jewel Ball, "Moonlit Mambo":
"We were devastated to have to cancel Moonlit Mambo, Las Patronas 68th Annual Jewel Ball after the 15 months of planning and the countless hours of hard work our dedicated team of 50 Las Patronas members put into what would have been one of our most spectacular balls. Unfortunately, the safety risk to our guests, vendors and their employees caused by the thunderstorm, put us into a position that we could not safely hold the outdoor event for 800 guests. This decision was difficult to make and done with careful and on-going consultation with the La Jolla Beach and Tennis Club as well as our electrical vendor, caterer, AV supplier and other vendors involved in the event.
We would have loved to have thanked all of our sponsors, underwriters and guests with the special evening we had arranged for them. Through their generosity, the majority of the funds have already been raised to fund our ten major beneficiary charities. And, due to the wonderful outpouring of support from the community, we are hopeful that many smaller minor grants to other San Diego charities will also be funded. We were able to sell some of the décor items and we will be holding an on-line silent auction, check back here soon for more details.
The Jewel Ball is truly a labor of love as the Las Patronas members, their spouses, friends and other volunteers come together and work tirelessly the four days leading up to the event to transform the tennis courts at the La Jolla Beach and Tennis Club into the event venue. We were so sorry to have disappointed so many guests and hope they will have some solace by knowing that that the food has been delivered to a homeless outreach program and remaining floral arrangements were delivered to local area convalescent homes and businesses so others could enjoy their beauty. Our Online Auction is now live. For details on how to access this site, please contact Jorie Fischer at
donations@laspatronas.org
"
---