Water board gives 5 percent merit raise to general manager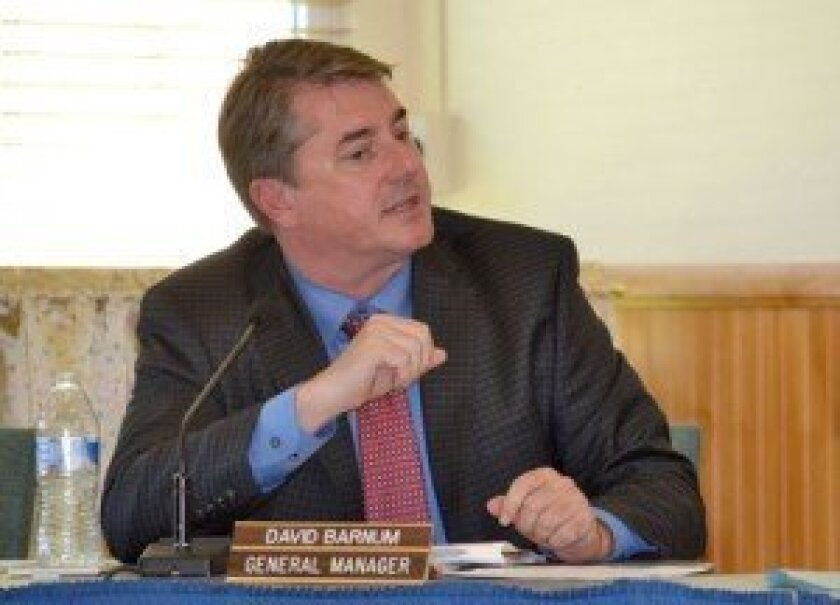 By Karen Brainard
Ramona Municipal Water District directors approved a 5 percent merit raise for its general manager, David Barnum, following its annual evaluation of his job performance.
The $8,860 raise increases his base salary from $177,278 to $186,139, effective this month. In addition, the board agreed to increase Barnum's salary by 3 percent in October 2014, and again in 2015, along with extending his severance benefit from 9 to 12 months.
"The general manager of the RMWD has a big responsibility to keep the district running efficiently. I believe he has met that responsibility, especially during the current recession," Darrell Beck, board president, said in a prepared statement.
"Because of Mr. Barnum's efforts to address the current recession and keep the budget flat, we've reduced the workforce by 30 percent and reorganized customer service, including the engineering department...along with many smaller cost-cutting measures without reducing the level of service," Beck said.
Under Barnum's leadership the district has received nearly $400,000 in grants that were used for, among other things, an ambulance, recycled water projects and Ramona Community Center, Beck noted.
Referring to Barnum's services as valuable and innovative, Beck pointed out several projects the district is working on: adding a natural gas pipeline to the Poway Pump station as a secondary power source for emergencies, recycled water projects and rate studies for the Santa Maria and San Vicente sewer plants, the San Vicente Road pipeline replacement in conjunction with the county's road improvement project, and a possible partnership with the City of Poway to provide a second source of water that could benefit both parties.
The board adopted the amendment to Barnum's employment agreement after a closed session during its Oct. 8 meeting. The agreement also states that the general manager shall receive any negotiated cost of living increases received by district employees, and he will contribute the same percentage to California Public Employees' Retirement System (CalPERS) as other district employees. Currently they are contributing 3 percent of their salaries to their pensions, said Barnum, and by state law — the California Public Employees' Pension Reform Act of 2013 — must contribute 8 percent by 2017.
Last year Barnum received a 2 percent merit raise and, effective Jan. 1, a 4 percent cost of living adjustment under the Ramona Municipal Water District Employees Association's agreement.
The water board will be negotiating a new contract with the employee association. The employees' contract expires Dec. 31.
---