Walking tour provides a look at La Jolla history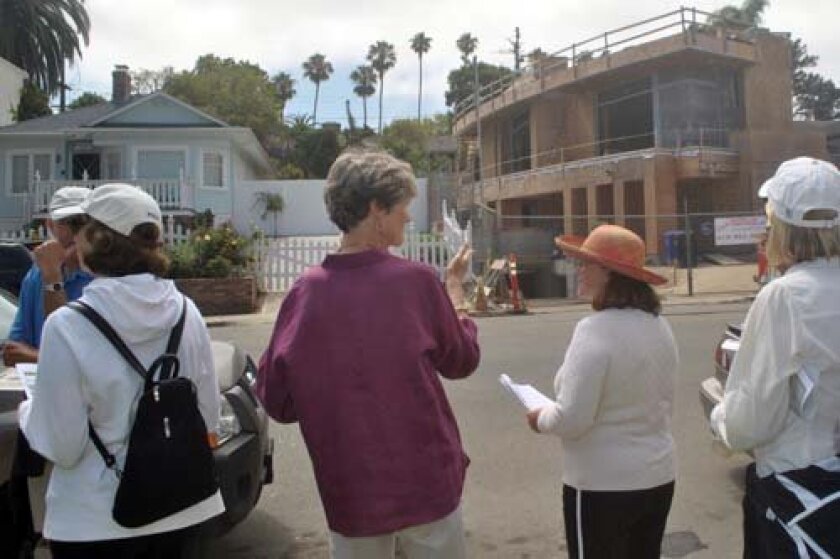 [gallery]
By Elizabeth Schneider
For many residents, the landmarks of La Jolla are just a part of the background of their daily lives.
But for Martie Rice and the other docents of the La Jolla Historical Society, the story behind these iconic buildings is worth retelling. The Society has recently created a walking tour of the Village, designed to highlight both its most famous sights and some lesser-known historical locations.
"The feedback so far has been really positive," said Rice, one of three docents who lead the tours. "There are just all these things that people have no idea about."
The tours, which take place every other Saturday morning, tell the story of a very different La Jolla than the one we know today. Docents highlight 17 locations throughout the village — from the Cave Shop (La Jolla's oldest business) to classic cottages — which date back to a time when much of the area was simply undeveloped farmland.
"It's interesting to learn about these buildings that we pass by all the time and don't even give a second glance," said Estelle Ebert, a participant in last Saturday's tour.
For Rice, however, there is more to these tours this simple architectural history.
"There's a lot (in the tour) about the amazing contribution that Ellen Scripps made, and what a different place it would have been without her," she said.
The Scripps family, who funded much of La Jolla's early development, is brought to life through a series of photos and humorous anecdotes sprinkled throughout the tour.
By capping the tour at 15 participants and not using any amplification, the guides create a informal atmosphere that prompts questions and discussions. For the same reason however, reservations are required for the popular tours. Information about reservations and the Society in general can be found at
lajollahistory.org
.
---