Wahoo's offers fish tacos and a whole lot more in La Jolla and Southern California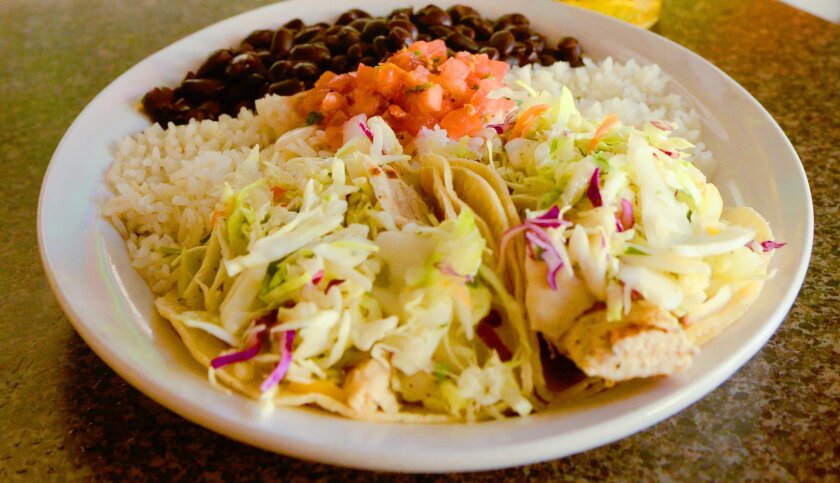 • ON THE MENU:
At Wahoo's Fish Taco, using fresh ingredients in unique combinations seems to make a world of difference. The 26-year-old restaurant chain — which offers an eclectic Mexican-Brazilian-Asian-influenced menu — is popular among all ages, with a core market of casual diners and decor inspired by the surfing, skateboarding and snowboarding scene.
At the La Jolla and Point Loma locations — locally owned by Tal O'Farrell — the beach vibe, sticker-covered windows; and colorful, wooden furniture make it a neighborhood favorite as a place to hang loose, especially after a day of catching waves.
As the name implies, the inspiration behind the restaurant is the Fish Taco, which Wahoo's co-founders (and brothers) Wing Lam, Ed Lee and Mingo Lee grew to crave while on surfing trips to Mexico several decades ago. Their version features wahoo, mahi-mahi or wild-caught salmon, simply grilled and placed inside soft corn tortillas. The tacos are stuffed with a grilled protein of choice with citrus slaw or lettuce/cabbage, shredded cheese, salsa, and a mildly spicy-and-sweet aioli sauce or Wahoo's popular green sauce (a medium-spicy, cilantro and roasted jalapeño sauce.)
Wahoo's Citrus Slaw Taco is extremely popular as an alternative to other taco shop's typically greasy, oily and batter-fried fish tacos. Instead, Wahoo's Citrus Slaw Taco is a tasty and healthy mixture of cabbage, cilantro, onions and carrots tossed in lime juice, extra-virgin olive oil and spices on top of grilled fish or a choice of other grilled proteins (pork carnitas, carne-asada steak, shrimp, salmon, chicken or tofu.)
For those who like tacos super-spicy and extra flavorful, many customers add Wahoo's own Mr. Lee's Chili Sauce, a blend of green chiles, garlic and ginger made by the founders' father, who opened the famous Shanghai Pine Garden Chinese restaurant in Orange County. Mr. Lee's Chili Sauce is included in the Screamin' Burrito, but can also be added to any item on the menu.
Guests may order tacos with other proteins besides fish, including grilled or Cajun-spice blackened chicken, tender braised-pork (carnitas), Angus-grilled steak (carne asada), sautéed shrimp, grilled salmon or marinated-and-sautéed tofu. They can be supplemented with sides of white or brown steamed rice and 100-percent vegetarian white or black beans that do not contain lard, according to Lam.
Skinny versions of tacos can be prepared, as well, with the use of lettuce wraps rather than tortillas.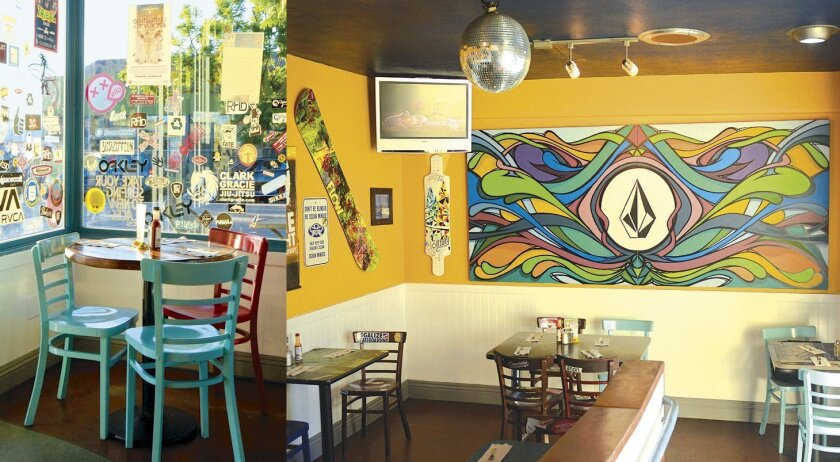 However, Wahoo's offers plenty more besides tacos; in fact, the menu recently underwent some changes upon the hiring of Head Chef Raymond Martin, who was most recently vice president of culinary development and corporate executive chef for BJ's Restaurants, Inc.
"Bringing Chef Martin on board — with his stellar culinary credentials, creativity and Ohana spirit — was a bold move," Lam said. "By infusing his style with Wahoo's signature recipes, we plan to tap into the latest food trends and introduce new recipes that will ride a wave of new creations."
Among the newest items is the Bula Burrito, filled with protein of choice, beans, citrus slaw and a spicy roasted tomato salsa; and the Kale Kai Salad with avocado, mixed greens, tortilla strips, black bean-and-corn salsa and a choice of protein.
But there are still familiar favorites such as the Banzai Veggie Bowl, a colorful assortment with a protein of customers' choice plus bell peppers, onions, zucchini, broccoli, mushrooms and cabbage, sauteed with teriyaki sauce on top of rice and beans.
Also, many items can be prepared gluten-free, vegetarian and vegan.
Patrons who want to wait out traffic and "chillax" at Wahoo's before driving home for the evening can find contentment with small bites and a drink. These appetizers range from cajun fries with spicy ketchup to taquitos (rolled tacos) and quesadillas. One unique appetizer is the Baja Rolls with chopped chicken breast, cream cheese, spinach and salsa wrapped-and-rolled in a soft, flour tortilla and then sliced into bite-size pieces.
For beverages, customers can sip glasses of wine, a variety of both bottled and on-tap beers (including many IPAs from popular San Diego breweries), or take advantage of the "beer of the month" at discounted prices.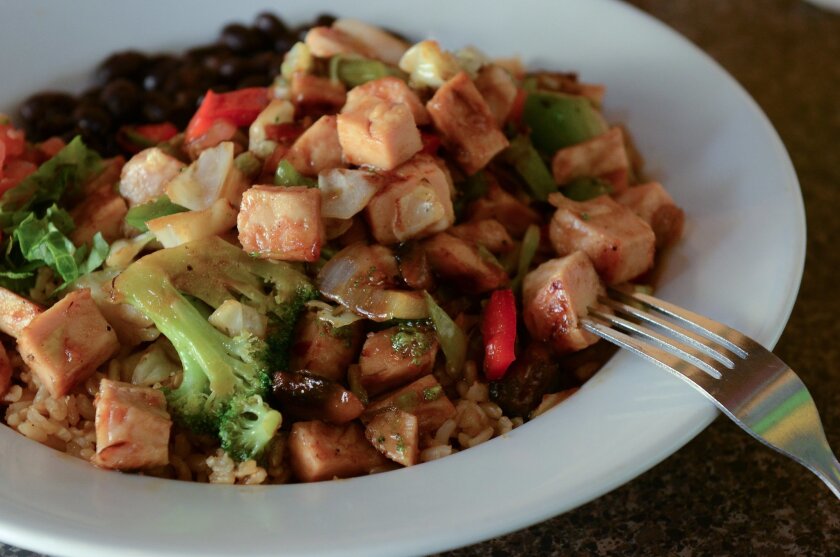 Wahoo's Fish Taco has several locations in San Diego County, including:
• La Jolla: 637 Pearl St., (858) 459-0027
• Point Loma: 3944 W. Point Loma Blvd., San Diego, (619) 222-0020
• Encinitas: 1006 N. El Camino Real #C, (760) 753-5060
• Other Locations listed at wahoos.com
• The Vibe: Casual, relaxed
• Signature Dishes: Grilled Fish Tacos, Citrus Slaw Tacos with protein of choice, Kale Kai Salad, Banzai Bowl, Outer Reef Burrito, Baja Rolls
• Open Since: 2000 (La Jolla location)
• Take Out: Yes
• Patio Seating: Yes
• Reservations: No
• Happy Hour: Yes, Happy Hour specials for food and beer/wine are available Monday to Friday. Also, Wahoo's offers a "beer of the month" at a discounted price.
• Hours: 11 a.m. to 9 p.m. daily at Wahoo's La Jolla. Different locations may have different hours.
Each week you'll find a recipe from the featured "On The Menu" restaurant. This week:
• On The Menu Recipe: Wahoo's Citrus Slaw Fish Tacos
Serves 4
— Overall Ingredients:
8 ounces fresh mahi-mahi or wahoo fillet
Pinch of garlic salt and ground black pepper
8 warm corn tortillas
1 ounce shredded cheese (Jack or cheddar)
2 ounces Citrus Slaw (recipe below)
2 teaspoons Green Sauce (recipe below)
4 ounces salsa
2 limes, quartered into wedges
2 tablespoons cilantro, chopped (optional)
— Citrus Slaw Ingredients:
1 ounce green cabbage
1 ounce red cabbage
1/2 ounce thin sliced onion
1 teaspoon cilantro, chopped
1 teaspoon lime juice, fresh
1 teaspoon lemon juice, fresh
1/4 teaspoon salt and pepper
— Green Sauce Ingredients:
1/2 cup cilantro leaves
1 Tablespoon parsley
1 Tablespoon vinegar plus 1 Tablespoon cold water
1 teaspoon jalapeño, fresh
2 Tablespoons fat-free mayo
Salt and pepper to taste
Method for Green Sauce: Combine all in a blender until smooth.
— Overall Method and Procedures:
1) Season fish with garlic salt and pepper.
2) Grill over medium-high heat until just done. Divide into 4 portions.
3) Heat tortillas and keep warm.
4) Double the tortillas (2 per taco); place fish portion in center of tortilla.
5) Top fish with equal portions cheese, Citrus Slaw, Green Sauce and salsa.
6) Garnish with cilantro and lime wedges and serve.
Note: Tacos in the restaurants use 2 tortillas (double layer); as an alternative, you can divide the filling evenly over 8 tortillas to make smaller tacos with less filling.
Recipe courtesy of Wahoo's Fish Taco
---