After 25 years, merchants still working on a vision to vitalize the Village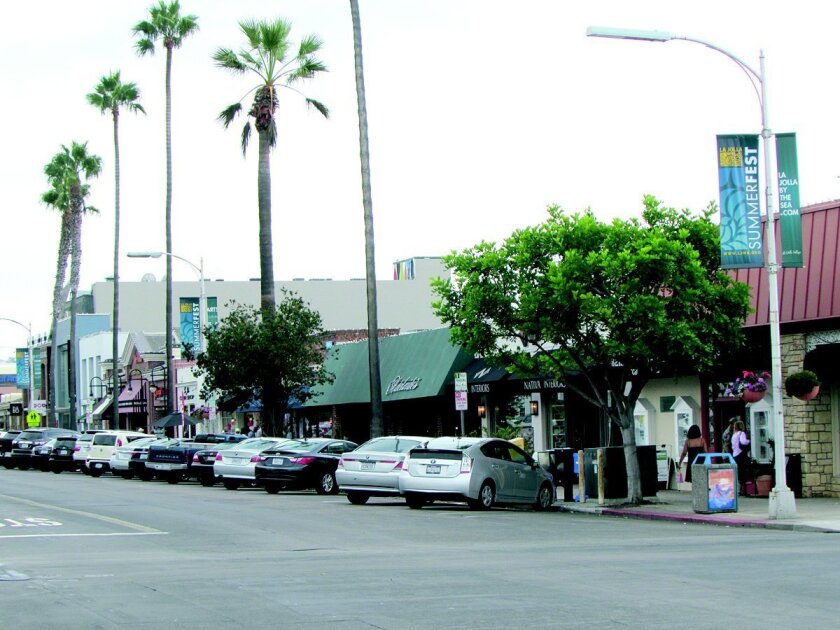 La Jolla Village Merchants Association's efforts to fulfill its mission a slow process
La Jolla Village Merchants Association
• Founded (as Promote La Jolla): 1990
• Reformed as LJVMA: 2010
• Income from annual assessment on Village businesses: About $150,000
• Businesses in BID: About 1,200
• Meets: 8:30 a.m. Wednesdays, Cuvier Club, 7776 Eads Ave.
• Website: lajollabythesea.com
Call it case of commercial déjà vu.
Nearly 25 years after a group of La Jolla merchants got together to form La Jolla's business improvement district (BID) — creating an annually assessed fee on businesses within a 25-square-block area of the Village that is used to woo shoppers to downtown La Jolla — retailers, hoteliers and restaurateurs still grapple with the same issues.
A Los Angeles Times article from May 1990 reported how "spiraling rents and competition from new suburban shopping malls" placed Village merchants in the "uncharacteristic position of having to aggressively market themselves in order to stay in business."
The success of La Jolla's BID group ebbed and flowed during its nearly two decades as "Promote La Jolla," until the organization disbanded in 2009, following an investigation by the city attorney's office over commingle of funds.
Formed in 2010, La Jolla's successor BID group, the La Jolla Village Merchants Association (LJVMA), is poised to build on the momentum of several key revitalization projects underway in the Village, including an upscale remodel of the former Jack's nightclub complex as a boutique shopping mall (La Plaza La Jolla) and the planned development of a mini cultural district on Fay Avenue to include a seven-screen, dine-in cinema and 500-seat performing arts center.
The LJVMA will elect as many as 10 new board members to its 15-member, all-volunteer board of directors during its October meeting — a near complete change of the guard that could help usher in a economic renaissance in the Village.
The second-largest of San Diego's 17 not-for-profit BID groups (Pacific Beach is the largest), the LJVMA's leadership proposed some grand, ambitious plans during its first four years, including: Haute La Jolla Nights music and shopping events; a standardized upgrade of Village sidewalks; stewardship of the long-delayed Belvedere Promenade project at Prospect Street and Girard Avenue; a maintenance plan for common areas in the Village; and opening its La Jolla Village Information Center at 1162 Prospect St. (the majority of which the LJVMA now sublets to cover rent).
Much of those plans have not come to fruition or have only been partially realized.
LJVMA board President Claude-Anthony Marengo (a partner in Marengo Morton Architects) said one of his goals when he took the reins last fall was to try and lure larger anchor tenants back to the Village that were once prominent here, such as department stores like Saks Fifth Avenue and the now defunct retailer I. Magnin & Co.
"I honestly thought I could hit the ground running faster with my background," said Marengo last month, during an interview with La Jolla Light at the LJVMA's rented office space on Roslyn Lane.
"It's not (going) as fast as I thought, but I think I can still do it," he said, noting that it takes land for a large anchor tenant, which he could envision on upper Girard Avenue (South of Pearl Street), where a block of buildings recently sold.
"They're all together, so that could be an anchor," he said.
LJVMA's fulltime executive director, Sheila Fortune, said the group's modest achievements during its first four years are "not from a lack of imagination, forecasting, ideas or understanding.
"We need a strong board and people to support it," Fortune maintained. "In the next year and a half this Village is going to be totally different. We're going to have opportunities from deeper pockets to advertise La Jolla. If we don't get ahold of that opportunity now to campaign and feed off, it's going to be such an opportunity missed."
Marengo and Fortune both noted difficulty engaging assessed BID members in the LJVMA's efforts, and getting their buy-in and participation in everything from sprucing up storefronts to participating in merchant events such as Haute La Jolla Nights.
"There's a lot of education that still needs to take place," Marengo said. "They don't show up to (our monthly) meetings, as you know."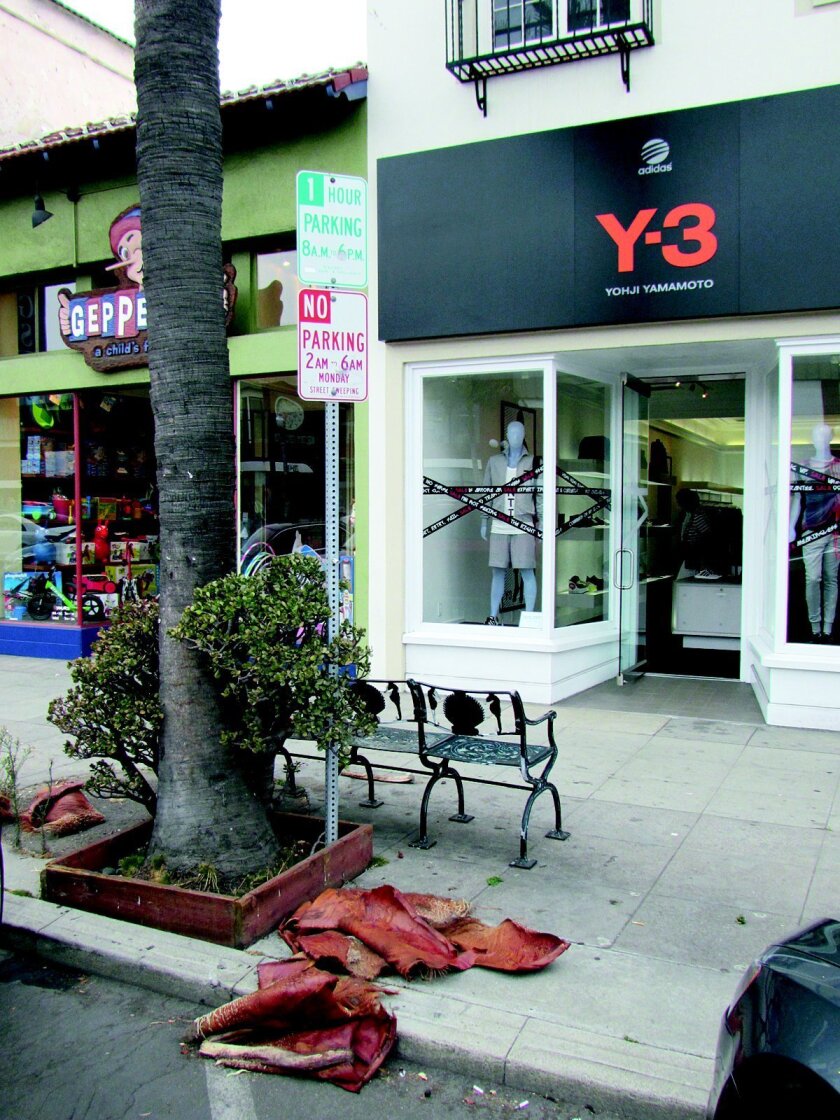 What is a BID and what does it do?
Denise Knox, executive director of Ocean Beach Main Street (which oversees both the beach community's BID and maintenance assessment district (MAD), said BIDs can be an invaluable tool for a commercial zone.
"They're very, very beneficial if they're run properly," Knox said. "I think communities are at a disadvantage if they don't have something like a BID or a Main Street (association)."
Last month, a San Diego Superior Court judge denied local attorney Cory Briggs' motion seeking to prohibit the city from disbursing more than $1 million in assessments to the city's 17 BID groups (including the LJVMA), which they use to promote neighborhood events, beautification projects and promotions.
Although Briggs' suit contended that BID assessments are an illegal tax, City Attorney Jan Goldsmith noted that BIDs are authorized by state law and exist throughout the Unites States and Europe. (Assembly bill 483, signed into law in October 2013, also clarifies that business improvement assessments are not a tax).
Following the ruling, Goldsmith noted BID groups' accomplishments, touting monthly "festivals and neighborhood touches" provided by the BID group in Little Italy, where he resides. Arguably the most successful of San Diego's BIDs, with the largest income, Little Italy's BID employs its own PR firm and was rated by Forbes magazine as one of the top 10 "Best Neighborhoods for Millennials." Christopher Gomez is district manager for the Little Italy Association of San Diego BID and president of the San Diego BID Council, which provides guidance, Brown Act training and other educational services to San Diego's BID groups.
Unlike the LJVMA, which, following the demise of Promote La Jolla, relinquished organizational control of several major money-making events in La Jolla (such as the Concours d'Elegance auto show, now under the auspices of the La Jolla Historical Society), Gomez said the majority of San Diego's BID groups hold regular events that draw people to their area and promote the business district. Larger events raise needed discretionary funding for projects not covered by the annual BID assessment. (For fiscal year 2015-2016, the LJVMA will receive about $150,000 in BID assessments, although its projected expenses are $530,000 — a difference it plans to raise through the creation of several new events, grant money, subleasing its information center and other efforts.
Jimmy Parker, executive director of the Gaslamp Quarter Association BID group said his organization holds a variety of both "friend-raising" and fundraising events each year, including a 5K "Dash and Dine," an outdoor auto show, holiday pet parade, golf tournament and awards banquet.
Formed in 1997, the Little Italy Association hosts an event nearly every month, including its Festa! Italian festival and three others in October.
Pacific Beach's BID group (Discover Pacific Beach) and the Little Italy Association both hold weekly farmers markets. During its most recent fiscal year, Little Italy's Mercado (farmers market) raised $482,000 for the association (its BID assessment only contributes about $120,000 to its budget).
BID organizations in Little Italy, Pacific Beach, Ocean Beach and the Gaslamp Quarter all perform some form of street maintenance, including trash collection, weed and graffiti abatement, and power-washing of sidewalks — something Promote La Jolla once did and which the LJVMA and the private, nonprofit La Jolla Community Foundation (of which La Jolla Light Vice President and General Manager Phyllis Pfeiffer is chair) have both sought to reestablish in some capacity (as both a joint effort and and separately).
Although La Jolla's BID is larger in size and assessed members than BIDS in the Gaslamp, Ocean Beach or Little Italy, like Pacific Beach, La Jolla lacks extra income generated by a maintenance assessment district (MAD) or PBID, which assess property owners, in lieu of business owners, almost exclusively for common-area maintenance.
In the last year, the Little Italy Association took in $696,000 in MAD fees, which it used to employ a staff of 18 to power-wash sidewalks, empty trash cans, remove graffiti, do landscaping and water trees and hanging baskets (the LJVMA has allocated $15,000 for landscaping in its current fiscal year, and another $10,000 for sidewalk improvements).
The Little Italy Association also collected $318,000 from its parking meters last year (it receives 45 cents on the dollar from the group that manages the meters). It plans to use that money to reconfigure its street parking to add 80-130 parking spaces in the coming year, and to fund the addition of several "parklets," mini-parks extending beyond the curb into converted street parking spaces.
Although parking meters would provide additional revenue to solve La Jolla's parking quandary — another identified business deterrent — the discussion of eliminating free street parking in La Jolla has been source of contention and polarization for merchants and residents.
Fortune said LJVMA's founding board president, Phil Coller, researched forming a MAD or PBID in 2010 and learned it would have cost the nascent organization more than $80,000 to obtain approval from businesses that would be assessed, and other costs associated with its formation.
"At the time, LJVMA was not in a position to start this uphill challenge," which would have taken more than two years to complete, Fortune said, noting attorney Briggs' defeated challenge of MAD assessments earlier this year, which is on appeal.
"So many communities don't want the hassle and are looking into creating private organizations," Fortune said. "(Our) board has not recently revisited this discussion or made decisions on these programs."
Nevertheless, Marengo said he will pursue plans to purchase a vehicle and tools to clean up the Village, employing a full-time employee to oversee five to six volunteers. However, he said this likely won't include power-washing due to environmental considerations and the cost of hiring a company to do it (about $100,000 Fortune said).
Ocean Beach Main Street uses part of its $53,000 annual MAD money to steam-clean its sidewalks using a water reclamation system, though Knox said it has "not been the easiest" due to "a lot of restrictions and rules that you have to be on top of to do things anymore."
Until it can locate money for a vehicle, the LJVMA may begin its cleanup effort on a smaller scale, with a bicycle-drawn cart, Marengo said. He said he hopes the effort will encourage merchants to take more ownership and pride in their spaces, and join the effort.
"Again, it's educating," Marengo said. "If someone sees you painting a fence, maybe they'll join in. …
"We should be doing some of this stuff; we're just underfunded and we're trying to figure out a way to do it. If I can create some excitement with that presence, so that someone knows that the money is going somewhere positive, hopefully that will stimulate some more activity."
Although MAD and PBID funds are typically used to cover such expenses, David Graham with the city's Economic Development department (which oversees the BIDS) said LJVMA should be able to use BID funds for common area maintenance.
In the meantime, LJVMA is hoping to relaunch its Haute La Jolla Nights for the fall and winter, and introduce several new events, including a fundraising merchant member golf tourney (tentatively set for May at Torrey Pines); pet parade and holiday "Festival of Lights."
The LJVMA is also gearing up to take over production of La Jolla's annual fireworks show at the Cove, expanding it to a weekend celebration with related events, such as band performances and a merchant grilling competition.
—For coverage of the LJVMA's meetings, pick up a copy of La Jolla Light or visit lajollalight.com
BID facts
• How a BID is formed: Per San Diego City Council Policy 900-07, after submitting a petition signed by 20 percent of eligible businesses — those possessing a current business tax certificate (license) in the proposed BID area — city staff will mail a ballot to all the eligible businesses. If the majority responding (in numbers and proposed assessment value) favor BID formation, the city council may proceed with a public hearing. If a majority to not oppose the BID, the city council may adopt an ordinance establishing the district.
• How a BID is dissolved: Follows similar public process: 50 percent of eligible businesses by assessed value must support disestablishment. A council may also dissolve a BID per a resolution of four-fifths of the BID's board of directors. The council will only consider a request to dissolve a BID once every three years.
• How city assures merchants pay their BID assessment: City Treasurer uses data provided by the Franchise Tax Board, State Board of Equalization, fictitious business names, inter-governmental referrals and citizen reports/complaints. According to the city's Economic Development department, a significant increase in compliance began in 2008 with the passage of Assembly Bill 63 (AB63), which allowed the Franchise Tax Board to share information with municipalities. Over 31,000 businesses have been brought into compliance since 2008.
• Failure to pay? The City Treasurer may collect delinquent BID assessments by intercepting state income tax refunds and lottery winnings, assessing penalties and daily interest, and initiating credit reporting and litigation. A list of non-compliant businesses was recently provided to the city by the La Jolla Village Merchants Association, which included approximately 100 accounts. An additional list of real estate agents operating in the La Jolla area was also provided, which included 500 potentially non-compliant individuals. The city is reviewing the data to ensure that the businesses become compliant with local taxation requirements and pay BID assessments.
• Excluded from assessment: most home-based businesses.
—Source: David Graham, City of San Diego Economic Development Department
---