UPDATED: San Diego Mayor Bob Filner chats with La Jolla's Mitt Romney about his cross-border Olympics plan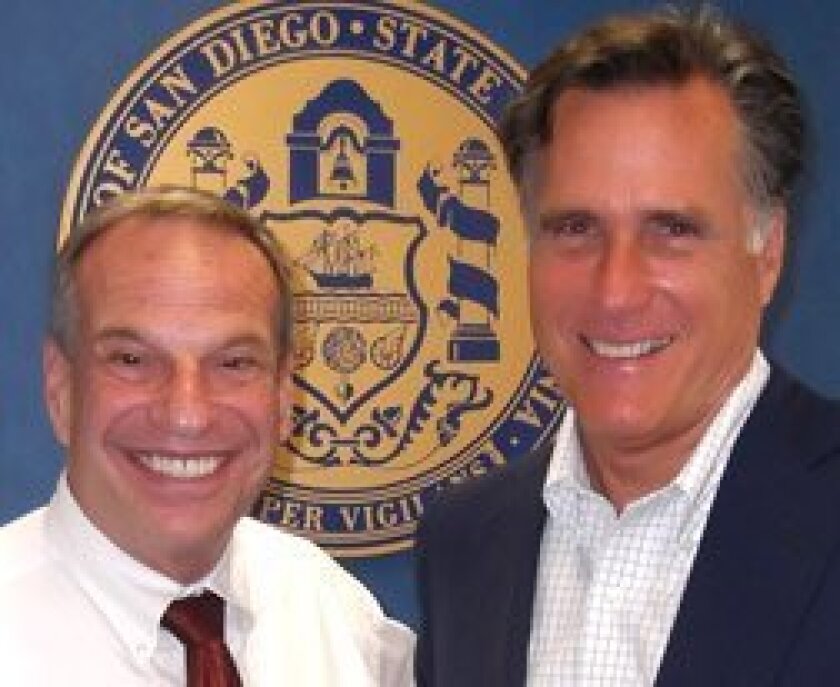 Mayor Bob Filner met with former Governor Mitt Romney at City Hall May 6 to discuss the City of San Diego's Olympic bid for the 2024 Summer Games.
Mayor Filner announced last month that San Diego and Tijuana would submit a bi-national bid for the 2024 Summer Olympics. The mayor invited Romney to his office last week to ask if the former Republican presidential candidate and Massachusetts governor would lend his advice to the effort, to which Romney said yes.
The Mayor and Romney discussed the challenges of a bi-national Olympic bid, as well as the experience Romney gained working as the president and CEO of the Salt Lake City Organizing Committee for the 2002 Winter Olympics, the most recent games that were held in the United States.
"He was very gracious," Filner said of Romney during a May 9 media roundtable event at City Hall. "He's already let us know who we should be talking to at all the right places. He's got, obviously, a wealth of information."
Late last month the U.S. Olympic Committee said international rules don't allow two countries to propose a joint Olympic event.
According to
Sports Illustrated
, Scott Blackmun, the USOC's chief executive, said the committee was talking to 10 cities about a possible bid, including San Diego-Tijuana. He said the committee hadn't looked carefully at the cross-border proposal but that it would "have its challenges." (To read more, click
here
.)
Though a bi-national Olympics is a new concept, during last week's media event Filner assured, "there's ways to deal with the existing rules.
"We would like to change the rules," he said. "I think the hallmark of the Olympics is international cooperation. What could be more a statement of international cooperation than two countries doing this together, so I'm hopeful that we have time to deal with the International Olympic Committee and their rules and by-laws."
Filner said he has spoken with contacts provided by Romney about "the realities" of hosting the Olympics, "how much money you need and the infrastructure — and I don't think it's beyond our capability or our aspirations."
Filner said Romney offered a few "reality checks," but also a sense that his bi-national proposal is feasible.
"This is not beyond our ability at least to compete," Filner said. "One of our cities could be the basic bidder with venues being held in the other city."
Filner said a proposed, downtown sports complex where the San Diego Chargers would be based might also be a place where Olympic events are held.
"We have some venues (but) we'll have to build other venues, so that's a kind of (reality) check — and it's going to be a long process," he said. "We would have to figure out as two cities, what are our assets, not just in infrastructure, but in culture, in environment? How can we help each other multiply those assets?"
Filner said he believes the bi-national Olympics could also help garner federal support for reconfiguration and revitalization of the border that would make international trade easier.
"We are the biggest bi-national metropolitan area in the world, and we don't talk about it or stress it or take advantage of it enough as a city," he said, adding that as much as 35 to 40 percent of San Diegans have roots in Mexico. "The border is a cul de sac in California, instead of being … a center of culture, of energy, of dynamism. ... People pay incredible amounts of money to go on cruises and to go traveling to get that bi-national experience. Here we have it, and yet we haven't taken advantage of it."
---