UCSD School of Medicine debuts MedEd complex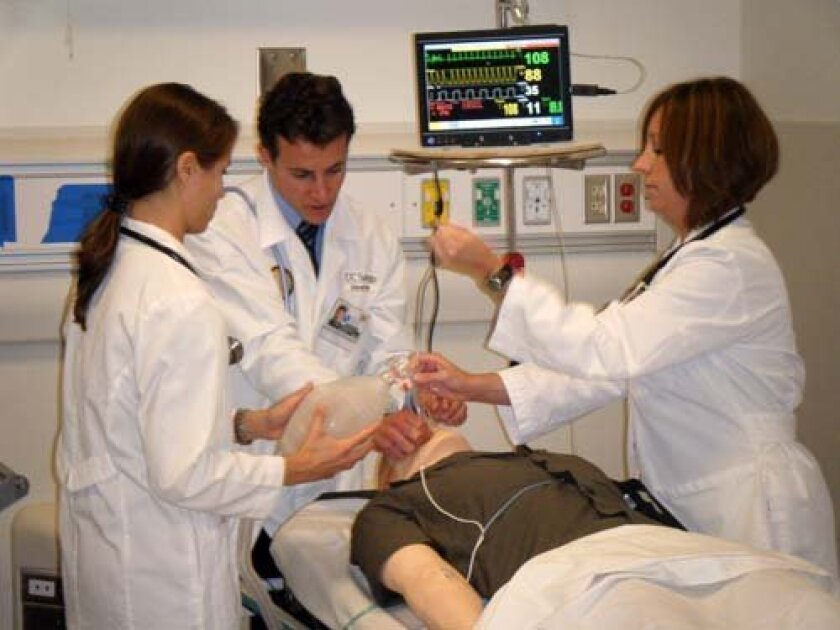 UCSD School of Medicine officials led tours of the new 100,000-square-foot Medical Education and Telemedicine Building on Thursday, showing off the first new medical training facility on campus since 1968.
"One of the big things about this building and project is that it brings many disciplines and activities together," said Maria Savoia, M.D., dean for medical education.
"A student can practice his or her diagnostic skills in one of the 18 exam rooms, then walk down the hall to work in a simulated hospital room or operating room or get training in laboratories teaching the latest techniques and technologies in surgery," she said. "At the same time, we're equipped with advanced networking technologies that let us work with doctors and students in far-flung places, from Tijuana to Mozambique."
The facility also includes a tiered 350-seat auditorium ¬— the largest on the health sciences campus — for large lectures, presentations and other major gatherings on site and through videoconferencing, as well as classrooms and space for computer-based testing along with dining facilities, a student lounge and common areas.
Santiago Horgan, M.D., chief of minimally invasive surgery and director of The Center for the Future of Surgery, talked about what the complex means to students and physician.
"My father was a surgeon, as was my grandfather. For them and for me, our first surgery was on a real person," he said. "There was little room for learning through your mistakes. With the new technologies, medical students and even practicing physicians can learn and practice techniques and procedures over and over without any harm to real patients."
Savoia also noted the benefits of having those "practicing physicians" interact with students.
"These days, medical education doesn't end with school, a degree and a practice. Doctors learn throughout their careers and part of our mission here is to bring everybody together," she said, noting that the students will learn from those who "come to MedEd to hone their skills and learn new things."
---