Triathlon for Challenged Athletes set for Sunday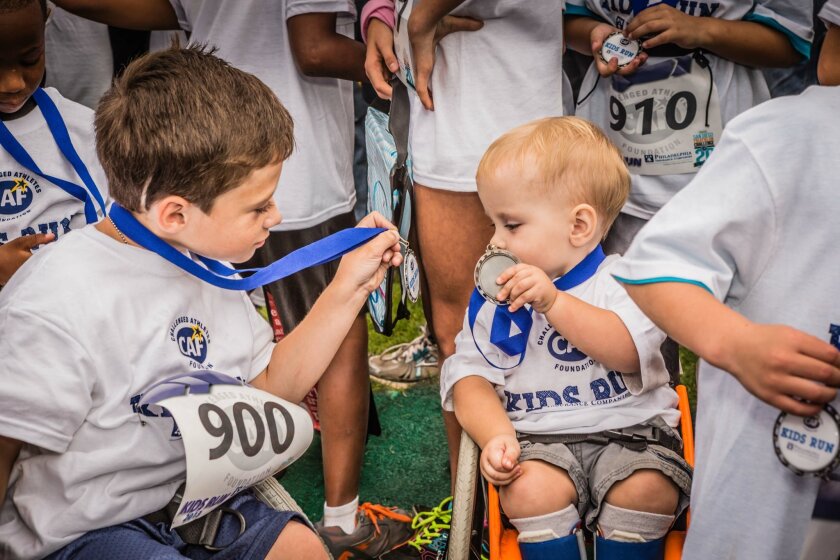 San Diego-based Challenged Athletes Foundation, a leader in helping individuals with physical challenges get involved in sports, will welcome supporters and participants to La Jolla Cove for its 21st annual Aspen Medical Products San Diego Triathlon Challenge on Sunday, Oct. 19. The sold-out, daylong event will raise more than $1 million to help physically challenged individuals get the support needed to succeed in sports and in life.
On Sunday, more than 200 challenged athletes will compete side-by-side with 500 able-bodied athletes through the signature "challenge" distance triathlon course in La Jolla Cove — a one-mile swim, 44-mile bike ride and 10-mile run.
Supporters can also take part in the festivities through the 24 Hour Fitness Tour de Cove, a four-and-a-half hour stationary cycling marathon, the Kaiser Permanente Thrive-5K Fitness Walk. Spectators are encouraged to join the organization as it honors Robin Williams, watch the triathlon and visit the Family Fun Zone – all perfect for the whole family. There will also be a variety of food trucks and vendors.
The day marks a conclusion of a weekend full of events that helps connect challenged athletes and their families to each other and supporters through swimming, cycling, running, walking and celebrating life.
Funds raised over the course of the weekend will allow the Challenged Athletes Foundation to provide grants for adaptive sports equipment, training and competition expenses, as well as clinics and mentoring programs. To follow SDTC on Twitter, go to @CAFoundation or use the hashtag #BestDayInTri.
If you go
■ Sunday, Oct.19 at Scripps Park, La Jolla Cove
■ 7 a.m. – Parade of Athletes, including introduction of legends, celebrities, challenged athletes and recent Paralympians, as well as a short video tribute to CAF-supporter and past participant Robin Williams
■ 8 a.m. – Swim start for triathlon
■ 9 a.m. – Start of the 24 Hour Fitness Tour de Cove
■ 10 a.m. – Challenged Athletes Kids Run
■ 11:15 a.m. – Kaiser Permanente Thrive-5K Walk
■ Information: 858-866-0959. challengedathletes.org
---