Town Council's La Jolla Dancing with the Stars fundraiser is this Saturday, Oct. 5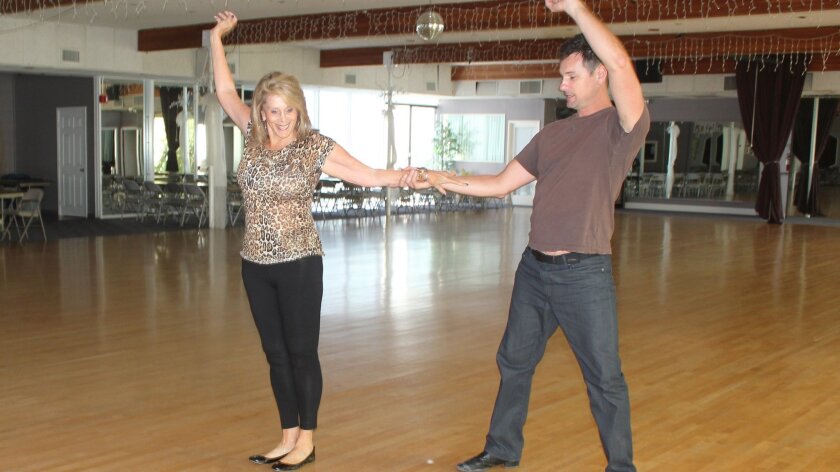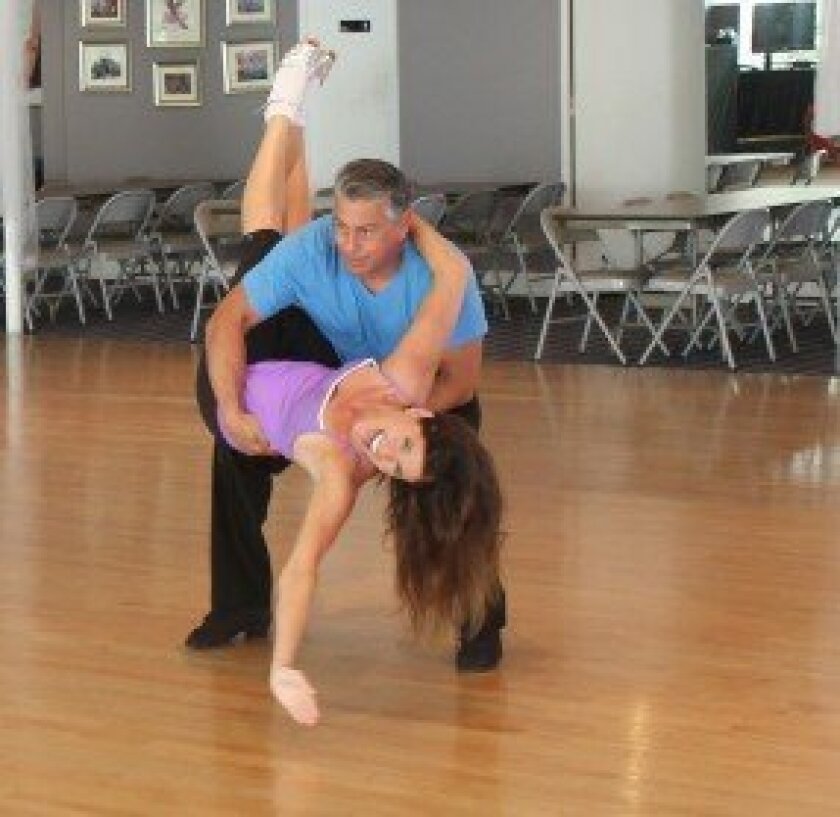 If you go
What:
La Jolla Dancing with the Stars
Where
: Hilton La Jolla Torrey Pines hotel, 10950 N. Torrey Pines Rd.
When:
6-11 p.m. Saturday, Oct. 5
Cost:
$175 per person; $325 for two; $2,500-$10,000 for tables
Purchase Tickets:
Contact Nancy Gardner at nancy@cmcfinance.com or (858) 456-3000, or Charles Schevker at (858) 449-8250. Tickets can also be purchased by mailing a check to: La Jolla Dancing with the Stars, P.O. Box 1108, La Jolla, CA 92038
Website:
ljdancingwiththestars.com
By Pat Sherman
La Jolla resident Lisa D'Angelo has run the La Jolla Half Marathon and teaches a regular boot camp class at La Jolla Rec Center. However, neither prepared her for being a contestant in the La Jolla Town Council's upcoming La Jolla Dancing with the Stars, she said.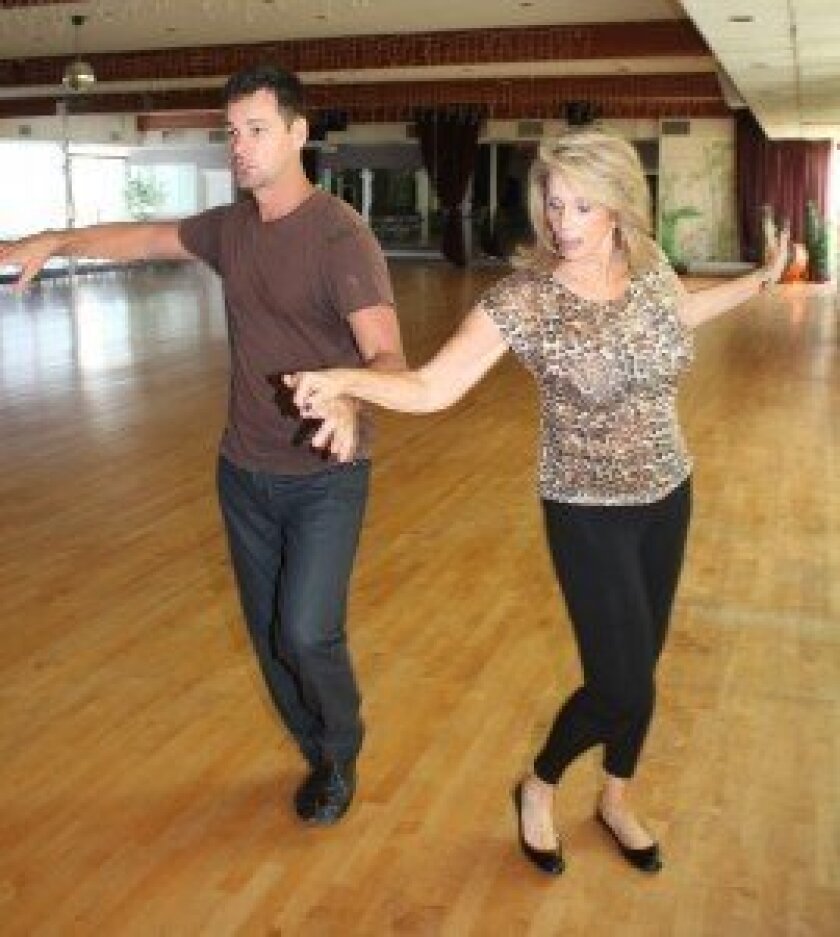 "It's a complete, full-body workout," said D'Angelo, of her weekly rehearsals with instructor and dance partner Tony Prado. "I thought I was in pretty good shape when I volunteered to do this, but when I started working with Tony, I realized how challenging dance is, how many other parts of the body you have to use and how strong your core has to be."
D'Angelo, who serves as social chair on the Las Patronas board of directors, is one of a handful of prominent La Jollans and San Diegans volunteering to dance in the Oct. 5 fundraiser at the Hilton La Jolla Torrey Pines.
The host is Mary Murphy, a judge on TV's "So You Think You Can Dance." Jonathan Roberts, a competitive dancer in several seasons of "Dancing with the Stars," will serve as an emcee and judge.
The winning dance duo will be selected by a panel of celebrity judges, who will also present an award for "best dressed couple." Attendees may help select the "audience choice award" for a $10-per-vote donation to the event beneficiaries.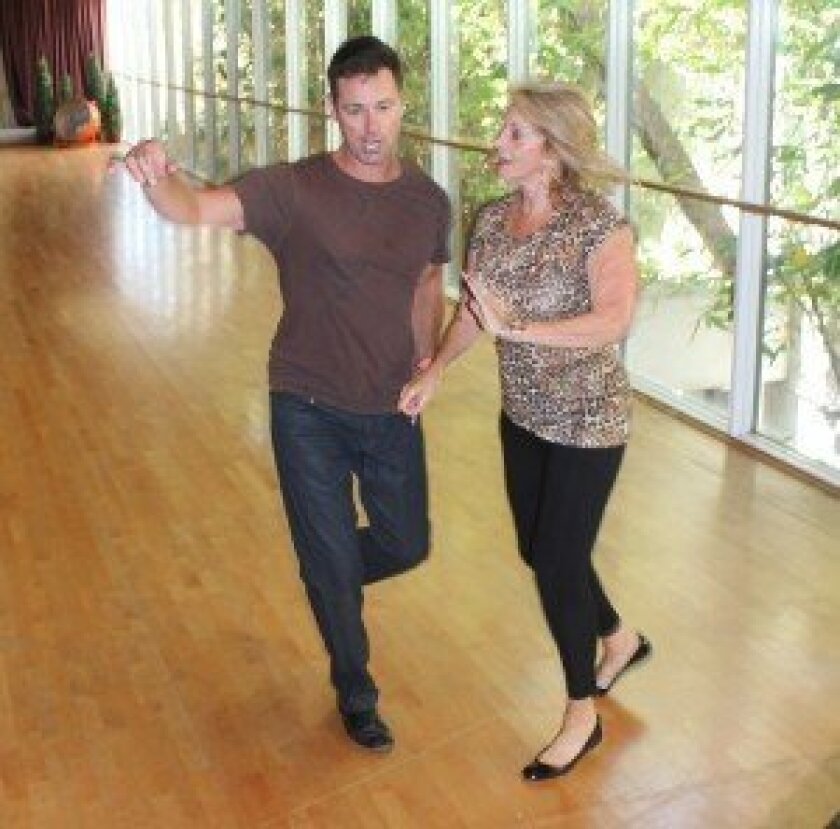 The event, produced by the La Jolla Town Council, is a fundraiser for the town council's community beautification and civic projects in the Village, as well as the La Jolla Christmas Parade, La Jolla Community Center and Warriors and Quiet Waters, a national nonprofit benefitting critically injured U.S. servicemen and women.
As for D'Angelo, she is being anything but quiet about her motive. She has videotaped each of seven weekly practice sessions at Mary Murphy's Champion Ballroom Academy in Hillcrest on her iPhone, viewing the footage at home to further perfect her moves.
"We are in it to win it —Tony and I," D'Angelo assured.
Not so fast.
La Jolla Realtor and dance contestant Maxine Gellens has been sweating it out at Champion several days a week with instructor-dance partner, Dan Gibbons.
"I'm a perfectionist," Gellens said. "When I'm going to do something, the end result needs to be perfection. I don't have that now, but I will have the perfection I'm looking for in three weeks — if I have to kill myself doing it."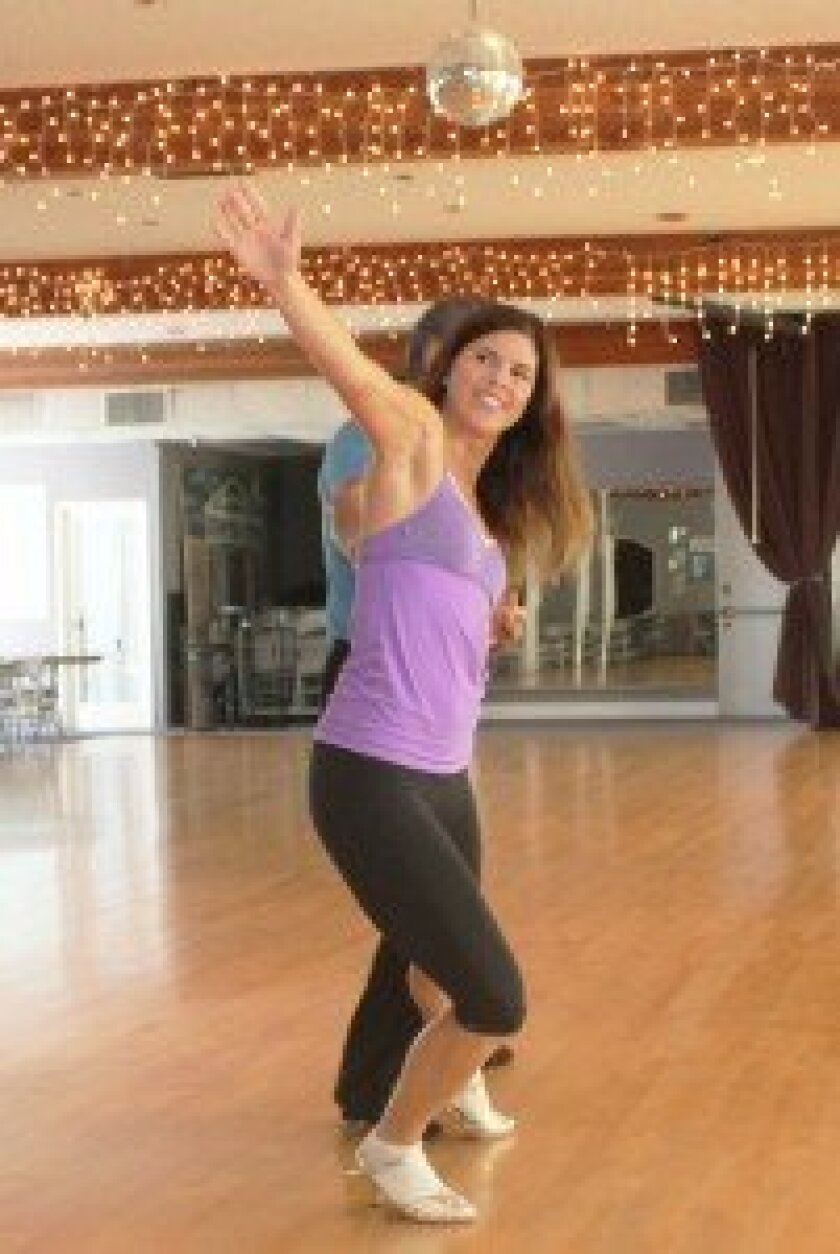 Though D'Angelo and Gellens are keeping specific details about their routines under wraps, D'Angelo said hers has a James Bond air of mystery and intrigue, while Gellens' will deliver a spicy cha-cha number.
"There's some really good surprises that you would not expect from people our age," said D'Angelo, a former gymnast whose only primary dance experience is letting loose at Las Patronas' annual Jewel Ball.
"I just can't let my nerves get the best of me, because I haven't really thought it through that I'm going to be dancing in front of a crowd," she added.
Prado said he is impressed with D'Angelo's dedication and focus during rehearsals.
"She's brought real creativity to the partnership," he said. "She really wants to make a statement for her town and her community, which I think is terrific.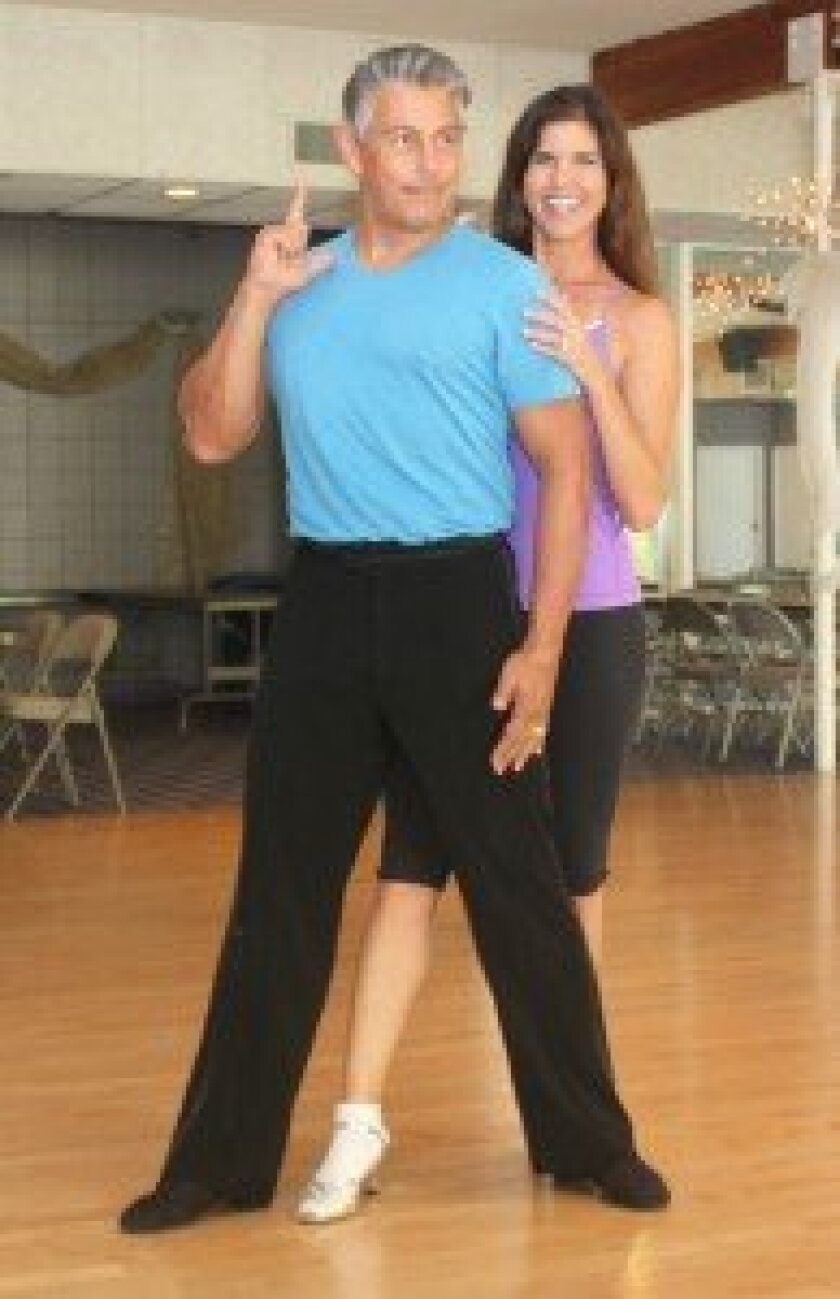 "The biggest challenge is creating in her a sense of musicality and movement while not being too concerned about the dance steps," he added.
Gellens has also made outstanding progress, her partner said.
"She's really dedicated and she's a hard worker — that's what's going to get us there," Gibbons said. "She knows her whole routine. We're just working on getting the muscle memory of it."
Gellens added: "My feet need to listen to my brain — and my hands need to listen to him, because my hands are all over the place."
While she may still be learning where her hands and feet should be, Gellens heart is definitely in the right place.
"I'm all for the wounded warriors," she said. "I just think they get shortchanged every day. And I sell La Jolla, so why wouldn't I want it beautiful and in good shape?"
The event will begin with three-course surf and turf dinner and wine (a cash bar will also be provided).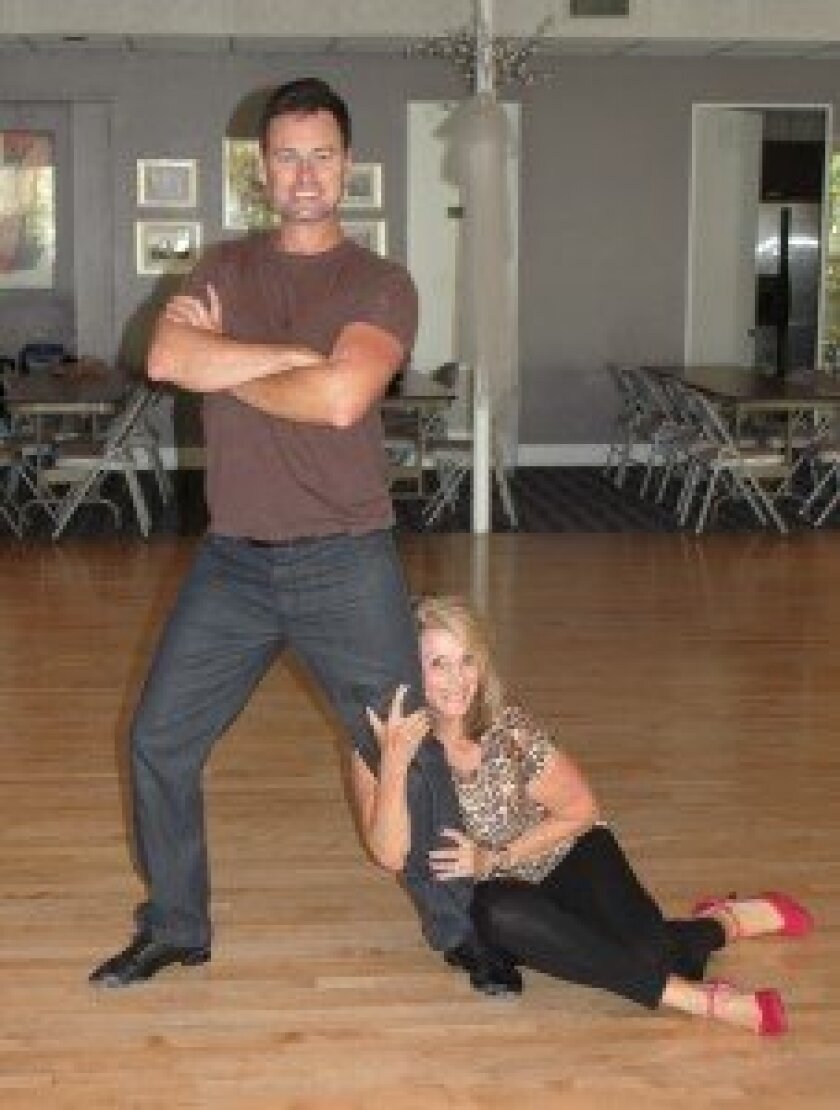 Competition begins during dinner, and includes a live auction for items such as lunch in a jail cell with County Sheriff Bill Gore; a "party in a paddy wagon" for 10, including dinner at a local restaurant; a water-propelled jetpack excursion; a trip to Puerto Vallarta (including airfare); personal training sessions; a wardrobe makeover with Leonard Simpson of KUSI TV's "Fashion Forward," a membership to The Sporting Club in La Jolla; and other items.
Other confirmed dancers include: former University of Michigan football player, Derek Bell; "Good Morning San Diego" co-anchor Brandi Williams; County Treasurer-Tax Collector Dan McAllister; La Jolla Real Estate Brokers' Association (REBA) Vice-President Karen Rockwell; REBA member Carol Kaplan (owner of Everything Creative); and Scripps Health's Chief of Cardiology, Dr. Paul Teirstein.
Judges include Assistant San Diego Police Chief Shelley Zimmerman, Jonathan Roberts, NFL broadcast reporter Scott Kaplan and former San Diego Chargers football player Billy Ray Smith, Jr.
— Donors and corporate sponsors are still welcome. For more information, contact Town Council Trustee Nancy Gardner at nancy@cmcfinance.com or (858) 456-3000.
---