5,000th person creates custom perfume at Tijon Fragrance Lab in La Jolla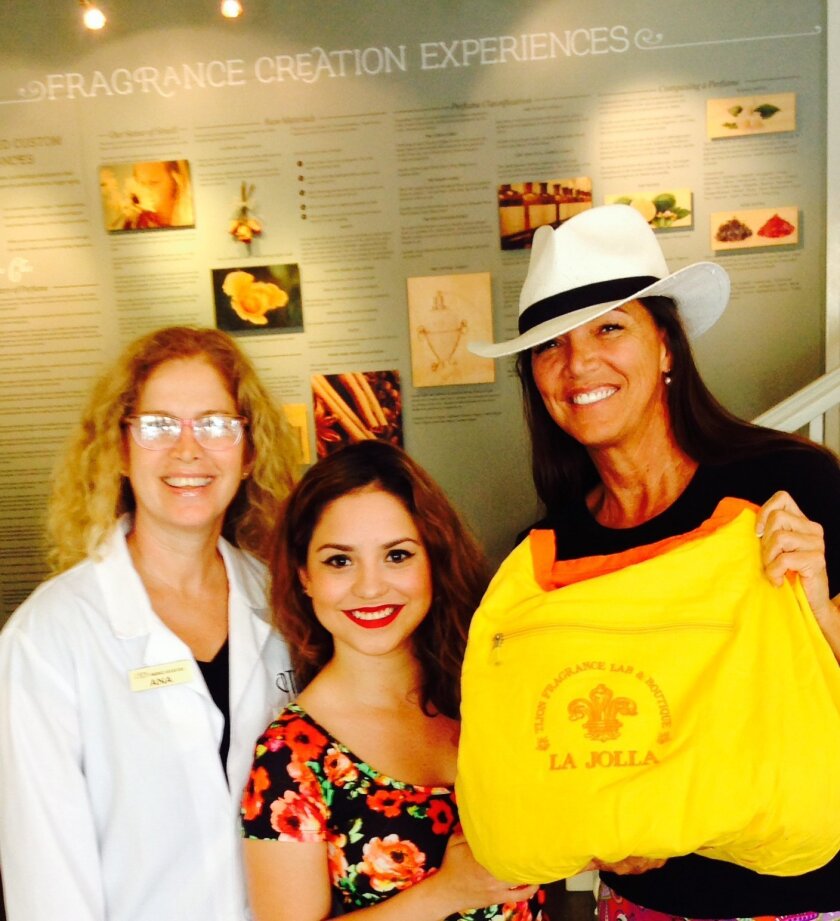 • BUSINESS SPOTLIGHT:
On Aug. 30, 2014, two people 5,000-miles apart simultaneously tied to became the 5,000th person to create their own fragrance at Tijon Fragrance Lab & Boutique.
Fabrizia Arriola of La Jolla made her own perfume at the Tijon fragrance lab in La Jolla while Nile Lee from Washington, D.C. created her fragrance at Tijon's headquarters on the French Caribbean island of St. Martin.
Arriola called her lovely perfume "Tally 101," which included notes of mango, lime, lemon, papaya, freesia, verbena and amber.
At Tijon, one dons a lab coat and then chooses from three unique, interactive and memorable experiences ranging from 15 minutes to three hours in creating their custom fragrance. From beginners to those with a "nose" for fragrances, anyone can create their own fragrance at Tijon's onsite laboratory.
They choose from more than 300 oils in blending their custom formula. It may sound overwhelming, but the pros at Tijon make it easy, evidenced by its five-star rating on both TripAdvisor and Yelp.
Fragrances created are kept by Tijon and can easily be reordered online.
"Creating a fragrance is adventurous, interactive, memorable and fun, and we provide as much help as needed in offering the different levels of experiences," Jovan Van Drielle, president of Tijon La Jolla, said.
In addition to offering these perfume-creation experiences, Tijon has created and offers in its attached boutique 21 signature perfumes and colognes along with lotions, sunscreens, soaps and other niche cosmetics.
Tijon was founded in December 2007 in the village of Grand Case, St. Martin, and opened its first U.S. location December 2012 in the Village of La Jolla. Both villages are recognized internationally for their scenic beauty, gourmet foods, shopping, and now — for their fragrances.
• Tijon Fragrance Lab & Boutique, 7853 Herschel Ave., La Jolla
• (619) 821-8219
• Hours: 10 a.m. to 4 p.m. Monday, closed Tuesday, 10 a.m. to 6 p.m. Wednesday to Saturday, noon to 6 p.m. Sunday.
The Business Spotlight features commercial enterprises that support the La Jolla Light.
---