The Rocky Horror Show dares Globe audiences not to laugh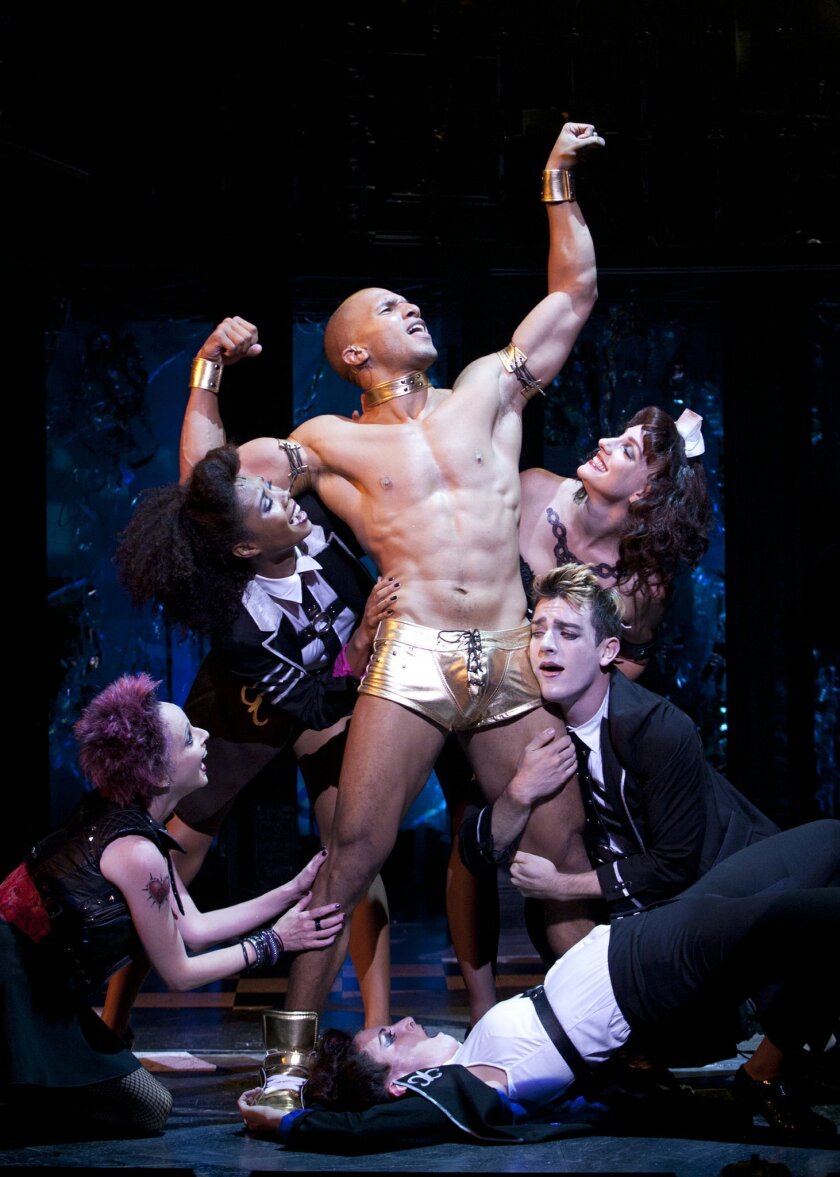 By Diana Saenger
Let's Review!
Richard O'Brien's "The Rocky Horror Show" now at the Old Globe Theater, is witty, fun, outlandish and a little bit naughty. Its screams to "be who you are," will shock a few, won't disappoint its fans, and may make some new ones as well. Devotees from way back are immediately drawn in as the show opens when Usherette (Laura Shoop, "Run For Your Wife") and Usher (Jason Wooten, "Hair") sashay down the aisles singing "Science Fiction Double Feature."
Newbies will have no clue what they're singing about, as the words of the song are inaudible. But those who know the show don't care as they begin to clap and sing along, and others will understand from the film-clip background that it's about science fiction movies.
What starts out innocent enough quickly enters the "not for the prudish" arena. Brad (Kelsey Kurz, Broadway's "The Merchant of Venice") and Janet (Jeanna De Waal, "American Idiot"), a young engaged couple, have car trouble on a dark and stormy night. When they go to a "castle" for help, they're surprised to find themselves captors of Frank 'N' Furter (Matt McGrath, "Cabaret") a crazed transvestite obsessed by science fiction.
After a few tunes where Brad and Janet try to figure out how to get out of this place, some of Frank's zombie-acting sex fiends jump into Rocky Horrors' theme song, "The Time Warp." The audience comes alive, following the directions of the Narrator (David Andrew MacDonald) to, "jump to the left, a step to the right, hands on your hips," etc.
After the dancing comes the frolic as Frank decides to have his way with his guests beckoning them up to his lab. He has a surprise for both Brad and Janet, who think they are with each other in the dark only to find out later they were not. This is done in silhouette, but is still quite graphic.
The theme of the show clearly exposed, it's nevertheless hilarious, and the fact that the empty seats after intermission could be counted on one hand, says the Globe audience was OK with it.
Look for many standout performances. McGrath is in command of his character sliding from sexy tempter to whining loser, and at times, too boastful about finding the secret of life. His vocal range is huge and every change of tone accompanies each different personality. MacDonald is a hoot as the suave Narrator, and hilarious when he dawns his garter belt and fishnet stockings as Dr. Scott.
Scenic designer Donyale Werle did an excellent job. The faux-stone wall framing the stage to the exotic musical numbers and scientific trappings really is a plus. Costume designer Emily Rebholz met her challenge well with a wardrobe that is alluring, sometimes funny, and always working for the right emphasis.
If you go
What:
"The Rocky Horror Show"
When:
Matinees and evenings to Nov. 6
Where:
The Old Globe Theatre, Balboa Park
Tickets:
From $29.
Box Office:
(619) 23-GLOBE
Website:
www.TheOldGlobe.org
---