Let's Review: The Globe's 'Bright Star' superb and extraordinary
The dynamic pairing of San Diego's Old Globe Theatre and the creative team of playwright Steve Martin and singer-songwriter Edie Brickell create the perfect storm of entertainment in the world premiere of "Bright Star."
Martin wrote the book with help from Brickell on lyrics. The musical — based on real events — is a beautiful journey of joy, discovery, loss and redemption that takes place 1923-1945 in North Carolina.
Billy Cane (A.J. Shively) just returned home after serving in World War II, and Shively's excitement as Billy is as telling as his uniform. He makes his way inside a radio station where a disc jockey (Scott Wakefield) insists Billy can't go on the air, but he eventually wins over the DJ.
Billy begins to sing "Bright Star," the first of almost 20 Martin-and-Brickell musical collaborations.
The delightful music and wonderful words — "Bright star keep shining for me, shine on and see me through. Bright star keep shining for me, and one day I'll shine for you" — were an irresistible beginning to this story.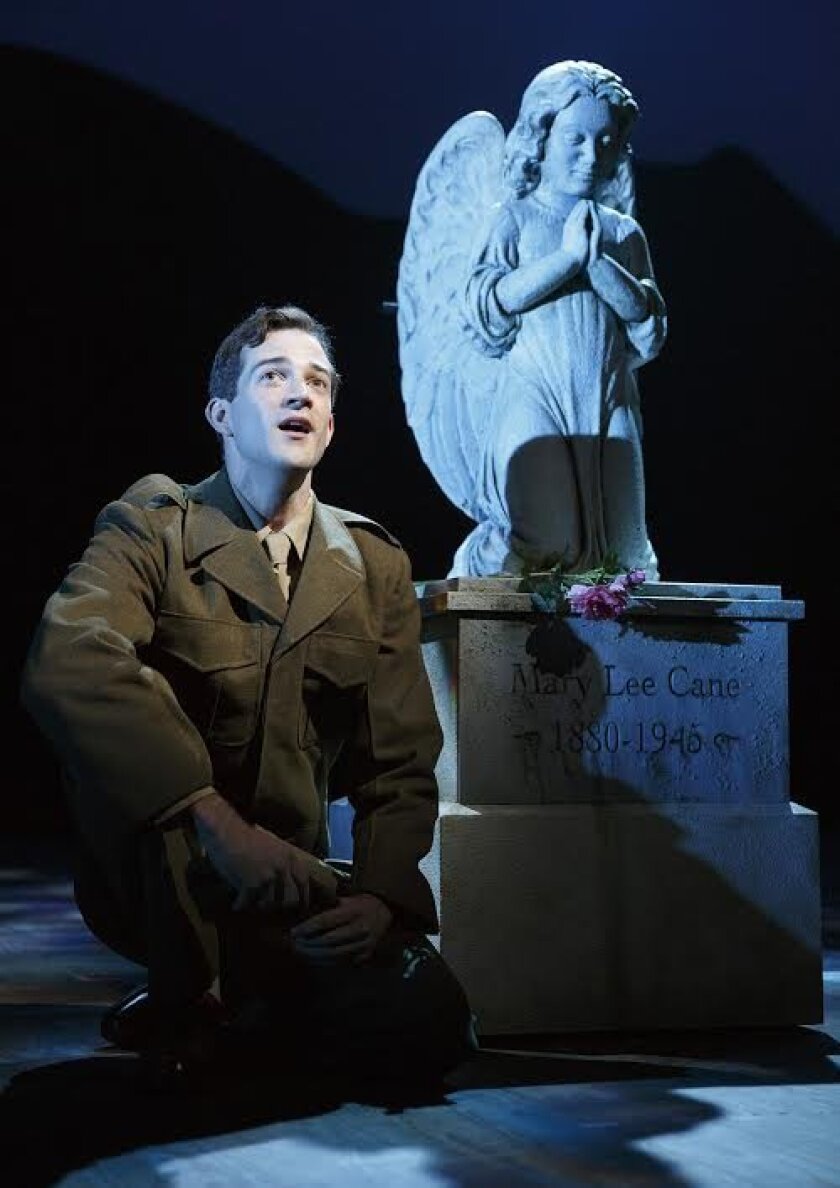 Over at the Asheville Southern Journal, clerks Daryl Ames (Jeff Hiller) and Lucy Grant (Kate Loprest) are sorting through files when editor Alice Murphy (Carmen Cusack) enters, singing in a mellifluent voice about how much she loves her job. However, after Daryl and Lucy invite her to join them in a night out, Alice's recollections of her painful past unfold in the heartfelt song, "Way Back in the Day."
Her memories include meeting and falling for the love of her life, Jimmy Ray Dobbs (Wayne Alan Wilcox). But Jimmy's father, and the local mayor, Josiah Dobbs (Wayne Duvall), doesn't think Alice measures up to the plans he has for his son's life.
When Billy and Alice meet, they discover a secret that changes the course of their lives.
A wonderful ensemble fills out other characters and scenes that tie the story together. They dance and sing, accompanied by an orchestra of assorted musical instruments (thankfully including Martin's banjo compositions).
All of the lead actors are exceptional in their portrayals of merriment, sadness or regret. One standout is Hiller, who plays Daryl. His dialogue and inadvertently amusing comments are brilliant, while his facial expressions and attitudes arouse repeated laughs from the audience. But Cusack is the true Bright Star of the show, with many audience members remarking on her exceptional voice and acting.
The exquisite scenic design by Eugene Lee is also a major character in this production. Because the story covers several locations and time periods the decision was made to place the orchestra right on the stage. Lee designed a little cabin that encompasses the orchestra members and can be pushed about the stage for different scenes by cast members. It's an exceptional idea that only heightens the joy of this production.
Costume Designer Jane Greenwood is superb at using the actors' wardrobes to differentiate times and eras. Director Walter Bobbie has obviously thrown his heart and soul into this production.The Old Globe Theatre's involvement with this production is the icing on the cake of what surely has started its long journey. Barry Edelstein, the Globe's artistic director, describes "Bright Star" as a special rare work of American musical theater.
" 'Bright Star' is simply fantastic," Edelstein said. "The music is gorgeous and completely captivating, and the story heartfelt and very sweet. I know that San Diego audiences will adore it."
Martin has astounded us over and over with his skills as an actor, musician, author, artist and composer. His awards — Academy, Grammy, Emmy and Kennedy Center Honors — speak volumes about his work. It takes only one production such as "Bright Star" to understand his and Brickell's ability to enthrall an audience with an engrossing story and wonderful songs that aid in telling their heartfelt and fun story.
---