Teen driver in Muirlands crash was attempting popular motorsports trick, police say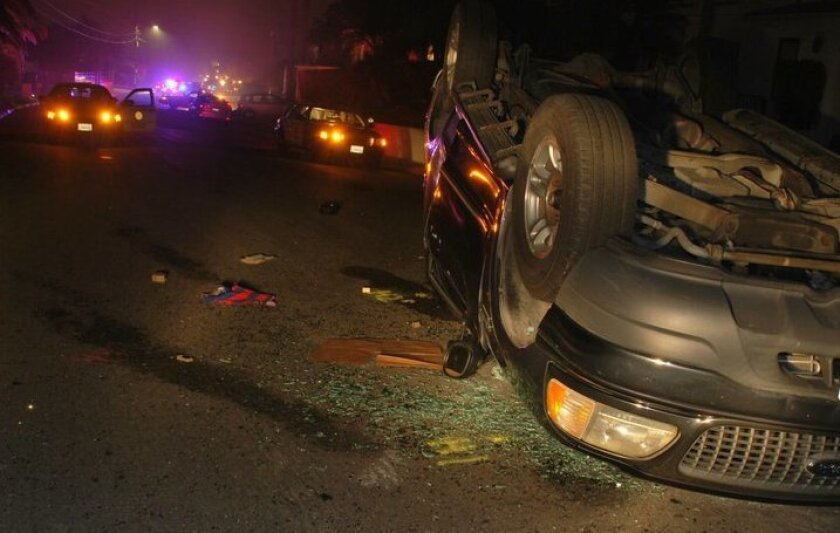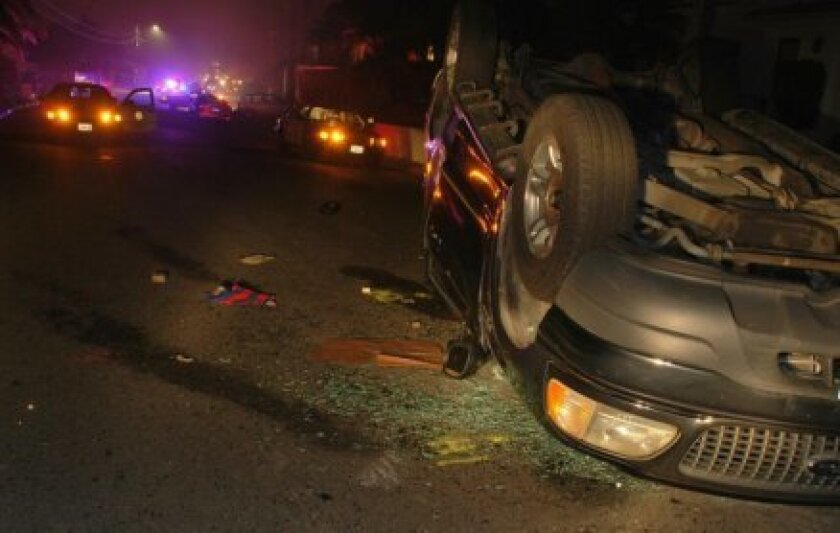 By Pat Sherman
San Diego police say the cause of Saturday night's rollover crash in La Jolla's Muirlands neighborhood is the result of a teen driver attempting to emulate a popular motorsport technique known as "drifting."
Glamorized in in the 2006 street racing film, "The Fast and the Furious: Tokyo Drift," it occurs when the driver over-steers, causing a loss of traction in the rear wheels or all tires.
"You can't do it (drifting) with an SUV — especially with 15 other kids sitting behind you," San Diego Police Traffic Division Detective Dan Wall told
La Jolla Light
.
The 16-year-old boy, possessing only a recently issued provisional license, lost control of a 2002 Ford Expedition SUV while going around a corner in the 800 block of Muirlands Visa Way shortly after 8 p.m.
Sixteen La Jolla High School students were in the vehicle — 13 of them, ages 14 to 17 — were injured in the crash.
Wall described their injuries as "pretty bad," including concussions, broken ribs and broken bones.
"One girl got a brain bleed. Another girl got her leg ripped open — and a bunch of stitches. Another guy's got a broken pelvis, and a dislocated leg," Wall said.
The driver was traveling 40 mph in a 25 mph zone on Muirlands Vista Way when he attempted to drift. The vehicle rolled over and landed on its roof. None of the teens were wearing seat belts.
The teens had fled a party at a home where there were no adults present, with the parents likely out of town, Wall said. He said the teens fled when a neighbor phoned the grandparents of the teen who lives there.
"They just bailed out of every window and door," Wall said. "These kids were at a full sprint, trying to get out of there."
Wall said the teen driver, who suffered only minor injuries, was not drinking and passed a sobriety test. However, other passengers had been drinking and several empty beer containers were located in the crashed SUV.
The incident is still under investigation, and charges may be filed against the young driver (whose name has not been released), though Wall said the charges depend on whether any of the teen passengers develop long-term injuries. Police have reported the incident to the Department of Motor Vehicles. Under California law, a driver with a provisional license may not carry passengers under age 18 unless an adult age 25 or older is in the vehicle.
"Right now, it's going to be up to the DMV if he even keeps his license," Wall said.
Responding to an inquiry via e-mail, La Jolla High Interim Principal Pat Crowder said, "We are working with our PTA to provide a parent presentation to discuss a number of social issues our students face, and topics will include student drinking, etc. We are planning to have at least one local judge and law enforcement (as) speakers. We are also planning other parent information sessions to specifically address controlled substances."
An e-blast sent to parents earlier in the week said, in part, "The school recognizes that this is a difficult issue for some of our students. We will be offering counseling to any student affected by this incident in the coming days to help them through this rough time."
---