Sustainable art class at Preuss School has students thinking outside the norm
By Will Bowen
On a mission to promote Earthly sustainability, teacher/artist/business exec Barbara Gothard, teamed up with Barak Smith, head of the art department at the Preuss School on the UCSD campus, to offer a unique class for underprivileged kids. Gothard received a grant from the Picerne Foundation to develop and present the Art & Sustainability course as part of its Artist Outreach program. She's been teaching with Smith in his classroom every Tuesday since last July.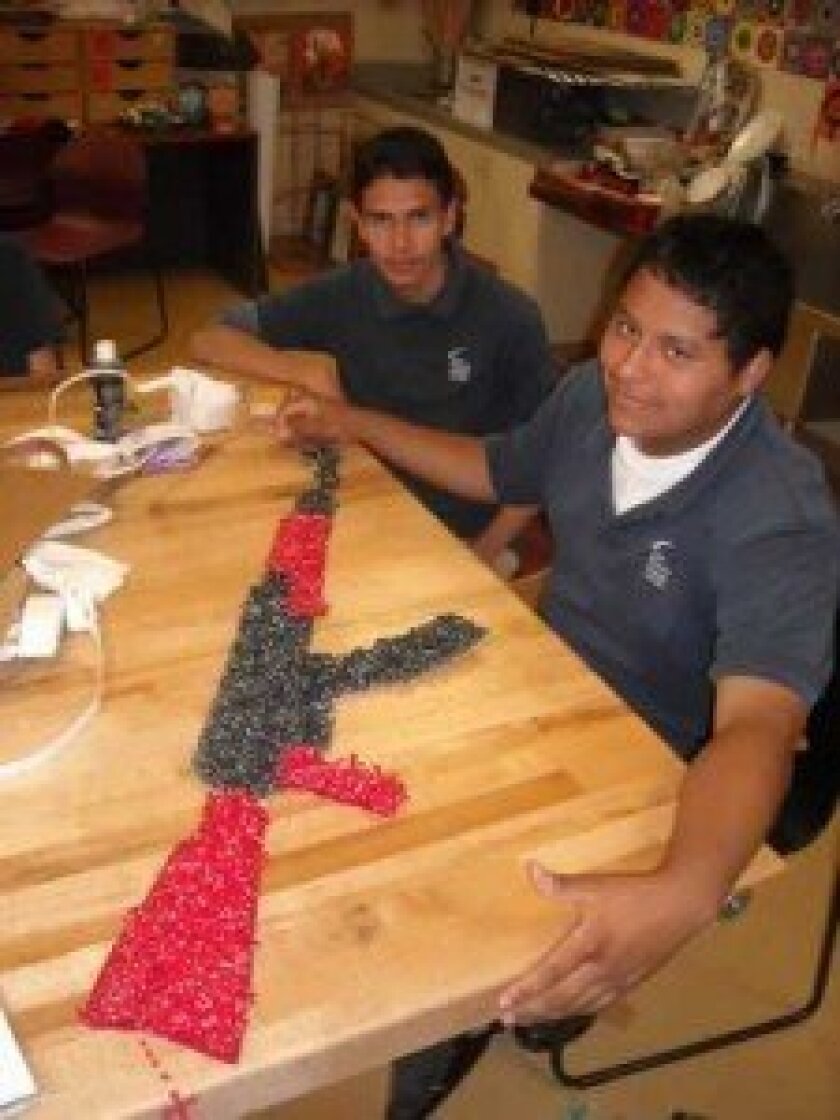 Gothard and Smith plan to showcase the work of their students from 10 a.m. to 9 p.m. on Saturday, June 9 at the Space 4 Art galleries, 326 15th Street in the East Village of downtown San Diego.
The students' art will be offered for sale with a percentage going to support the Preuss School Art Department.
Gothard, who received her Ph.D. in 1982 from Michigan State University, explained that she started out her career as an art teacher. She became a principal, but switched to business to work for companies, like Burger King and Dow Chemical, on their sustainability projects.
About a year ago, she decided to get back into art on a full-time basis. Hoping to meld her interests, she came up with her current project. When she is not teaching, Gothard is a Surrealist painter, working in oils and watercolors. Her paintings show floors, windows, building edges and the sky.
"(In life) there are multiple realities operating simultaneously," Gothard said, "and each may offer opportunities, even as we get older. I want to awaken in people this sense of opportunity.
"My mother always taught me that there was light at the end of the tunnel and to keep on trying. She said that education was the key because they could never take it from you. It would always be there to serve you."
She said her project on sustainability at Preuss is only possible "because Barak is such a visionary art teacher." Smith is a UCSD Visual Arts graduate who used to work at the Museum of Contemporary Art in La Jolla. He said in years past, he liked to work with matchsticks to make sculptures. After his sculptures were finished, he would sometimes light them on fire. Now he works mostly in pen and ink, drawing intricate patterns.
"I love teaching at Preuss," Smith said. "All of the teachers here are at the top of their games and the students, some of whom ride the bus to get here for 1 to 3 hours every day, are all highly motivated."
He said sustainability projects, which utilize free discarded materials, are perfect for these times when the budget for art is being cut at most schools.
Preuss School is considered one of best in the country in terms of power to transform students. All its students come from underserved communities and represent the first in their families to attend college. Preuss spends about a million dollars a year just bussing them to campus. The students also receive two free meals a day and free books, so this is the opportunity of a lifetime for most of them.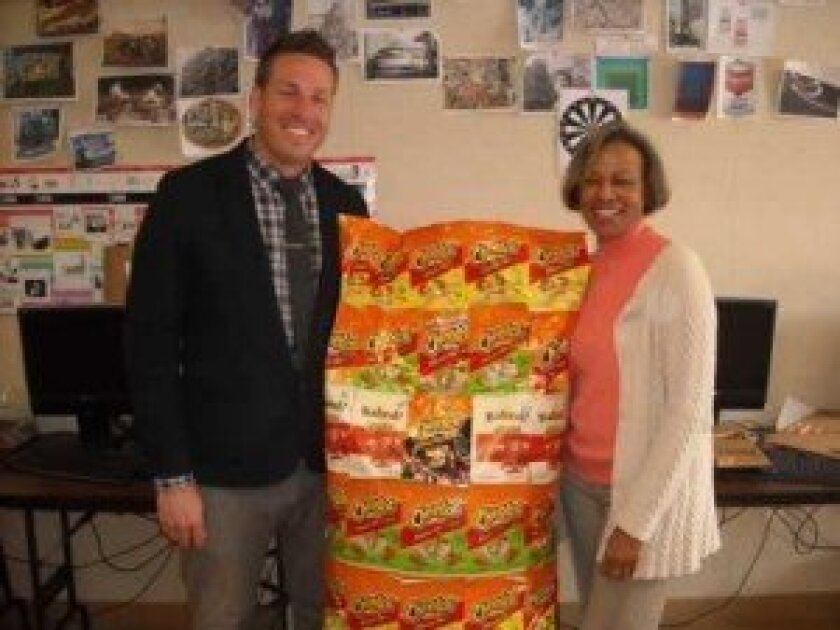 Aimy Pham is a student in the Art & Sustainability class who rides the bus from East San Diego each day. "We are free to do whatever we want in this class. No one tells us how things are supposed to be," Pham said. She's working on a wall relief sculpture made from discarded cardboard, which she calls "Piercing Words." "Sometimes, even things said nicely or diplomatically, can be painful," she said. Pham hopes to have a career in cyber-security, "like in the movie, 'The Girl with the Dragon Tattoo.' "
Carmello Madera and Edgar Escobar worked together on an art project fashioning an AK47 submachine gun out of red and black rosary beads. They said it represents all the people who have died in the drug wars in Mexico. "I personally think that the Mexican government could stop the drug cartels but they don't because some people high up are receiving a 'mordida' or a bribe," Madera said.
If you go
What: 'Sustain It,' Preuss art students' show/sale
When: 10 a.m. to 9 p.m.
Where: Space 4 Art gallery, 325 15th St. East Village Reception: 6-9 p.m. with music, spoken word
Contact: (610) 269-7230
Website: space4art.org
---