Students, parents and teachers rally to protest teacher pink slips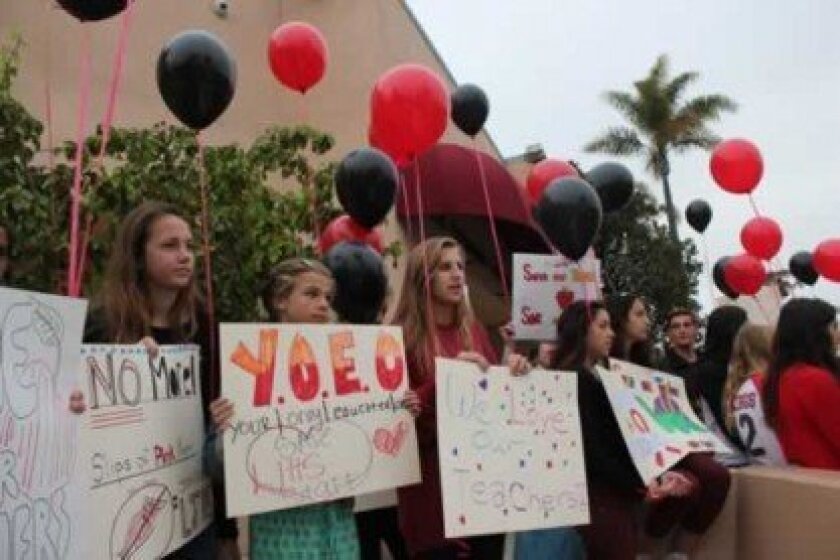 Get involved
To ask that the board of education rescind more than 1,650 teacher and staff pink slips, attend the school board meeting at San Diego Unified School District offices, 5 p.m. May 22 at 4100 Normal St. in San Diego.
By Pat Sherman
Students, parents, teachers and staff of La Jolla's five public schools rallied Monday, May 14 to demand that the San Diego Board of Education rescind more than 1,650 planned pink slip notices district-wide.
Speaking to those in attendance outside La Jolla High School early Monday morning, La Jolla High teachers' union representative Patricia Thomas urged people to attend the school board meeting on May 15 to demand that the pink slips be rescinded. (The pink slip decision has since been moved to the board's May 22 meeting).
Thomas, a math teacher, said the school board was still unsure whether it should make all the pink slips binding.
"They don't know what they want to do," she said. "One board member said, 'We're insolvent.' The other board member said, 'No, we're not insolvent.' The board doesn't even know its own finances. So why do they feel the need to issue more than 1,650 pink slips?
"This is a moment where our voice can make a big, big difference," Thomas said. "Speak out. … This is where the decisions are made. Laying off one out of every five members of your faculty is not the way to go."
Prior to the rally, students brandished signs opposing the cuts, chanting, "Education Matters: Save Our Teachers."
"We love our teachers here at La Jolla High School. I can't imagine going to school and being in classrooms with so many kids," Student Body President Erik Vanstrom said. "It's already hard as it is. We want to support you guys."
Mayoral candidate Bob Filner and Congressional Candidate Scott Peters also were in attendance, lending their voices to the cause.
"A state which cannot fund its future, we've gotta change — it's not acceptable," Filner said.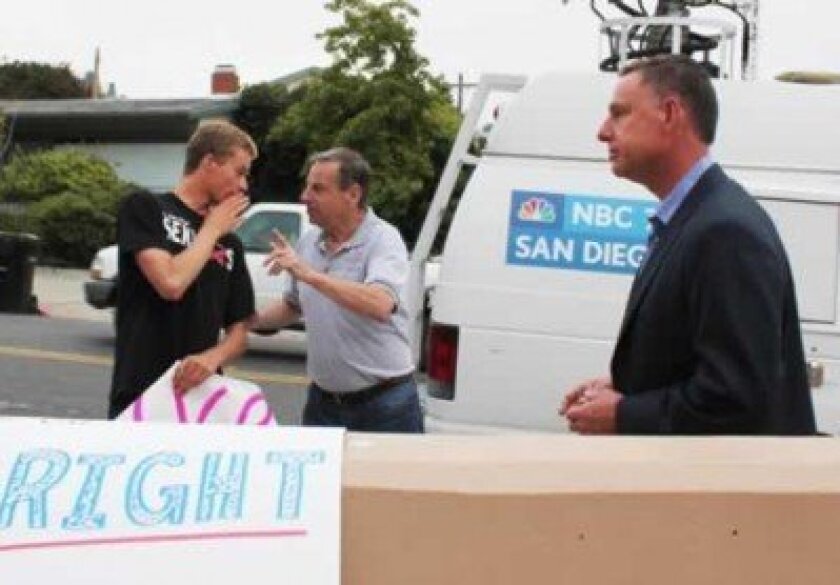 Peters added, "It's not just your future; it's our future as a country. If we don't educate everyone, and give you all a chance to get educated, we don't compete in the world economy."
Thomas, who attended the May 15 San Diego Unified School Board meeting, said the pink slip decision was pushed back because an administrative law judge's findings were not ready.
"The law on how teachers are laid off is very complex," she said. "If the district has made some mistakes in the pink slips they issue, a teacher has a right to a hearing to find out if the district has done everything it must do according to the law. Most times at these hearings they find that some (procedural or administrative) mistakes are made ... and the board retracts that pink slip — (for example), if they have the the wrong date of hire or the wrong information about someone's credential."
Thomas said the school board could decide to rescind more pink slips after the May 22 decision.
"We know the board can decide to do the right thing, that they don't need to issue all these pink slips," Thomas said. "We remain hopeful that over the summer they'll change their mind."
The school board meeting will be at 5 p.m. May 22 at 4100 Normal St. in San Diego.
---