Students' experiment ready for blast off to space station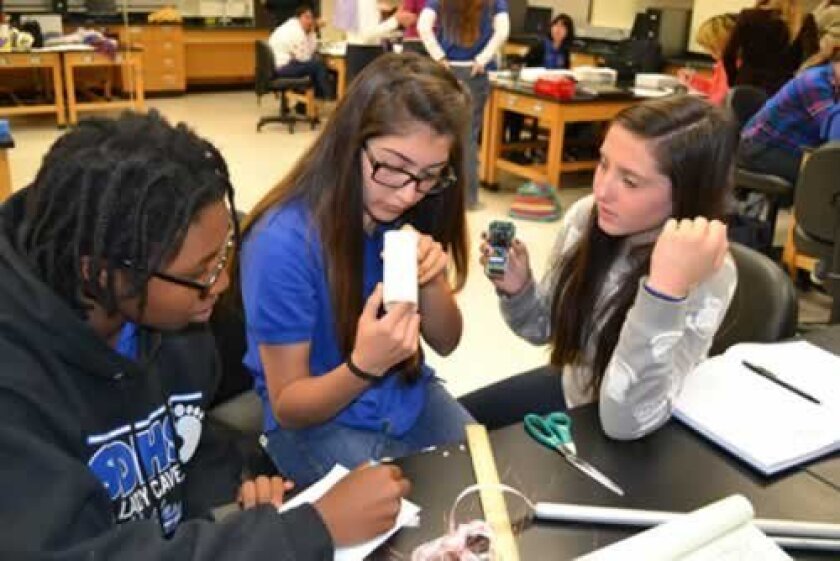 By Ashley Mackin
The Better Education for Women In Science and Engineering program (BE WiSE) has launched a program calling on female students from 15 San Diego high schools to design a micro-experiment to be deployed on the International Space Station in March 2013.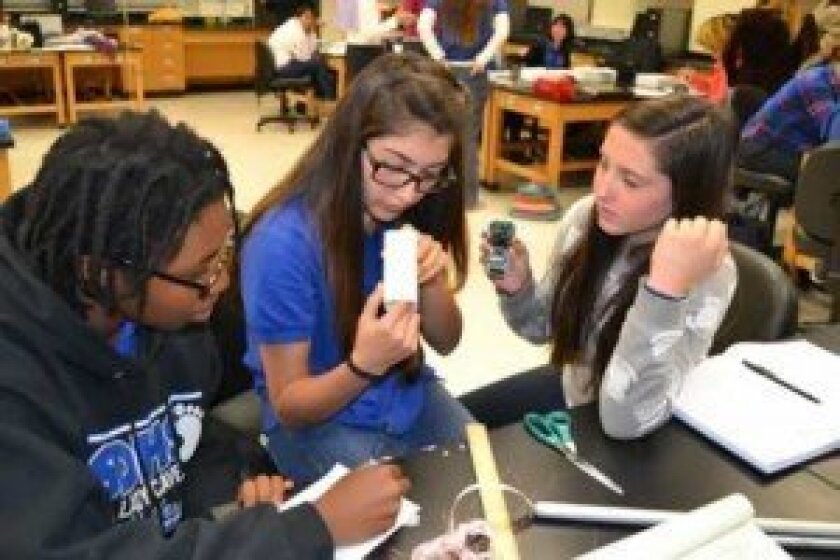 La Jolla High School's Gracie Young and The Bishop's School's Grace Young represent La Jolla on the project under the mentorship of teachers, industry volunteers and BE WiSE alumni.
Grace Young explained that the students would be growing alum crystals in space to test if such would result in development of a more pure structure. Alum crystals are found in several household items, such as dyes, water purification systems and deodorant. If the crystals do grow differently in the microgravity environment, there is the possibility of growing more crystals in space so they could be used on Earth.
Gracie Young said these crystals would also be stronger. If the young researchers could prove that, it could lead to the growth of other crystals, such as those used in steel, to make these products more resilient.
The results of this experiment could also help in the field of medicine, as pure crystals are used in insulin and other medications. The purity is beneficial because it yields synthetics that would be closer to what the body produces naturally.
The experiment will spend one month in orbit traveling approximately 15 million miles at an altitude of about 250 miles above the Earth.
The dimensions of the capsule are two-inches by two-inches by four-inches. The students will have a control experiment on Earth for which they will perform an identical test to see if the results vary due to the influence of microgravity.
The dimensions of the capsule carrying the experiment are small – the girls have used toilet paper rolls to approximate size – so it can fit on the NanoRack of the cargo rocket that will take the experiment up to the space station.
The cargo rocket is scheduled to go into space in March 2013, drop off the experiments and cargo to the space stations, and bring the experiments back in May 2013, when the results will be recorded.
For Grace Young, having an experiment actually go up into space — a benefit only 100 students have experienced — was shocking when it set in.
"When I first heard about this experience, I didn't really think about it ... but when they started stressing that this was going on the space station, it finally hit me one day and I thought 'oh my god, only 100 kids in the whole world get to do this and I'm one of those 100,' so I think this is an amazing opportunity and I'm really excited to be participating in it."
Press materials stated that BE WiSE is a program under the San Diego Science Alliance (SDSA), which focuses on teaching Science, Technology, Engineering and Math (STEM) learning. "As part of our mission, SDSA strives to build bridges between business, education and scientific research communities to ignite STEM learning. We are extremely excited to be a part of this collaborative voyage into space," said SDSA Executive Director Nancy Taylor. A big factor of the BE WiSE program is its orientation to young women.
"I don't mean to be stereotypical, but most people, when they think of scientists, they think of guys in the lab," Grace Young said, "so having a program for women is a good thing." She also said the program helps girls develop a passion for science.
"I hope to study science in college and through this experience I've found a new interest in space and I kind of want to be an astronaut when I'm older," she said.
Gracie Young said there is also value in getting students interested in science when they are young.
"It's very important because they start (working with the students) in seventh grade, which is when girls start saying, 'Oh, I don't know if I can do well in science because there's all these guys in my class doing better than me' ... it's really important that they introduce you to these women who have done great things. It's really inspiring."
Participating High Schools
■ La Jolla High School and The Bishop's School each have a student in the BE WiSE program. One student from each of these schools is also on the team: Academy of Our Lady of Peace; Canyon Crest Academy; Carlsbad High School; Cathedral Catholic High School; Mission Vista High School; Patrick Henry High School; Rancho Buena Vista High School; San Diego High School of International Studies; San Marcos High School; Santa Fe Christian School and Torrey Pines High School.
---