Sparkle & Shine Update: Plan to spruce-up Village of La Jolla on a roll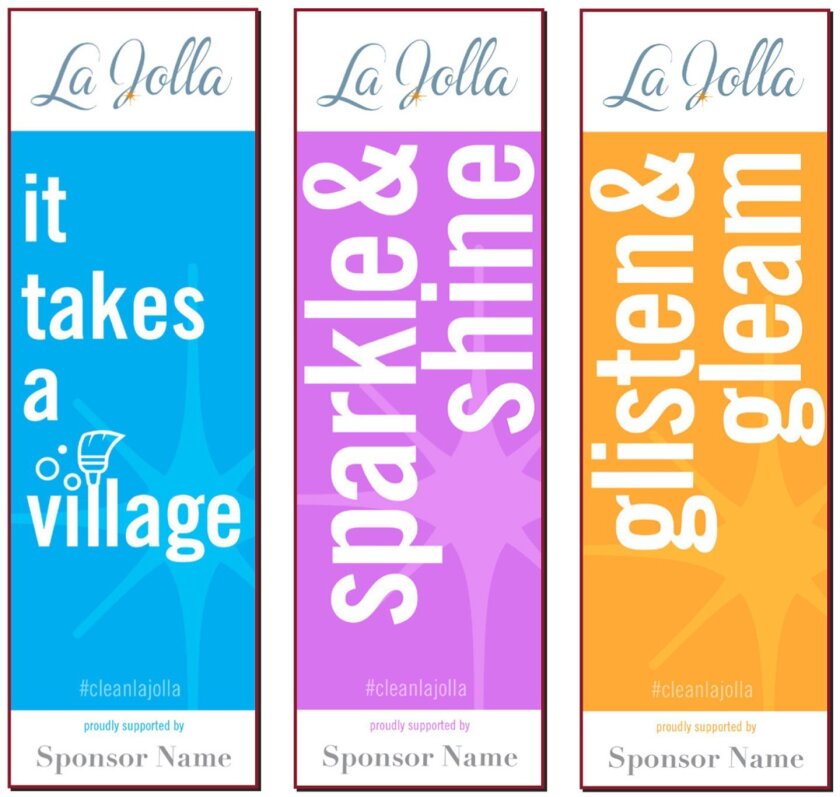 Merchants' plan to spruce-up sidewalks in the Village of La Jolla gaining traction
More donors are coming on board to help the La Jolla Village Merchants Association (LJVMA) with its fundraising plan to clean Village sidewalks. Those who donate to the LJVMA's "Sparkle & Shine" campaign will have their business or donor names displayed on one of the LJVMA's promotional banners posted throughout the Village.
To date, $40,000 has been raised through the "Sparkle & Shine" campaign.
From December 2014 to March 2015, residents and business owners can purchase an 8-foot-tall banner for $400 a month. Those who purchase three banners will have one of them located on Torrey Pines Road, where more than 35,000 vehicles travel each day. Anyone purchasing three or more banners — to be displayed in one month or spread out over several — receive a 20 percent discount.
"The LJVMA is thrilled by the reaction to this grassroots fundraiser to clean the Village," LJVMA director and project organizer Nancy Warwick said. "In the first month alone, we have raised over $40,000, and the La Jolla Town Foundation will be able to start funding the cleaning of the sidewalks this month. Both business owners and residents clearly understand the importance of this effort. It is our hope to raise at least 80,000 by Dec. 1."
The money will be deposited in the account of the La Jolla Town Foundation, a 501(c)3 nonprofit corporation. The funds cannot be used for any purpose other than cleaning the Village of La Jolla. The donation is tax-deductible, with only 15 percent going towards banner production.
Businesses and individuals who have purchased banners include: Alcorn & Benton Architects, Ark Antiques for Animal Charities, Bijou French Bistro, the law firm of Blanchard, Krasner & French; Bowers Jewelers, BraveCort Foundation for childhood cancer research, Burger Lounge, Capital Growth Properties, City National Bank, Eddie V's steakhouse, Geppetto's Toys, Girard Gourmet, Grande Colonial Hotel, Island Architects, La Jolla Beach & Tennis Club, La Jolla Light, La Jolla Music Society, La Plaza La Jolla, La Jolla Village Lodge, Marengo Morton Architects, Meanley & Son Ace Hardware, Monarch Gallery, Muttropolis, Puesto Mexican restaurant, Rancho Financial Mortgage, Richard Walker's Pancake House, Sigi's boutique, Torrey Pines Property Management, Warwick's Bookstore, La Jolla Art & Wine Festival founder Sherry Ahern, Darcy Ashley, Bill and Michelle Lerach, Susie Barbey, Cameron Booth and Marian Warwick.
To purchase a banner or for more information, e-mail LJVMA director Nancy Warwick at nancywarwick@yahoo.com or phone (858) 454-0347.
A Sparkle & Shine information booth will be set up during this weekend's La Jolla Art & Wine Festival, Oct. 11-12, in front of the former Burns Drugs space at 7824 Girard Ave. (adjacent to Warwick's Books).
---