Shop owner seeks to replace Cove bluff plantings that ruffled some La Jollans' feathers
By Pat Sherman
Jim Allen, the owner of Sunny Jim Cave store at the north end of Coast Boulevard, is hoping his plan to add native vegetation and post-and-chain barriers to a coastal bluff adjacent his shop will get the green light from community members and the city.
Allen said he also hopes his plan will appease community members who were upset by small Torrey pine trees and other non-native vegetation he placed there earlier this year, without permits, in order to keep people off the bluff and slow erosion.
Allen recently hired La Jolla landscape architect Jim Neri to devise a plan for re-vegetation and erosion control measures on the bluff at Goldfish Point (adjacent the Coast Walk hiking path).
"Let's remove the well- intentioned plantings and replace them with proper plantings that won't require supplemental watering," Neri said during a Nov. 26 presentation to the La Jolla Parks and Beaches, Inc. (LJP&B) city advisory group.
LJP&B board member Melinda Merryweather, who alerted city officials to Allen's unpermitted plantings earlier this year, said she approves of Neri's plan, as long as it allows access to a path leading to the rocks below, which divers can use to enter the ocean.
"Mr. Allen is willing to comply and he's willing to pay for the improvements, so it's a win-win situation," she said.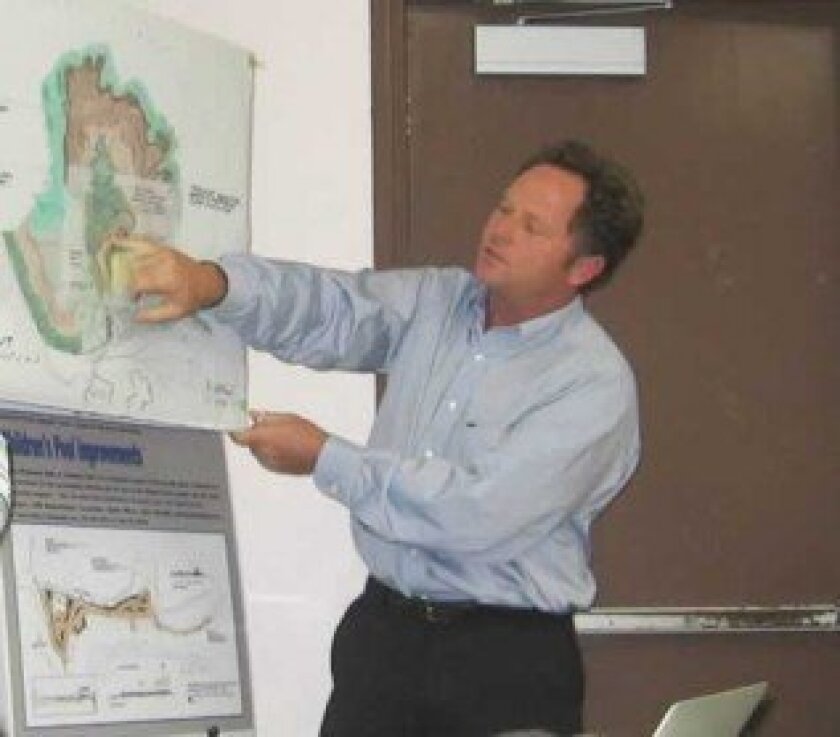 Native vegetation such as coastal sage scrub would be planted on the bluff, which would help slow erosion and deter cormorants, pelicans and other seabirds from roosting and leaving behind a layer of excrement — the cause of the foul stench emanating from La Jolla Cove that is making national headlines.
The bluff is accessed through a gate the city added in the 1990s. Allen's plan calls for adding a circular, post-and-chain barrier inside the gate.
Neri said another option to stop people from accessing the bluff is to close the gate off entirely.
However, he said, adding a post-and-chain corral beyond the gate would limit bluff access while still providing just enough human presence to deter birds from roosting on the bluff.
"If divers want to go diving, they simply step over the chain and go down the path that leads to the rocks below" at their own risk, Neri said.
"If we close (the gate) off completely, we're going to have more of the same seabird stench that we have now, except now it will concentrate in this area."
Neri's plan also calls for filling a deep fissure on the bluff that was created during a storm in the 1990s. Grading conducted at the site at that time (when the Goldfish Point observation deck and other city improvements were added) allowed storm water to rush down the slope and carve a rut into the cliffs above Emerald Cave, a popular spot for kayakers.
Neri's plan involves using local cobblestones to fill the fissure. "As the soil erodes it will fill in the space between the cobble and ... slow down the process of erosion," Neri explained. "We're not ever going to beat nature, but we can certainly slow some things down."
Following Neri's presentation, LJP&B board members approved the plan, 13-0. Neri will present his plans to the La Jolla Community Planning Association for ap- proval at today's meeting, 6 p.m. at La Jolla Rec Center. The city's Development Services Department spokeswoman, Lynda Pfeifer, said Allen could be required to apply for an engineering permit, Site Development Permit and Coastal Development Permit to do the work.
---