Sherri Lightner Press Conference: Petition will NOT support minimum wage increase in San Diego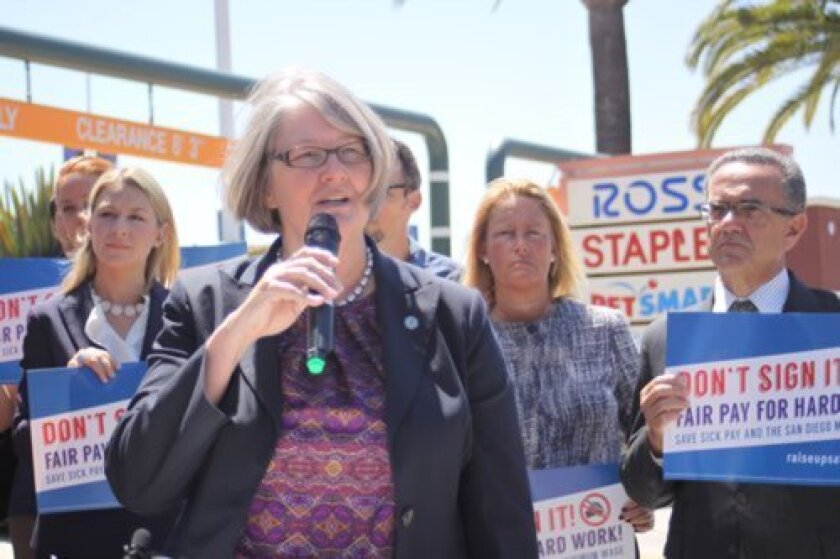 By Ashley Mackin
City Council District 1 Councilmember Sherri Lightner held a press conference Aug. 22 outside La Jolla Village Square to affirm her support for the minimum wage increase and earned sick leave ordinance. The ordinance, which the city council approved by a 6-3 vote, was vetoed by San Diego Mayor Kevin Faulconer. The council voted to override the mayor's veto, 6-2, on Aug. 18.
The ordinance calls for gradual increases to minimum wage that go into effect Jan. 1 of the next three years. On Jan. 1, 2015, the minimum wage will increase to $9.75; to $10.50 on Jan. 1, 2016; and to $11.50 on Jan. 1, 2017. It also allows those making minimum wage to earn five sick days per year.
"(This ordinance) will boost the minimum wage for 172,000 of our neighbors and allow more than a quarter of a million workers to earn sick leave," Lightner said. "It means workers can take care of their health needs, their sick children or parents, by using the days that they have earned by working."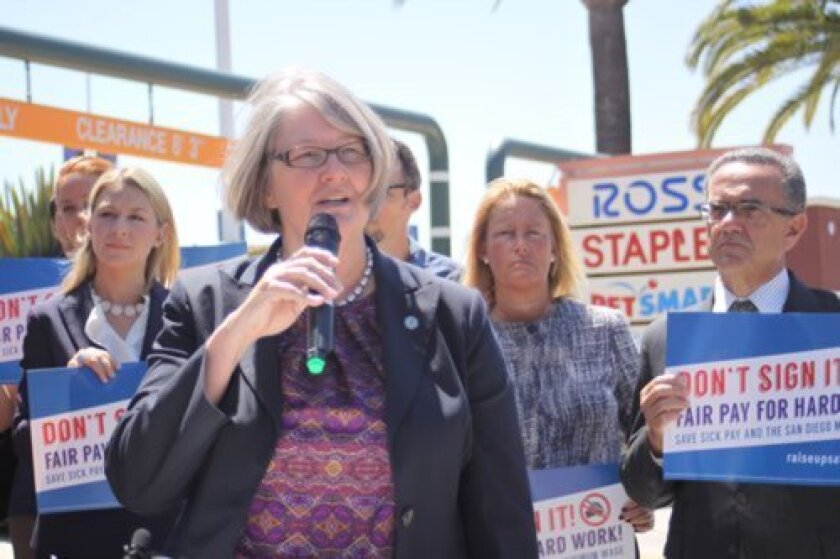 Lightner also explained there are petitions circulating against the ordinance, and she accused signature-gatherers of providing false information and suggesting the petition is to support the minimum wage increase to garner signatures.
"If they tell you the public must weigh in via a petition — don't sign it. Signing any petition in the next month about minimum wage or earned sick leave will take away the minimum wage increases that are coming on January 1 of the next three years," she said.
"Polls show 63 percent of San Diegans support the council's actions. That means they will need to lie to you to get your signature."
Asked why the measure was not put to a vote, Lightner said, "This is an ordinance adopted by the San Diego City Council and is the result of multiple hearings held by the Economic Development and Intergovernmental Relations committee, with input from all parties.
There was an evaluation as to whether to take to a vote or to do it as an ordinance and we decided to adopt it as an ordinance."
Other speakers present at the conference showed their support for the ordinance based on their respective fields.
Vernita Gutierrez, director of community engagement for Planned Parenthood said, "Planned Parenthood health centers see firsthand the impact on families who are forced to delay seeking medical care due to their inability to take time off work or because they are forced to choose between buying food or paying for medicine."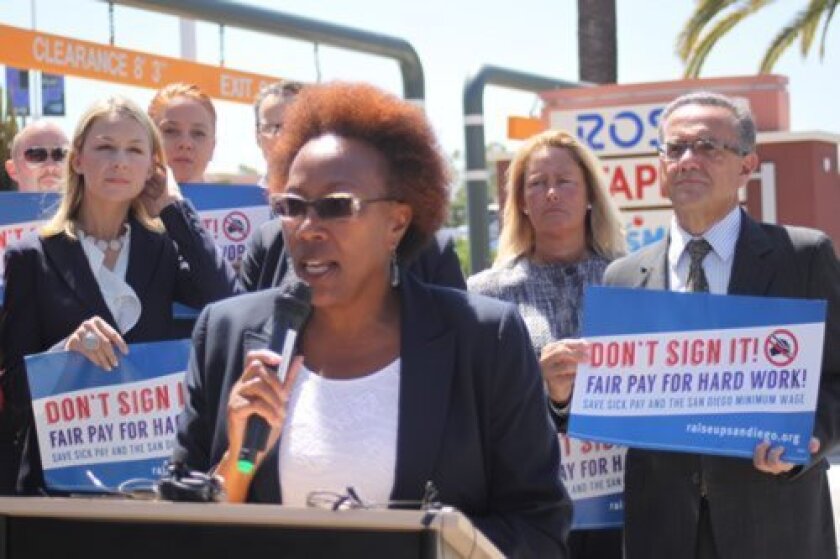 Sarah Boot, a founding member of Run Women Run, whose mission is to get women elected to public office, added, "So many women and mothers are working hard to support their families ... We support this law because it will allow 30 percent of all women working in San Diego to earn a raise."
The measure goes into effect Jan. 1, 2015.
---