Scripps Institution researchers part of team wrapping up greenhouse gas survey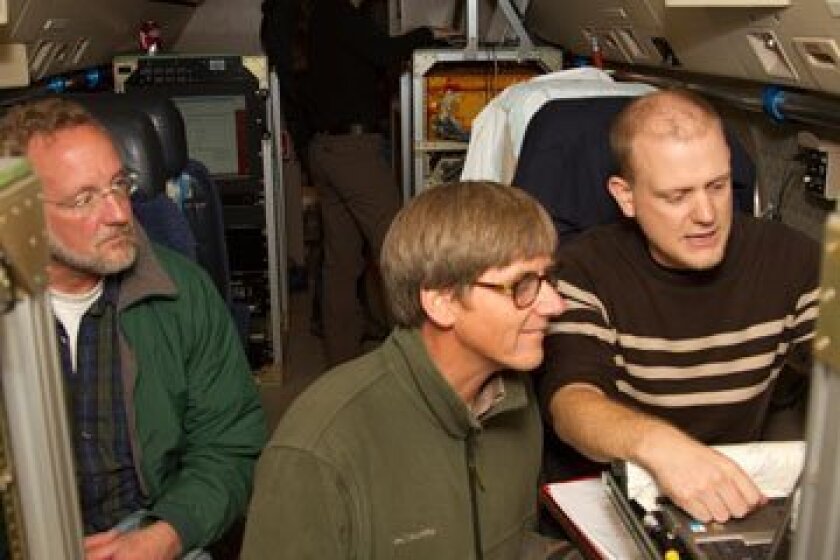 City News Service
Three years of collecting atmospheric gases and particulates across the globe will come to an end on Friday, according to the Scripps Institution of Oceanography, one of the participants in the effort known as HIPPO.
Researchers took to the skies in a long-range Gulfstream V jet that is outfitted to collect 80 types of gases and particles from different latitudes, various seasons and from as low as 500 feet to as high as 45,000 feet.
One of the initial discoveries made by scientists was the amount of black carbon particulates that are carried over the Central Pacific to the U.S. West Coast.
Levels were comparable with those measured in mega-cities such as Houston or Los Angeles,'' said Ryan Spackman, a member of the research team from the National Oceanic and Atmospheric Administration.This suggests that Western Pacific sources of black carbon are significant and that atmospheric transport of the material is efficient."
Black carbon is a product of diesel engines, industrial processes and fires, according to the researchers.
They said concentrations of nitrous oxide were also found in greater amounts over the tropics than was previously believed. The gas traps heat and thins the ozone layer.
Scientists will use the collected data to generate the first detailed mapping of the global distribution of gases and particles that affect Earth's climate.
We're going to be in a position to rewrite the books on what we know about the composition of the atmosphere, especially in regard to greenhouse gases,'' said Ralph Keeling, a Scripps geochemist and an investigator for the study.
The National Center for Atmospheric Research, Harvard University, the University of Miami and Princeton University also took part in the project.
---