Sanford-Burnham program piques students' interest in science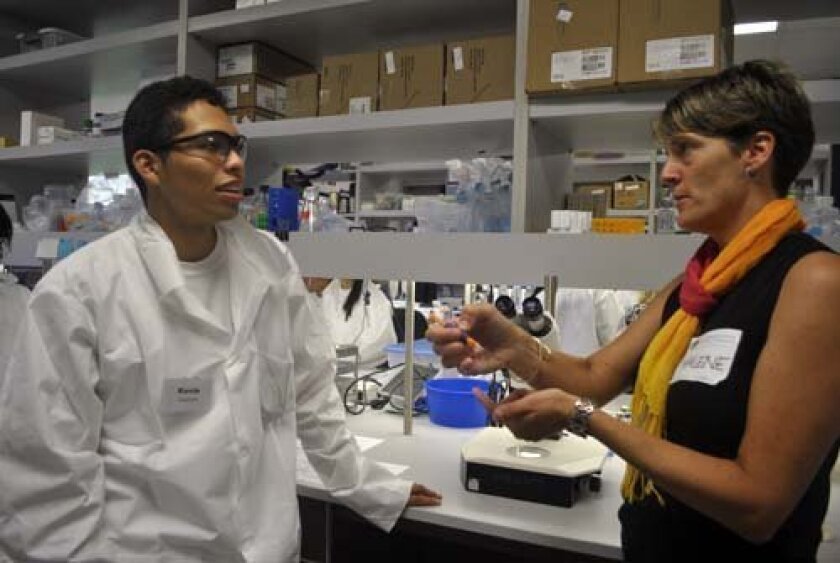 By Elizabeth Schneider
While playing with worms is a childhood experience for many, they're not usually microscopic or fluorescent green.
But for the 12 Preuss School students who participated in the lab experience program at the Sanford-Burnham Medical Research Institute, studying genetically mutated worms under a microscope was just one of the week's many outlandish experiences.
"It was really interesting being able to see things that you don't get to see in biology class or on a normal field trip," said Yan Liu, one of the students. "Even after the first day, I saw how much I could love this."
The 12 students — all rising juniors at the Preuss School — spent each day of the five-day program in a different lab. The day began with a lecture from the scientists, which usually covered both academic matter and the realities of life as a researcher.
"Even sitting through lecture wasn't like learning in school," said student Kevin Vaquera. "It's a different setting, and we chose to be here. Even though we're learning, it's still really exciting."
At the end of the week, each student presented a poster about their favorite day — complete with data and photos — at a special luncheon with friends and family.
"The presentations … have been some of the best times at this institute," said Marlene
Hansen, a researcher whose lab participated in the program. "They learn so much and, in some of them, it just lights a light — they realize they can do this."
Most of the program participants — all of whom endured a rigorous application process to participate — already were interested in the field of science, but many of them said they had never before considered research as a career option.
"I always thought labs were boring — just sitting there looking through a microscope," Liu said. "It turns out that it's really interesting to be able to look at what's inside of things."
Hansen says the summer program aims to both to open students' eyes to how research works and to make researchers — who are often put on a pedestal by younger students — seem more accessible.
Her lab, which studies the molecular mechanisms of aging, employs everyone from undergraduate interns to post-doctoral fellows. All of the researchers have lunch with the students at the end of the lab experience, giving the students a chance to get to know them on a less formal level and ask questions.
For many past participants, the newly piqued interest in research has led to further accomplishments, from prestigious internships at research firms around San Diego to science fair victories. Alumni of the summer program are now attending many of the nation's top universities — an even more impressive feat considering the fact that Preuss students aim to be the first in their families to attend college.
"It's amazing how much they learned and how much more confident they get," Hansen said. "It's so rewarding — it's almost unparalleled in anything else I do."
And for the many students who leave the program with a desire to pursue science further, the end result is much more meaningful than simply playing with worms.
---