The Sanford Burnham Prebys (SBP) Medical Discovery Institute family – scientists, donors, staff, and friends – gathered for a celebratory 40th Anniversary Tribute Concert on May 10, 2016 featuring performances by flutists Sir James and Lady Jeanne Galway and their long-time accompanist, pianist Phillip Moll.
The Institute thanks the members of its President's Circle every year. This year, SBP also wanted to pay tribute to honorary trustee Conrad Prebys, whose name has graced the Institute since his landmark 2015 pledge of $100 million, the largest gift of his distinguished philanthropic career.
The hour-long program of classical compositions for flute and piano, held at the Museum of Contemporary Art in La Jolla, was topped off with two encores.
• Click on VIEW GALLERY to see photos from the event.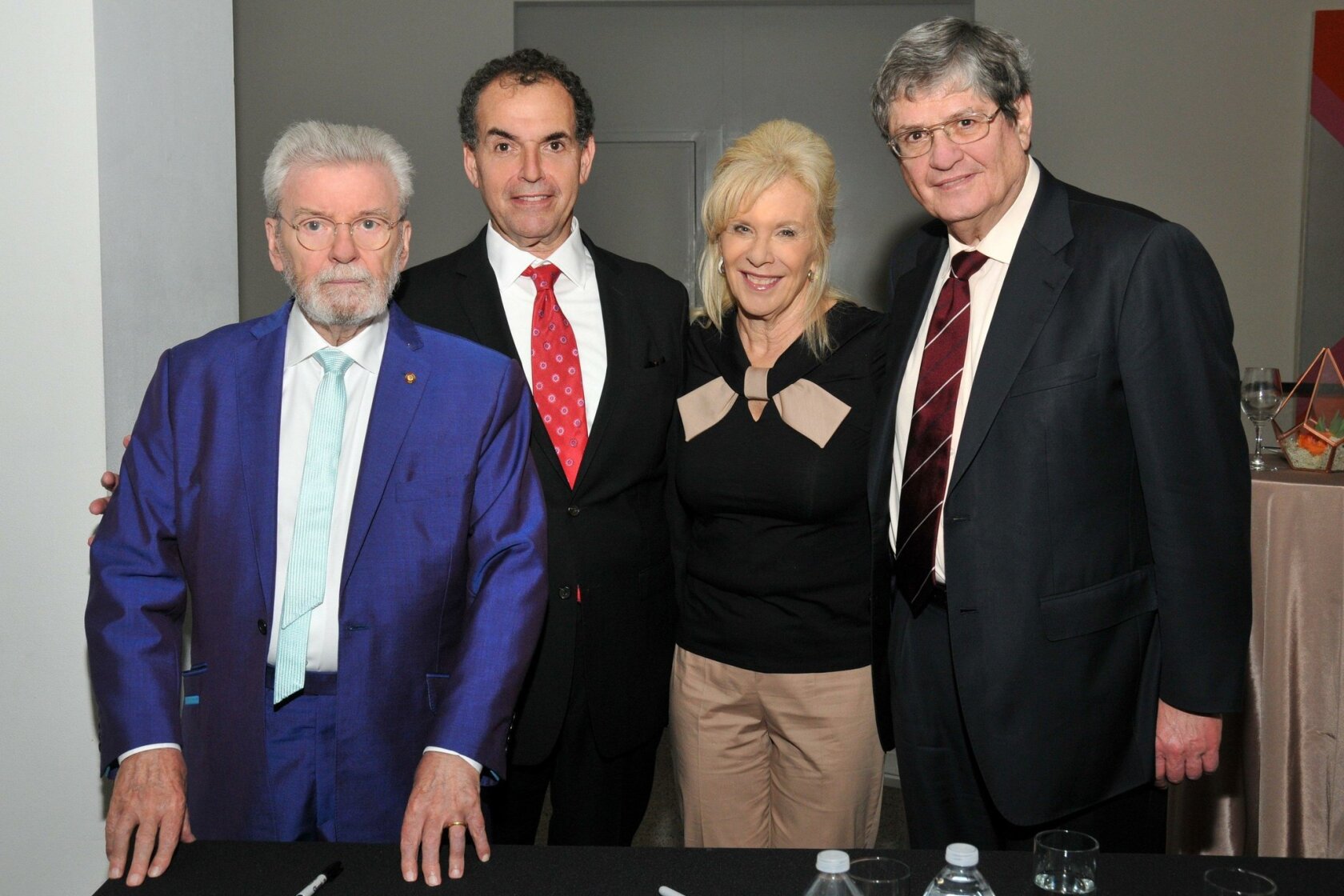 Sir James Galway, Dr. Perry Nisen, Lady Jeanne Galway, Phillip Moll
(Vincent Andrunas)
Dick Gregerson, Judy Rost, Anni and Arthur Lipper
(Vincent Andrunas)
Carole Banka, Gigi Cramer, Ann Hill, Sharon LeeMaster
(Vincent Andrunas)
Angel Luo, Gigi Garza
(Vincent Andrunas)
George and Gladys Novinger, Dr. Budd Rubin
(Vincent Andrunas)
Peter and Judy Corrente
(Vincent Andrunas)
Martha Dennis, Regina Kurtz
(Vincent Andrunas)
Elizabeth Taft, Bebe and Marvin Zigman, Cindy and Tom Goodman, Anni Lipper
(Vincent Andrunas)
Jeanne Jones and Don Breitenberg with Patty Fuller
(Vincent Andrunas)
Andrew Brooks, Kathleen Charla, Leslie Harnish, Armi and Al Williams, Perla Brownlie
(Vincent Andrunas)
Paul Marshall, Darlene Davies, Ellen and Tim Zinn
(Vincent Andrunas)
Bob and Pat Lau, Linda and Dan Masters
(Vincent Andrunas)
Reena Horowtiz, Malin and Roberta Burnham
(Vincent Andrunas)
---