• Click on VIEW GALLERY to see photos from the event.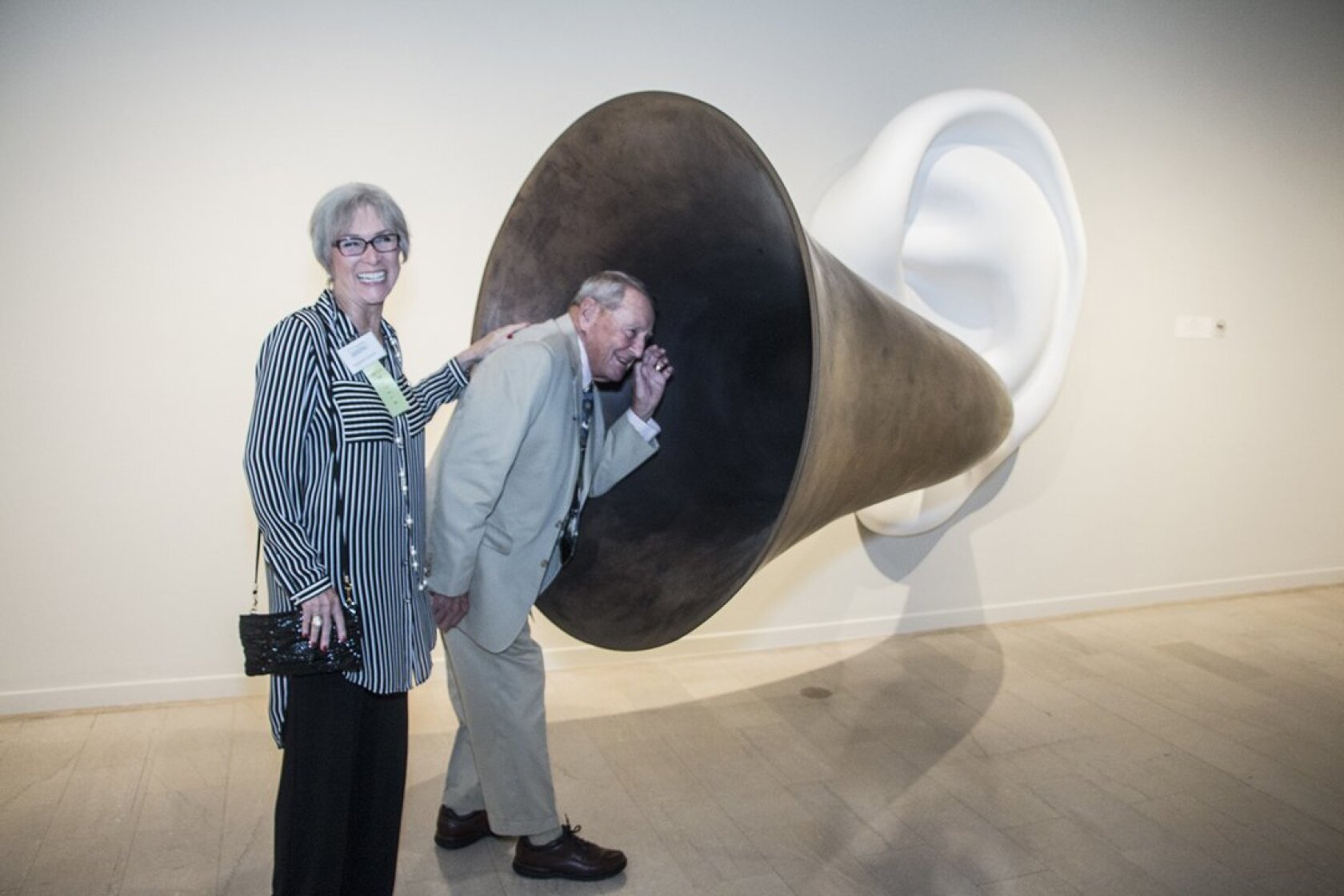 Margaret and Herb Zoehrer interacted with 'Beethoven's Trumpet,' a sound sculpture by John Baldessari.
(Maurice Hewitt)
Now and then: John Cashman and SDMA trustee Debra Bean stand between Chuck Close's 21st-century tapestry portrait of Philip Glass and an 18th century harpsichord.
(Maurice Hewitt)
Hello, Dali! Josefina Perez Simon poses with one of the paintings she loaned to the exhibit and her friends, Laura Cuevas and Elena Mola, who came up from Mexico City for the opening.
(Maurice Hewitt)
L Street Gallery director Kay Colvin, with a piece by Alexander Calder.
(Maurice Hewitt)
San Diego Museum of Art members at VIP preview of 'The Art of Music' Sept. 25, 2015
(Maurice Hewitt)
Newlyweds Marcello and Lisa La Torre admire the 16th century 'Lady Playing a Lute.'
(Maurice Hewitt)
All that Jazz: Matisse's Jazz series, and a Congolese ceremonial skirt that may have inspired him, draws the attention of Paul Shockley, currently creating 'the ultimate audio tour' for SDMA, and Portia Talbot, owner of The Art Shed in La Jolla.
(Maurice Hewitt)
Peter Tobias and Kathleen McCord are attracted to Botero's musicians. 'It's music with no strings attached,' he said.
(Maurice Hewitt)
Three years in the making, the new "Art of Music" exhibit at San Diego Museum of Art is the biggest show in SDMA's recent history: a display of music-themed artworks from their permanent collection, along with loans from major museums and private collectors. On view are more than 200 paintings, sculptures, textiles, photographs, video and sound installations, and musical instruments from around the world.
Although the show spans centuries and continents — and includes small treasures like the original manuscript of Beethoven's Ninth Symphony — the most impressive pieces are large and contemporary, like John Baldessari's "Beethoven's Trumpet (with Ear)," Chuck Close's many-times-lifesize portrait of Philip Glass and Fernando Botero's "Dancing in Colombia." It's a joy to see Matisse's complete 20-piece "Jazz" series — but he's modern too, and all four are Western artists, three of them very much alive.
At the VIP members' preview Sept. 25, 2015, attendees enjoyed the upbeat sounds of Third Coast Jazz Band and wandered through the galleries, happy to discover their own favorites, like the Dali "Romeo and Juliet," an odd-looking African lyre, or the pair of early music videos by abstract animator Oskar Fischinger.
Hot Tip: Don't just walk on by Tristan Perich's "Microtonal Wall" in the last gallery. Move quickly alongside it, in both directions, and listen closely. Fun!
• IF YOU GO: "The Art of Music" remains on view through Feb. 7, 2016 at San Diego Museum of Art in Balboa Park, San Diego. For hours and ticket prices call (619) 232-7931 or visit sdmart.org/art/exhibit/art-music
= = =
Music, music, music!
Since music was a major part of the 1915 Exposition in Balboa Park, San Diego Museum of Art will honor the Park's centennial with monthly Third Thursday concerts at 7 p.m.
• Oct. 15, 2015: Percussionists Red Fish Blue Fish,
• Nov. 19 2015: Experimental sound artist Miya Masaoka
• Free concerts 6-7:45 p.m. Wednesdays at Panama 66, the restaurant next door to the museum.
---