San Diego Mayor Kevin Faulconer addressed the Group of 12 & Friends at the Sanford-Burnham Medical Research Institute on Feb. 4, 2015. Founded by Reena Horowitz and Doreen Schonbrun, the Group of 12 & Friends meets monthly at the institute in La Jolla for fun, fellowship, information and discussion about science, medicine, the arts, psychology, and cutting-edge discoveries and technologies. Each month, a prominent speaker addresses the Group with a dissertation on a subject of interest.
A full house of eager listeners heard the mayor speak of his vision to create opportunities for San Diegans and deliver results for every neighborhood. He stayed to answer a number of questions from the audience, and vowed to return to speak to the group again.
• Click on VIEW GALLERY to see photos from the event.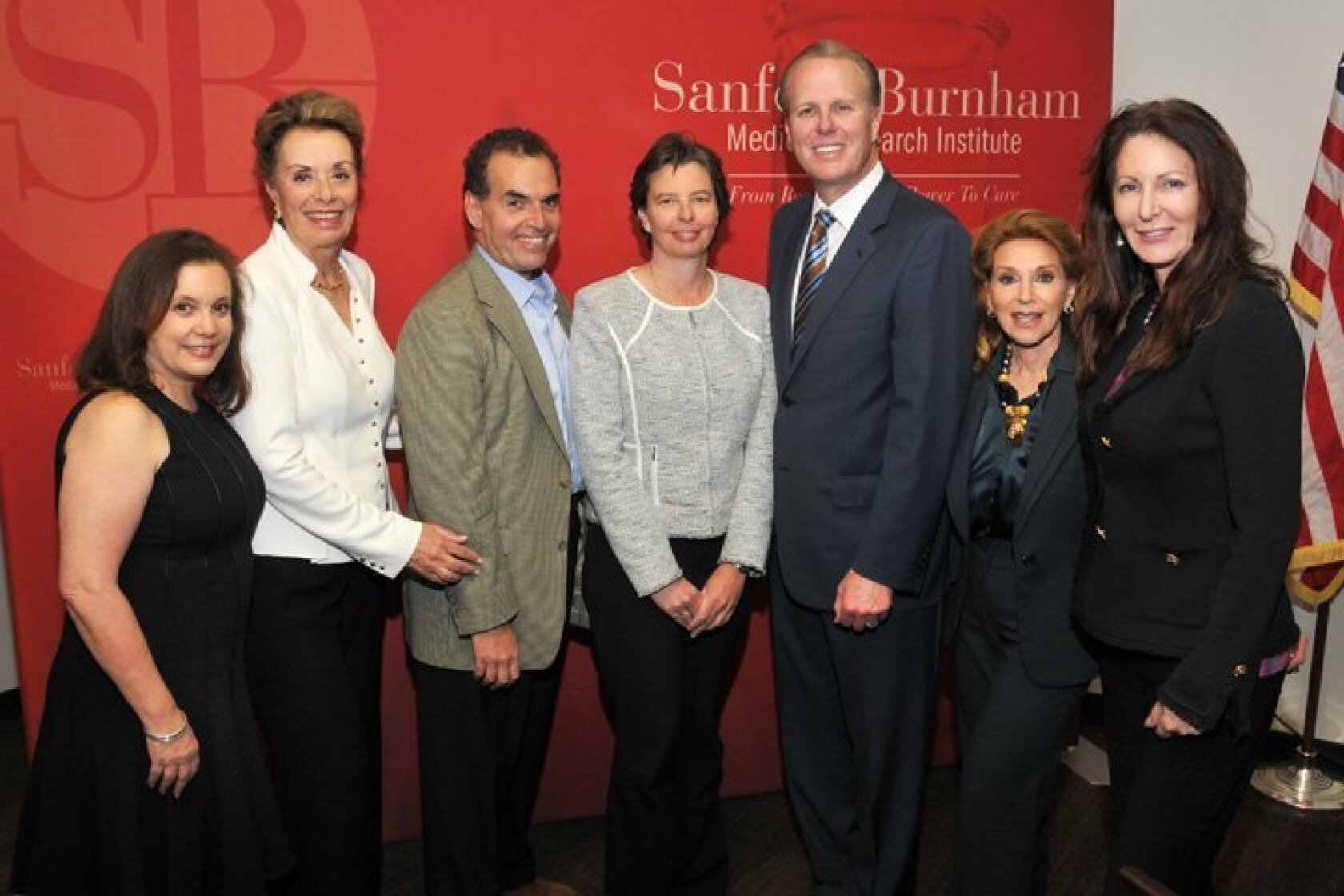 Doreen Schonbrun, Sanford-Burnham board member Jeanne Herberger, Sanford-Burnham CEO Dr. Perry Nisen, Sanford-Burnham president Dr. Kristiina Vuori, Mayor Kevin Faulconer, Reena Horowitz and Hélène Gould. (San Diego Mayor Kevin Faulconer addressed the Group of 12 & Friends at the Sanford-Burnham Medical Research Institute in La Jolla on Feb. 4, 2015.)
(Vincent Andrunas)
Louarn Sorkin, Robin Parker, Karen Mortimer and Gabriela Stratton. (San Diego Mayor Kevin Faulconer addressed the Group of 12 & Friends at the Sanford-Burnham Medical Research Institute in La Jolla on Feb. 4, 2015.)
(Vincent Andrunas)
Carol Dillon, Patti Cooprider, Joyce Dostart with Joy and Jeffrey Kirsch. (San Diego Mayor Kevin Faulconer addressed the Group of 12 & Friends at the Sanford-Burnham Medical Research Institute in La Jolla on Feb. 4, 2015.)
(Vincent Andrunas)
Al and Armi Williams, Hélène Gould and Tom Goodman. (San Diego Mayor Kevin Faulconer addressed the Group of 12 & Friends at the Sanford-Burnham Medical Research Institute in La Jolla on Feb. 4, 2015.)
(Vincent Andrunas)
Richard Esgate, Judy White, Susan Heller, Sam Horowitz, Aune Garcia and Marcia Schuster. (San Diego Mayor Kevin Faulconer addressed the Group of 12 & Friends at the Sanford-Burnham Medical Research Institute in La Jolla on Feb. 4, 2015.)
(Vincent Andrunas)
Patty Fuller, Cathe Burnham, Margaret Maio, Ed Mracek and Kathryn Vaughn. (San Diego Mayor Kevin Faulconer addressed the Group of 12 & Friends at the Sanford-Burnham Medical Research Institute in La Jolla on Feb. 4, 2015.)
(Vincent Andrunas)
Philip Graham (Sanford-Burnham VP of external relations) and Mayor Kevin Faulconer. (San Diego Mayor Kevin Faulconer addressed the Group of 12 & Friends at the Sanford-Burnham Medical Research Institute in La Jolla on Feb. 4, 2015.)
(Vincent Andrunas)
Mayor Kevin Faulconer with Sally B. Thornton. (San Diego Mayor Kevin Faulconer addressed the Group of 12 & Friends at the Sanford-Burnham Medical Research Institute in La Jolla on Feb. 4, 2015.)
(Vincent Andrunas)
---