San Diego Mayor Bob Filner to foxtrot for La Jolla Town Council fundraiser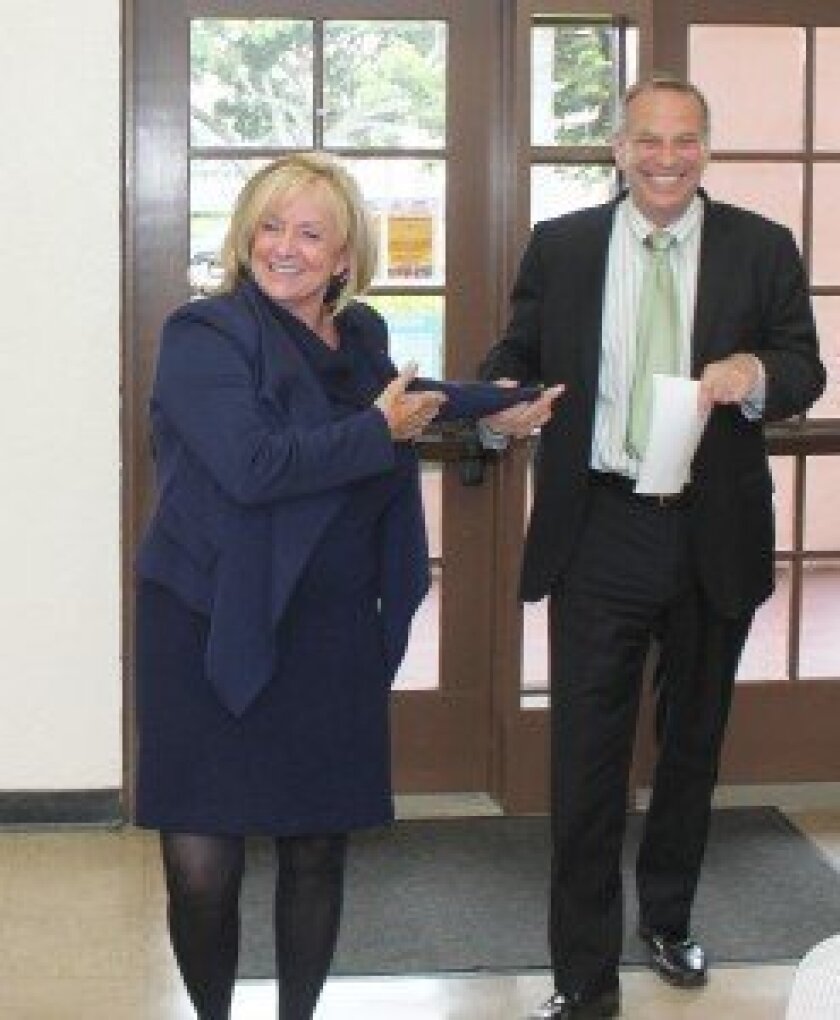 By Pat Sherman
San Diego Mayor Bob Filner swung by the La Jolla Town Council's (LJTC's) May 9 meeting to administer the oath of office to the LJTC's recently installed officers, and to repeat his pledge to assure the stench at La Jolla Cove is quashed by Memorial Day, May 27
(
read story
here
)
.
Filner also confirmed that he would be among the local notables busting their best dance moves during the LJTC's Dancing with La Jolla Stars fundraiser, 6-10 p.m. Oct. 5 at Hilton La Jolla Torrey Pines Hotel.
Also dancing in the charitable competition will be District 2 City Councilmember Kevin Faulconer and Gina Seau, ex-wife of late San Diego Chargers linebacker, Junior Seau.
Event organizer Nancy Gardner said she has reached out to Mitt Romney about participating. La Jolla's city council representative, Sherri Lightner, declined to dance, but will participate in some capacity, Gardner said. Assistant San Diego Police Chief Shelley Zimmerman will serve as an event judge.
Proceeds from the fundraiser will benefit La Jolla community enhance- ment projects, as well as the Warriors and Quiet Waters Foundation, which provides traumatically injured U.S. servicemen and women with a therapeutic week of fly fishing in Montana. Tickets for Dancing with La Jolla Stars are $175 per person or $325 for two. For more details, contact Gardner at nancy@cmcfinance.com or (858) 456-3000.
In other town council news
Coast Boulevard sidewalk beautification plea:
La Jolla Parks and Beaches (LJP&B) members Patrick Ahern and Phyllis Minick offered a new slide presentation on LJP&B's quest to raise $250,000 for the restoration of the sidewalk area on Coast Boulevard near Children's Pool beach.
LJP&B is attempting to have the work done by the same city-approved contractors that are scheduled to build a new lifeguard tower at Children's Pool this year (demolition of the existing tower begins next month).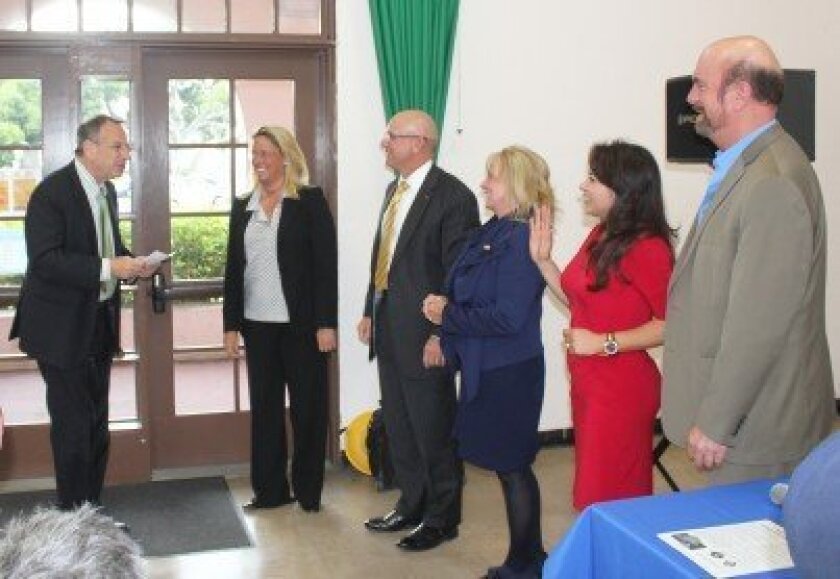 Ahern said that if the community does not take advantage of the contractors this year and has to hire new contractors at a later date, costs for the project could double to $500,000.
"It's like building a home without a garden, without a front porch or a driveway," Ahern said of adding a new lifeguard tower while leaving the sidewalk area cramped and crumbling.
"It's a mess, even today as we walk through there — it's rusty, it's beat up, it's old, and it's very congested," he added, noting that lifeguards reported 124 medical aid calls at that stretch of sidewalk last year, many for elderly people tripping on the sidewalk.
If the sidewalk is restored after the lifeguard tower is built, Ahern also noted, "it will disturb the seals again."
To donate to the project, visit:
lajollaparksandbeaches.org
Goodwill fashion show:
Despite some La Jollans' concerns that a Goodwill store opening at 7631 Girard Ave. will somehow tarnish the Jewel's prestige, second vice-president Steve Haskins defended Goodwill Industries, the LJTC's new gold member.
"Let me tell you, they have great stuff," Haskins said. "It's so good that I'm planning to have a fashion show here at the meeting in the next few months with people only wearing things from Goodwill."
WindanSea Surf Club's 'Five-O':
WindanSea Surf Club is celebrating its 50th anniversary this year with a six-month exhibition at the California Surf Museum in Oceanside that begins June 8. For more information, visit
surfmuseum.org
or
windansea.org
La Jolla Christmas Parade:
This year's parade and holiday festival is set for 2 p.m. Sunday, Dec. 8, and fundraising is underway.
Parade Committee Chair Ann Kerr Bache noted that last year's event might not have occurred due to an early cash flow shortage.
"We just raised enough to manage last year's (event) and pay our police bill ... and our insurance and all that," Kerr Bache said.
Having recently obtained nonprofit status for the parade foundation, Kerr Bache said this year's goal is to raise enough money to donate to community youth programs.
"During the year we're going to have several little fundraisers with a couple of the merchants in town," she said. To learn more, visit
ljparade.com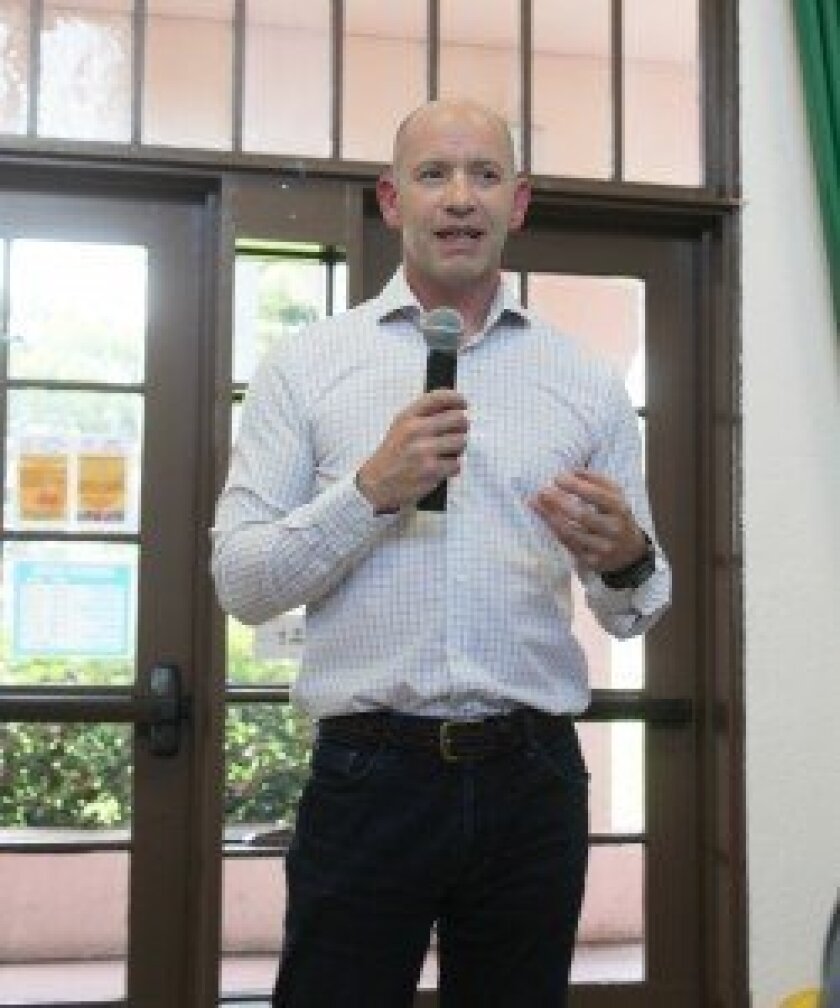 Guest speaker: The town council also heard a presentation from
Access Youth Academy
, an after-school organization that improves educational and personal opportunities for disadvantaged youth, in part by introducing them to squash — a sport played on a court with racquets — and through tutoring and community service.
"It is a sport that's often associated with the elite and here you have children who are transforming their lives and the lives of others ... through squash," said LJTC President Cindy Greatrex, who is involved with and contributes to the organization.
La Jolla software entrepreneur and Access Youth board member, Malcolm Bohm, said he got involved with the organization after being asked to give a presentation to its students.
"These children truly come from underprivileged, distressed circumstances — girls and boys that have unfortunately joined gangs, (suffered abuse) ... (or are) below the poverty threshold," Bohm said.
Access Youth Academy is a partnership with the San Diego Squash Club and The Preuss School at UC San Diego.
Through their exposure to the program, students excel both on the court and in the classroom, Bohm said.
"We have nine individual (squash) champions and two team champions, including the 2013 girls and boys senior national champions this year," he said, noting the program has a 100 percent graduation rate.
"I'm happy to say this year, all of our children in the graduating class are going to Ivy League schools again," he said.
Former professional squash player Renato Paiva (from Brazil), who is executive director of Access Youth Academy, said he witnessed a former gang member with drug problems go on to win nine squash titles and end up attending Columbia University on a full-ride scholarship from the Gates Foundation.
The organization is working with Hoover High School to build a second facility with assistance from Proposition Z, the San Diego Unified School District bond measure.
"Every dollar that we get into Access Youth Academy is matched through Proposition Z, dollar for dollar," Bohm said. "We have a goal to match $3 million."
Access Youth Academy will hold its gala at La Jolla Beach and Tennis Club on Oct. 5. More details at
accessyouthacademy.org
---