Salvation Army to honor two La Jollans at spring Women of Dedication luncheon
By Ashley Mackin
The Salvation Army Women's Auxiliary will present 15 women — including La Jollans Sherry Ahern and Kathryn Stephens — with a Women of Dedication award at the 48th annual Garden of Giving luncheon on March 8, 2013.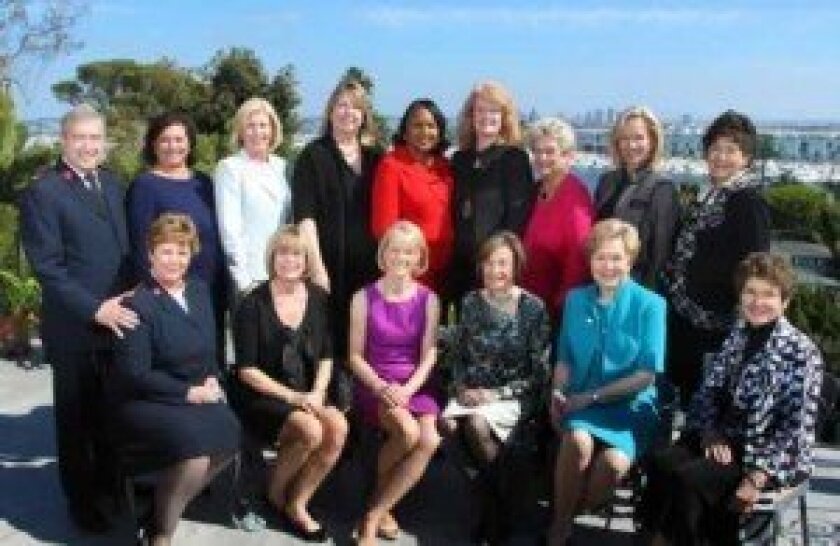 The event is open to the public and will be held at the Sheraton San Diego Hotel & Marina, 1380 Harbor Drive.
This year's honorees were announced at a tea held on Nov. 1. The Women of Dedication were chosen for their community projects and selected by a committee of past honorees, said Nancie Geller, vice president of communication for the Salvation Army Women's Auxiliary.
"The criteria is basically women in our community going above and giving their time, talent and financial resources to make our community a better place," Geller said.
Tickets for the luncheon are available through Pamela Lennen at pamela. lennen@usw.salvationarmy. org or (619) 446-0273.
Geller said the event is the largest fundraiser for the Women's Auxiliary. All proceeds will go to the Transitional Living Center at Door of Hope, which offers a temporary living arrangement for women with children, as well as supportive services.
The following list of Ahern's and Stephens' contributions were presented by the SAWA in recognition of their accomplishments:
• Sherry Ahern:
In 1996, while serving as a volunteer at La Jolla Elementary, Sherry Ahern cultivated one of the most successful Farmers Markets in the county. Proceeds from the La Jolla Open Air Market go to La Jolla Elementary School Foundation, and have yielded a library, renovated most of the campus, and funded teaching positions. Ahern now serves a s consultant, sharing the fruits of success with other schools. She is a 10-year board member for the Scripps Whittier Diabetes Institute and she has chaired many of its golf tournaments.
Sherry and her husband, Kevin, helped establish the La Jolla Pediatric Diabetes Research Center, motivated by their son's diagnosis at age 6.
Ahern also founded the La Jolla Arts and Wine Festival, steered the Capital Campaign for the Florence Riford Center, and received the Channel 10 News Leadership Award in 2000.
In 2012, she was named "Mother of the Year" by the City of Hope.
•Kathryn Stephens:
Kathryn Stephens is an artist who shares her talents endlessly with the community. Her passion for art has made her a driving force as director of development for "A Reason To Survive" (ARTS), a non- profit that believes the arts can transform the lives of children who are challenged by loss, illness or poverty.
Stephens also spent two years as director for the New Children's Museum. She has crafted cheerful, vibrant mosaic murals at Bird Rock Elementary, where she taught for several years, and at the San Diego Osteopathic Center.
Stephens served as chair of the 61st annual Las Patronas Jewel Ball, "Artrageous," which netted a record $1.2 million for 61 beneficiaries that year. Stephens has also chaired events for The Burnham Institute, La Jolla High School, and National Charity League.
---