LET'S REVIEW: "True West" and "Fool for Love" explore love and jealousy at Cygnet Theatre in Old Town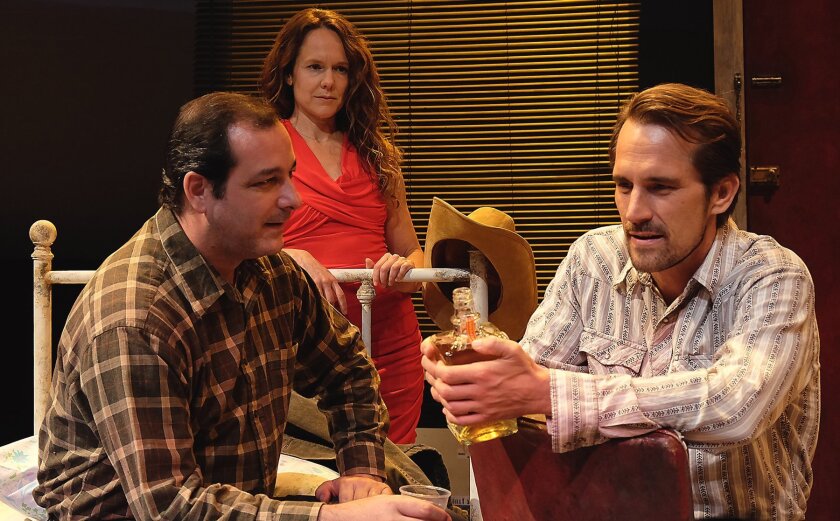 American playwright, actor, author, television and film director and Pulitzer Prize-winner Sam Shepard, gets a mix of reactions on his plays. Some call them brooding and dark, while others praise them as grand and maybe mythic. Cygnet Theatre is staging two, "True West" and "Fool for Love," in repertory at the Cygnet Theatre in Old Town.
"Fool for Love" takes place in a small hotel room where May (Carla Harting) is holding up and hoping her rodeo rider boyfriend Eddie (Francis Gercke) will not find her. No such luck as Eddie storms through the door professing his love and begging her to take him back. May screams and yells for Eddie to leave but when he tries; she hugs his legs at the door begging him to stay.
After the two down some shots of alcohol, May remembers she's mad because he had an affair, swiftly proved by gunshots from the other woman's car barreling through the hotel room window. Now really upset, May remembers she has a man coming to pick her up for a date and nicely pleads with Eddie to leave. Again he refuses, and when her date Martin (Manny Fernandes) shows up, has a drunken laughfest in leading Martin astray about his identity, even throwing out the possibility May might be his half-sister.
The play itself is one many theatergoers might think about ignoring, but it's the powerful performances that keep the intrigue building in this love spectacle of rather unpleasant people.
Gercke, a real staple in San Diego theater, once again exhibits perfection in embodying the character of Eddie. One moment you like him, the next you don't. It's almost the same with Harting. At first there's a craziness, almost manic personality that arouses little symphony for her situation. But then there are moments when one can see she's probably one of many in this situation. Fernandes is good at playing the "what's next" character as more and more revelations about this sparring couple unfurl.
One of the most interesting characters in the play is the Old Man (Antonio TJ Johnson). He appears in the corner of the room in a rocker just observing for much of the play, but then he addresses both May and Eddie and reveals pertinent facts of their past that paint a more vivid portrait of who they are and how they got to this point in their lives.
Gercke, Fernandes and Johnson also star in "True West." In a small, neat kitchen Austin (Gercke) sets typing out a screenplay he's in the process of selling to a producer. He is house sitting for his mother (Jill Drexler), who is on a trip to Alaska.
Everything is fine until his disheveled brother Lee (Fernandes) arrives. He makes routine trips to the fridge for a beer while bragging about breaking into a house and stealing things. But when he learns of Austin's good luck, he becomes an angry, jealous man who taunts and physically throws jabs at his brother.
Austin is very astute at trying to both compliment his brother and steer him in a path out-the-door mainly so he will leave him alone to continue his writing. This only irritates Lee more. Austin is really hoping to get rid of Lee before his producer Saul (Johnson) comes over. Not only does not that happen; Lee buddies up to Saul and they make a golf date for the next day.
Returning from his golf game the next morning Lee blissfully informs Austin that Saul is now going to back his story for a movie and not Austin's. At this point the two brothers actually reverse the good brother, bad brother characters. Lee continues to taunt and actually try to type his screenplay, while Austin gets plastered and completely destroys his mother's kitchen.
For me it was hard to buy this total switch of personalities and I thought the ensuing violence by Austin required more explanation for such a severe reaction. There's some humor in this play, but mostly fostered from more violence.
I wholeheartedly agree with what Shepard himself said about his plays; "Beginnings are definitely the most exciting, the middles are perplexing and the endings are a disaster."
---