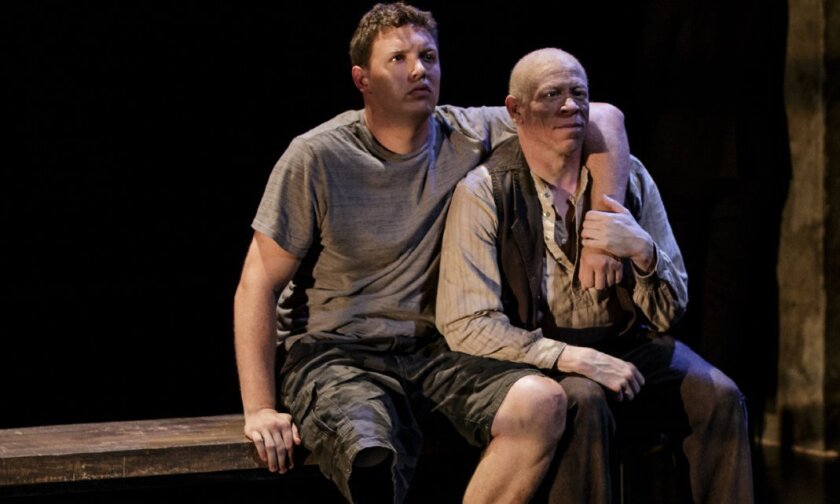 The innovative presentations of La Jolla Playhouse's (WoW) Festival have become a gripping community draw. At this year's festival Oct 9 -11, which includes 20+ immersive and site-based works in and around the Playhouse Theatre District on the UC San Diego campus, "Healing Wars" is one to add to your must-see list. (It runs though Oct. 25.)
Conceived, directed and choreographed by Liz Lerman, "Healing Wars" is a multi-sensory experience that plays witness to the physical and psychological wounds of war throughout history.
Lerman, with help from Playhouse designers, offers a stunning journey through the pains of war at a transformed Mandell Weiss Forum.
An integral facet of the show is the self-paced, backstage prologue that contains amazing reminders of various wars with actors eloquently demonstrating hurt or loss through dance movements or recorded words. It sets the mode for more magic to come, such as nurse Clara Barton (Tamara Hurwitz Pullman) writing letters about the wounded.
Once in the theater, performers Jeffrey Denman, Miko Doi-Smith, Meghan Frederick, George Hirsch, Paul Hurley, Ted Johnson and Keith A. Thompson offer an array of moves, representing everything from a wounded warrior to a struggling female soldier to a spirit whose job is to help the dying on their journey.
Choreographer Lerman also discovered the power of words and an ongoing stream of words details the experiences of a wounded warrior.
Lerman said her desire for "Healing Wars" was to intertwine stories with movement, text and visuals. This is one of the most unusual and significant presentations I've seen on stage. It's an experience that will touch all who see it, and one that has far passed Leman's objective.
---