Theater Review: Strong performances lift 'Freud's Last Session' at North Coast Rep in Solana Beach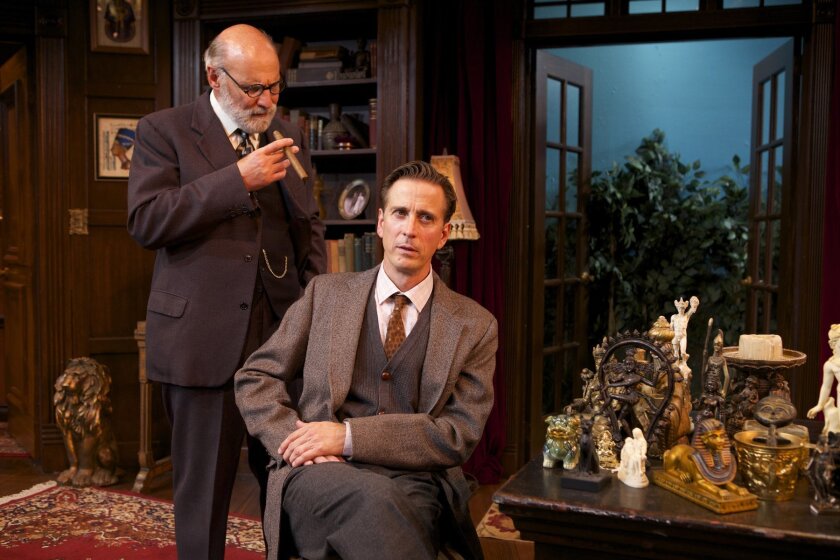 • LET'S REVIEW:
North Coast Repertory Theatre's artistic director David Ellenstein's ability to pick engaging scripts and cast the right talent to go with them again shines in the San Diego premiere of "Freud's Last Session" by playwright Mark St. Germain, on stage through Nov. 9.
The beguiling set and props by Marty Burnett, Benjamin Cole and John Finkbiner offer much to speculate about. There are shelves of books that come as no surprise in Sigmund Freud's London office. There are ornate statues, lamps and vases that hint Freud might occasionally enjoy gazing on lovely things. But most curious are the numerous religious antiquities that cover his desk.
Freud (Michael Santo) is dying from oral cancer, yet his mind cannot tolerate the fact that people still believe in God. He's invited author C.S. Lewis (Bruce Turk) – a former atheist — for a visit to debate the question, and as he awaits his guest, he listens to reports of war bombings on his radio. The date is Sept. 3, 1939.
When Lewis arrives, he is cheery and curious about why he's been beckoned to Freud's home. Freud warns him that the visit will be brief, as his doctor is coming to adjust the prosthesis in his mouth.
So Freud gets right to the point. He's furious about Lewis' book "Pilgrim's Regress," which only moments later he confesses he never read. There are several light moments like this that produce genuine laughter in this otherwise serious scenario.
At times Freud and Lewis seem like old friends, at ease with their judgments and criticism of each other's philosophies. Then come sharp words (more so from Freud) that suggest these two men were unlikely to ever be in the same room together.
One scene where Lewis is forced to remove the prosthesis from Freud's mouth because he cannot breathe and is coughing up blood says a lot without words.
The discussions about God and religion bounce back and forth like a tennis tournament. At one point Freud says, "I bless your God who has given me cancer so I won't be here to see another (war)." Moments later Lewis responds, "The God of the Bible is a bullying busybody."
Two men talking for 90 minutes would seem boring no matter what the subject, but St. Germain's dialogue and its exposition of many things – war, worldly possessions, sexuality, ideals, marriage and "bad" people — is enthralling because it is delivered by superb actors. Santo and Turk master their characters.
In reality, such a meeting never happened, yet St. Germain's enticing positioning of the two, great opposite minds provides many thoughts about these men and is well created by staff, crew and actors.
---