Retiring architect leaves mark on Bishop's Library
By Linda Hutchison
After 40 years, San Diego architect and La Jolla resident Michael Wilkes has taken down his well-deserved and designed shingle. In retirement he will leave behind a legacy of superior design credits, including his most recent and final project, the Manchester Library and Learning Center at The Bishop's School, which was officially dedicated and opened on Aug. 22, as students returned to school.
As CEO of the former Delawie Wilkes Rodrigues Barker firm of San Diego (now Delawie), Wilkes said he faced several challenges when he agreed to design the new library. The building would stand on its own near the entrance to the campus, but it needed to blend in with the unique architectural style already created by Irving Gill in the early 1900s.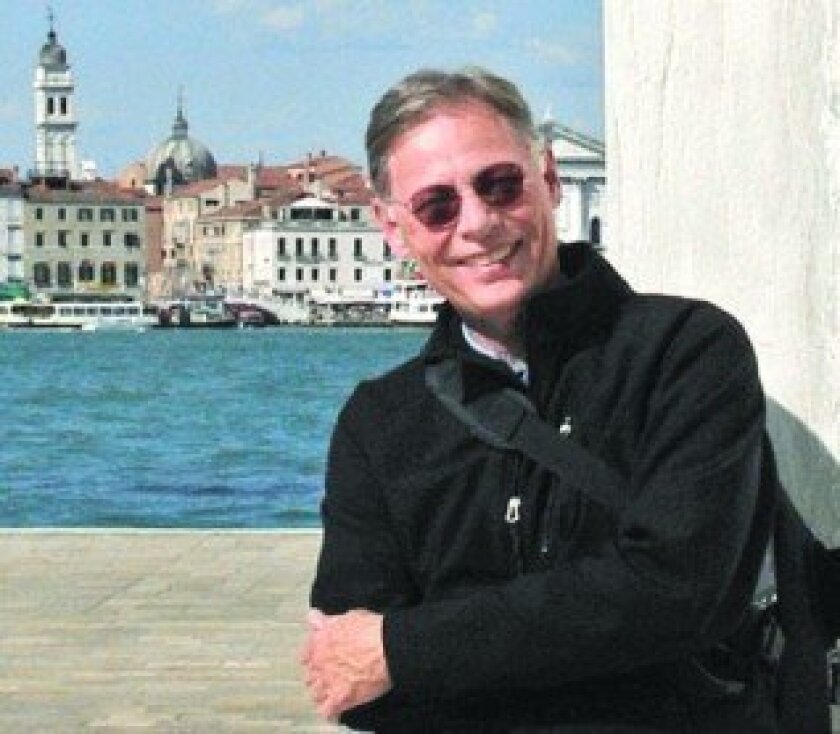 The library required at least 21,000 square feet of space where there was only room for 14,000, limited by several factors: the two-story height regulations, a large storm water easement on the north, a garage on the south, the parking lot on the west, and the historic Wheeler J. Baily Building on the east.
Wilkes overcame these limits by creating a basement level of approximately 7,000 square feet and connecting it to the first level with a two-story atrium.
"Basements are dark, so the atrium harvests light from the arched windows on the east and a linear ridge skylight in the roof," explained Wilkes.
For the exterior, Wilkes used the graceful archways and windows which define the Mission style and added a two-story staircase inside a bay window, offering a view across the quad, and a pergola on the west side, covering a balcony with an ocean view. By including these vertical and horizontal design elements, including copper trim on the roof, Wilkes has created a building that looks beautiful in any light and that appears smaller than its 22,000 square feet. "We didn't want a big box overwhelming the building next to it," said Wilkes.
The Bishop's School Library was Wilkes' second historic project. The other was the School of Leadership and Education Science at USD, in the Spanish Revival Style.
But Wilkes is a contemporary architect at heart, having studied at the University of Oregon under the discipleship of Louis Kahn (designer of the Salk Institute).
His projects have focused mainly on university and life science structures, and include the Muir College Tamarack Apartments and Stewart Commons renovation at UCSD, the La Jolla Institute for Allergy and Immunology, and the NOAA La Jolla Laboratory consolidation (in collaboration with GEA).
As Wilkes explained, contemporary architecture requires restraint and minimalism and is the opposite of Victorian ornamentalism. "It's like an Apple store, white and white, with great tables."
Wilkes first became fascinated with building design as a boy. The son of a Methodist minister, he said he moved around California with his family, including a younger brother and sister.
"My father was good at fundraising and building congregations, so I was often around church construction," Wilkes said. He also attended Oakland High School, designed by famed architect Julia Morgan, and got a taste of urban architecture.
After graduating from the University of Oregon in Eugene, Wilkes moved to La Jolla, where there were better job opportunities. He joined Delawie in 1971, was appointed a principal in 1980, and CEO in 1992. He was also named a Fellow in the American Institute of Architects in 1991. During Wilkes 40 years with the firm, it received more than 70 honors for design excellence.
Wilkes design ideas for La Jolla involve more nature than buildings.
"I'd like to see a coast walk, a way to connect La Jolla Shores with the Cove, so people don't have to walk along Torrey Pines Boulevard," he said.
Although Wilkes has retired, he is anything but still. A man of many interests, he is in constant motion. Up until he had knee surgery last year, he was a 
marathon runner. Now he bicycles at least 25 miles a day.
He also travels regularly to Eugene where is he on the University of Oregon Board of Trustees, teaches fourth-year 
architectural design classes, and mentors about 25 students a year.
He and his wife Penny (who teaches writing seminars at the university) also mentor student athletes and are 
passionate Ducks football fans.
In recent years, Wilkes has taken his love of light and shadows into the art of photography. "I really took off with the digital camera," he said. "With it, you can be free and whimsical."
In addition to collaborating with his wife on a book of poetry and other projects, Wilkes walks to the oceanfront regularly to photograph birds and surfers. He posts up to 50 photos a day on his two blogs: lajollawaves.blogspot.com and fotofeathers.blogspot.com. His photographs have won several awards, including first place in the San Diego County Fair's Birds category and a Juror's Special Commendation for several years from the American Institute of Architects National Photography Competition.
---