Retired La Jolla teacher, Mr. Syd Franklin still connecting with students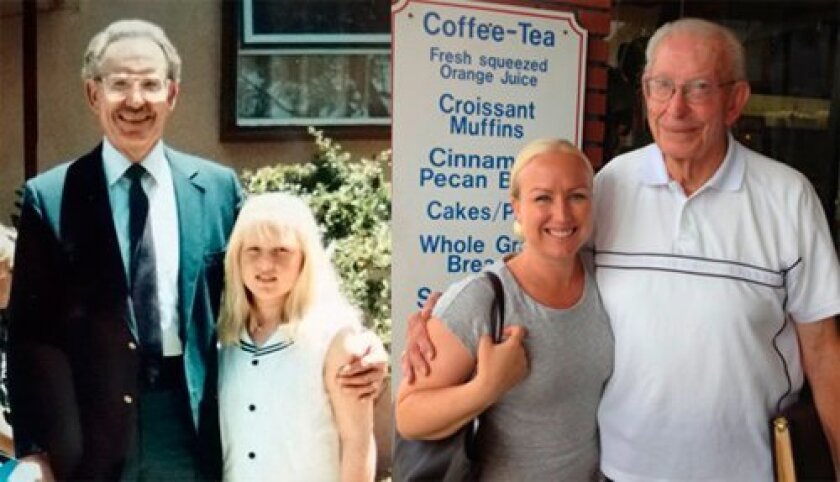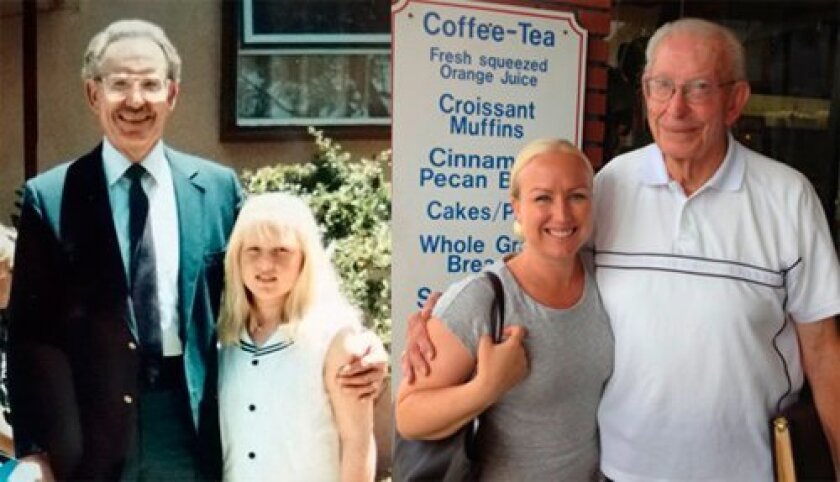 Author's Note:
Syd Franklin retired in 1991 from Muirlands Junior High (the same year it transitioned to a middle school with sixth grade) after teaching for about 40 years. You will often see him on Girard Avenue, either on a bench in front of Warwick's Bookstore or sitting in his white Mercedes Benz in downtown La Jolla. He was an inspiring, classy teacher who everyone loved.
A former classmate and I (we graduated in 1988) occasionally meet him for breakfast at Harry's Coffee Shop. He is so interesting and still inspiring. Other classmates have started to join us, and others have said they want to attend future outings.
Mr. Franklin enjoys hearing from former students and learning about their life travels. E-mail him at
gsf12@san.rr.com
By Karen Benito
Teachers have the ability to influence students, make learning exciting and nurture their potential. Some teachers can push their students to work harder and achieve more than they ever thought possible. Syd Franklin has influenced and motivated hundreds of sixth-grade students — including entire generations of families — at La Jolla Elementary, Decatur Elementary and Muirlands Middle School between 1954-1991.
To his students, Mr. Franklin was firm but fair, serious but playful, challenging yet fun. He never took himself too seriously. If he needed to discipline a student or talk to them about their work not being done, he would finish with a whimsical, "and then we'll all go to the seashore," with a twinkle in his eye.
Mr. Franklin "differentiated" instruction before that was even labeled a teaching strategy. To demonstrate dividing fractions to his sixth-grade students, Mr. Franklin once picked up a student, flipped him over, and explained that he was the reciprocal.
His love and knowledge of history, literature and travel provided inspiration for his young students, planting the seed for a desire to know and travel the world and understand new cultures and experiences. There has always been something quietly larger-than-life about Mr. Franklin, a Cary Grant-like movie star quality. If you see Mr. Franklin on one of his many strolls through downtown La Jolla today, you'll know him by the dapper manner in which he carries himself.
Born in 1929 in Green Forest, Arkansas, Mr. Franklin's mother died when he was one-and-a-half-years-old. He and his father then moved to Rochester, Minnesota, with his aunt, who helped raise him. His aunt had an ailment that had been incurable thus far, but had been told that the Mayo Clinic in Rochester could help her. It did, and Syd lived there until age 11, when his father got a job in San Diego.
As a child, Mr. Franklin's favorite subject was history. He graduated from San Diego State College (now San Diego State University) in 1951, and even played on the school's basketball team for a few years. After graduation, he elected to get a teaching credential, following in the footsteps of his mother and grandmother.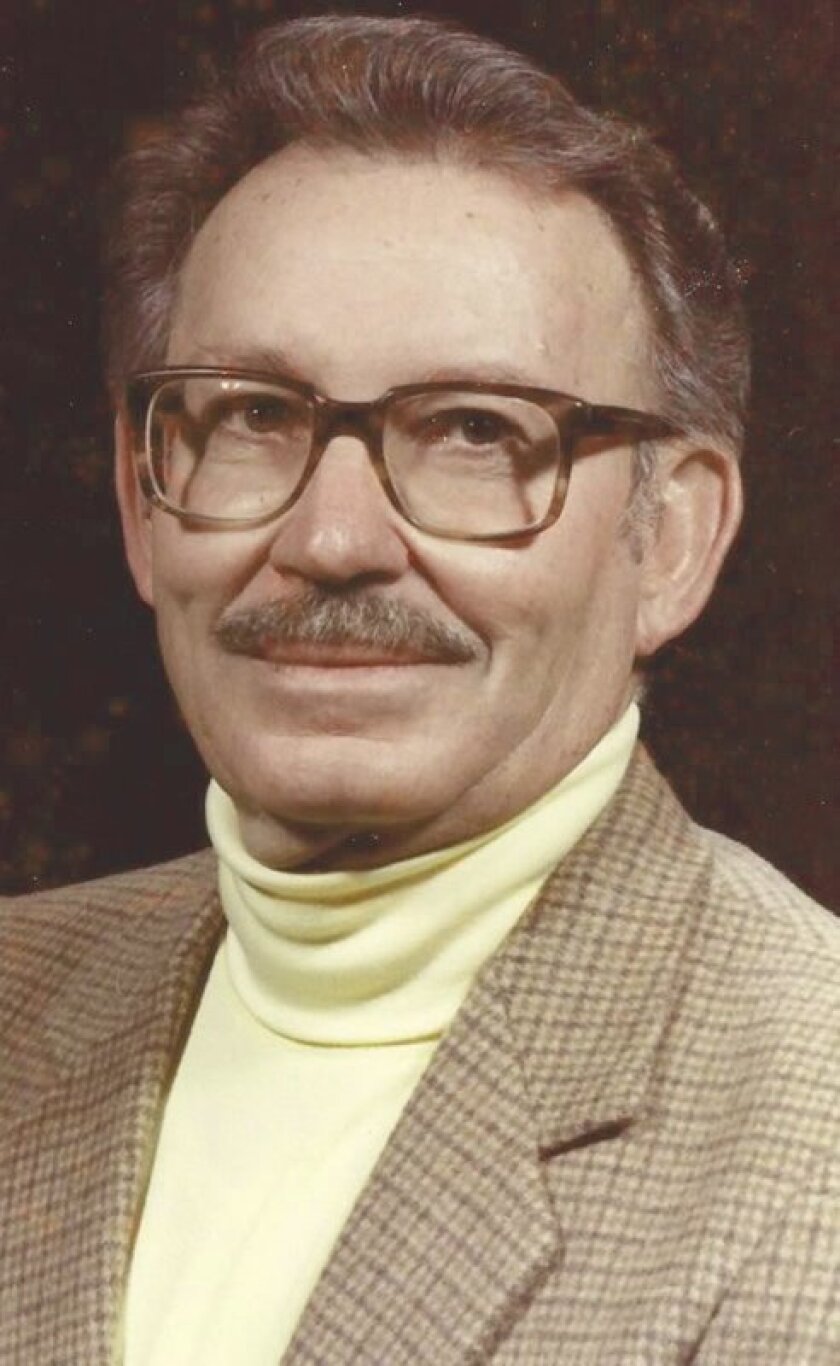 He was drafted during the Korean War in his second semester of student teaching, but never left the country in his two years of service in the Army. Mr. Franklin returned to SDSU to graduate with his credential in 1955, and later completed his Masters in Education in 1961.
Mr. Franklin began teaching at La Jolla Elementary in 1955, and was there until his principal at the time transferred him to Decatur Elementary (now the San Diego French-American School). His principal thought he would make a good match with another teacher, Geraldine "Gerry" Miller.
Turns out the principal was right! After four years of dating, Mr. Franklin and Ms. Miller were married on Dec. 20, 1964. Mr. Franklin then transferred back to La Jolla Elementary, because at that time, married people were not allowed to work at the same school together. Syd and Gerry will celebrate their 50th anniversary in December.
Mr. Franklin's last year of teaching was at Muirlands Middle School 1990-1991. At the end of that school year, he retired after 36 years of service to La Jolla families.
Retirement has given Syd the opportunity to spend time playing golf and traveling. Gerry and Syd's love of travel has taken them all over the world. They have traveled to seven countries together, including 91 cruises, of which 25 were voyages to Alaska and 25 to South America. Syd's favorite place to visit is Florence, Italy, because of his interest in the history of the city and the art.
Syd says he has many fond memories of teaching students in La Jolla; they kept him inspired and entertained with their wit and good humor. He remembers a student asking him if he could "displace the kinetic energy of the molecules on this side of the building," by which he meant, "Can I please close the door?"
When asked what advice he could give to students now, he says, "Things have changed, but pay attention, enjoy the year; it all comes back to benefit you in the future."
Not only was Mr. Franklin an amazing teacher to his students, but he was always a mentor and model to his fellow teachers. When asked what advice he could give to teachers, he advises them to enjoy the students in their classes, as "that will make teaching fun."
—
Mr. Franklin enjoys hearing from former students and learning about their life travels. E-mail him at
gsf12@san.rr.com
---