GUEST COMMENTARY: Response to comments regarding Children's Pool, seal waste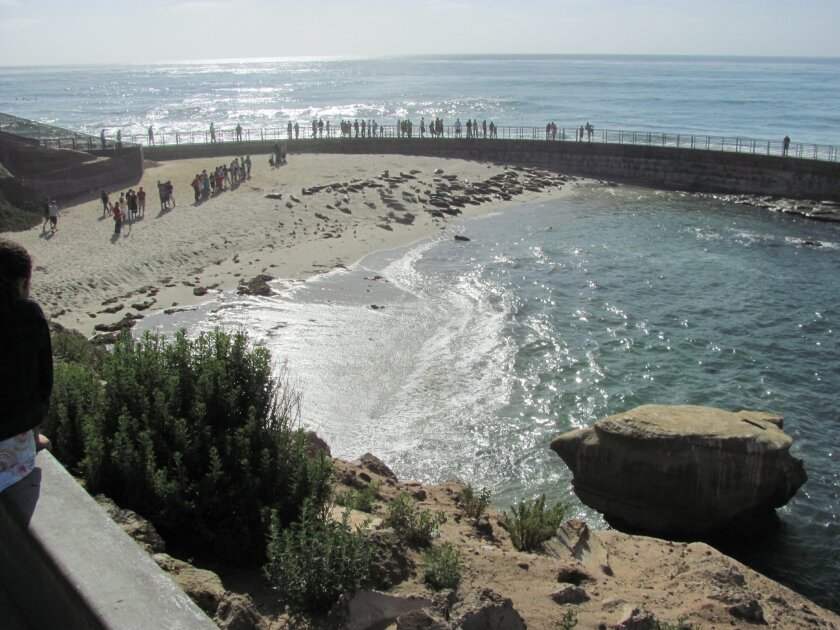 Ken Hunrichs is President, Friends of Children's Pool
My recent comments in the La Jolla Light about the claim of an enhanced ecosystem from seal waste seems to have drawn some surprising reactions. Who would have thought I could be "outed" for my support of restoring the Children's Pool to the rightful owners and for being President of the Friends of the Children's Pool (FoCP)?
Both are true statements but not relevant to the tongue-in-cheek comments about hunting lobster on the beach at Children's Pool. I mentioned this to call attention to the lack of maintenance of the Children's Pool Beach by the City of San Diego, causing the ongoing county health department advisory posted for years at Children's Pool. My comments were not intended to carry the weight of a peer-reviewed scientific study, although some thought that was required.
I thought my observations would bring attention to the causes of degradation of our environment in La Jolla and would create concern for a solution. I hope it will be given a higher priority among our city leaders. Causes of this decline may include impacts from human activity, but is the explosion of the pinniped population just a coincidence? What is certain is that maintaining conditions hazardous to human health is never the right direction for proper coastal management in La Jolla or anywhere.
The animal-waste-filled Children's Pool and the smelly bluffs around the La Jolla Cove are failures in coastal management. A "hands off" approach is not appropriate in a densely populated urban environment. Neither is knowingly causing even greater ecological imbalance by closing off sections of the coast.
Friends of the Children's Pool will continue to advocate for the restoration of the Children's Pool for the intended use as a park, playground and bathing pool for children, and to honor the donation of the seawall by Ellen Browning Scripps. Fishing rights and convenient access were protected in the state land grant also known as the "Children's Pool Trust." The Trust reflects fishing rights protected in our State Constitution for fishing in our coastal waters.
Miss Scripps built the Children's Pool for "those handicapped in life's game" to great acclaim and gratitude from the citizens of San Diego. It was dedicated as parkland in 1931 by actions of the State Legislature. Those using wheelchairs and those who need a more protected area to do water therapy would find the beauty of Children's Pool to be a wonderful boost to their recovery that cannot be matched in a concrete swimming pool or a swim in the bay. Sadly, officials from the City of San Diego are currently opposing an ADA-access lawsuit to maintain their deliberate exclusion of those unable to navigate the steep stairs to the beach at Children's Pool.
A beach access ramp, built in the 1940s, already exists at the Children's Pool. Although it does not meet current ADA standards, it was used for many years by those in wheelchairs with assistance. This same ramp was the primary access to the beach for all beach-goers, including children in strollers, and pulled to the beach in wagons. It is the most convenient way to the beach. It was never an issue until the city chose to bar access to that ramp with a locked gate and allowed that ramp to disintegrate.
It is shame this issue has become so controversial. The City of San Diego is responsible for proper management but has let this unique coastal resource go to near ruin with crumbling stairs and a closed public access ramp. The beach biohazard warning signs confirm the problem already detected by your sense of smell. The Pool is scheduled to be closed and become a seal reserve from December to May every year in violation of the Children's Pool Trust, the California Constitution and San Diego City Charter, Section 55. Wisely, a condition of the CA Coastal Commission's five-year closure permit will be for the city to figure out a way to clean up the mess at the Pool for the seven months of human use and provide access for everyone. It all could have been avoided by following existing laws and using just a bit of common sense.
I invite anyone interested in supporting our efforts to restore Children's Pool, to visit these websites: www.friendsofthechildrenspool.com, www.friendsofcp.com, www.restorechildrenspool.org and www.refusetoberolled.com
LETTERS TO THE EDITOR OCTOBER 9, 2014 EDITION
Rancor over La Jolla Christmas Parade name divides us
I grew up in a Jewish neighborhood in New York and always looked forward to celebrating Hanukkah. But every year my family would go for an evening drive to see the festive Christmas lights in the town next to ours.
When I started junior high school, my group of friends became more diverse. On Christmas Eve, my Italian and Irish friends invited me to attend midnight Mass just so I could be with them. Although I might not have agreed with all that was preached, I did enjoy the ritual and pageantry.
When I was in high school, my best friend's mom (an Irish Catholic married to a Russian Jew), hung up a stocking with my name on it on the fireplace mantel. She always referred to herself as my second mom.
When my daughter was young, I took her to the La Jolla Christmas Parade just for the festivity. I dearly love and honor my religion, but I also find a place for the holidays and traditions of others. The acrimony over the name of the parade divides us and I truly wish that we could find a compromise or let it be and move on.
I fear that fights such as these stoke anti-semitism, which is growing at a horrific rate throughout the world. I'm sure that others find the tone of some of the letters against a name change alarming, and I would like to see our community get past this issue.
Jeri Feldman, La Jolla
Teachers and educators provide diverse perspectives
One wonders upon what the letter writer in the Oct. 2 La Jolla Light bases her opinion that one of the major problems in education today is that "administrators and many faculty members teach intolerance and exclusion based on their personal opinions and beliefs." This has not been my experience and I don't believe it is true.
Further, a student who completes high school has had, by my count, approximately 25 teachers along the way. The student has thus been exposed to the opinions and beliefs of 25 different teachers and has probably therefore figured out that adults have opinions, that they don't all agree, and that the student needs to figure out for him/herself what he/she thinks about the world.
Actually, the more different opinions the student has heard, the more likely it is that he or she will be able to do that intelligently.
Candace Carroll. La Jolla
Beaches would be lost if dogs allowed off-leash
We risk losing our most beautiful swimmable beaches if they become off-leash dog areas. Why does California state law 7985.1 not allow animals on any beach designated for swimming or where lifeguards are present?
Because popular swimming beaches are not compatible with off-leash dog areas. How much dog poop is needed to contaminate a swimming area? Who will link children's illnesses to their swim in the ocean? Once a beach is designated "off-leash," who will pay for the study to test if the water is polluted?
We must cherish our remaining clean beaches and choose a different location for dogs to be off-leash. The off-leash proposal circulating in La Jolla targets beaches from Big Rock (Camino de la Costa) to Horseshoe Beach (220 Coast Blvd.).
Children of all ages can develop parasitic diseases such as giardiasis and cryptosporidiosis from swallowing contaminated water during swimming (cdc.gov/parasites/children.html)
A USA Today article, "Dog Waste Poses Threat To Water," states, "... dog waste ... It's an environmental pollutant. From mutt to blue-blooded champion, all dogs harbor so- called coliform bacteria, which live in the gut. The group includes E. coli, a bacterium that can cause disease, and fecal coliform bacteria, which spread through feces. Dogs also carry salmonella and giardia." (usatoday.com/news/ science/2002-06-07-dog-usat.htm)
Kaia Gantzel, La Jolla
I would like to ask that the La Jolla Light reconsider its coverage of the off-leash dog proposal. From all accounts (I believe) your coverage has been biased in favor. I would like to see a new poll established on your website so that those of us who are opposed can vote. I don't know what you are thinking. The proposed area (for dogs) is a densely populated residential area with very little parking, no facilities, the most minimal supervision by the city and lifeguards, and totally inappropriate for this purpose. Tourmaline Beach or La Jolla Shores are much better suited (to an off-leash dog beach).
Holly McMillan, La Jolla
Editor's Note: The La Jolla Light has never taken a position on whether or not there should be early morning hours for dogs to be leash-free on La Jolla beaches. Our news stories on the campaign over the past few weeks were unbiased and presented both the pros and cons of the issue, as well as the personalities for and against the proposal.
Please remember that Guest Commentaries and Letters to the Editor appear under the OPINION heading and are the views of the writers who are clearly identified and who stand behind their submissions. These pages and their content exist to provide the community with a platform for sharing insights and information in good-faith for the betterment of all.
More trash bins needed
Please have the city place more large trash bins on the beach (near the street) for easy city removal. More are drastically needed. It is not uncommon for the jewel-like ocean beach along Marine Street and Dunemere Drive to be fully scattered with plastic, paper and broken glass — all of which gets lifted by the ocean and carried out.
Certainly we all want a beautiful scenic experience and hope the fish we feed off of are not consuming carcinogenic plastic waste we have left behind.
Andra Welsh, La JoLLa
---