Replanting Her Roots: Longtime La Jollan returns with multi-media art show
By Ashley Mackin
Artist Kim McBride has some deep roots in La Jolla. She grew up here, moved away for a while, and recently moved back, hoping to make La Jolla her home once again.
She said the sunsets she saw here and the beach have served as inspiration for many of her paintings — some of which are on display at Barbarella Restaurant in the Shores. She hopes to connect with a gallery to show the rest.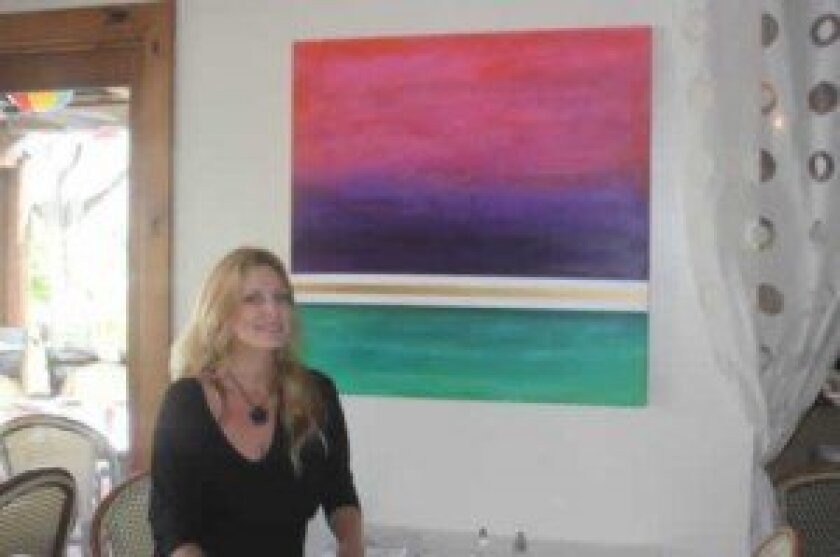 McBride's body of work includes paintings of brightly colored, sunset-inspired designs, as well as videos where she acts as famous musicians and sometimes their significant others at the same time. She said she wants to capture stills from these videos and display them.
Born in New York, at age 8, McBride moved to La Jolla with her mother. The pair moved into McBride's grandmother's house on the corner of Neptune and Fern Glen. Soon after, her mother married the man who lived next door, so they moved in with him.
Later, they moved two houses down and then they moved across the street from that house.
"I've literally lived most of my life on one block," she said. "I learned how to paint in my grandmother's garage, so it's kind of funny to come back after all this time."
As a freshman at The Bishop's School, McBride befriended senior Allen Branch. A friendship that was fun at the time, she said, but nothing too memorable. Five years ago, Branch and McBride reconnected through Facebook. They married in 2011.
The two traveled the West Coast, "looking for our place," she said. They were living in Santa Barbara when they decided to give the East Coast a try. When they found a house in New York, they packed up a moving van and headed out. While in Virginia, they got word that the house deal fell through.
"So we rented a 250-square-foot cabin in Woodstock," she said. "We went there and I said, 'we'll stay here for a day.' We ended up staying for a year. I did all my art there."
Missing the San Diego sunsets, she painted them. She said her paintings in strong lines and bold colors are simplified pieces one could look at and enjoy. "Especially having worked in that 250-square-foot cabin, I couldn't have this angry, I'm-an-artist kind of art," she said.
The couple decided to head back to the West Coast, and found a house in Bird Rock last month. Two weeks after she moved in, Barbara Beltaire, owner of Barbarella Restaurant, asked if she could display some of McBride's sunset pieces.
"Kim's art is playful and happy," Beltaire said. "It has this perfect summer feeling that represents the restaurant well." She said patrons have approached her about buying the art, and it will all be up until it is purchased.
The pieces that remain will be on display, even while Barbarella undergoes its annual Halloween transformation. McBride said her portrait of English 1980s punk musician Adam Ant might be added to the elaborate Halloween decor.
For her videos, she said she transforms herself to look and act like the rock stars she admires, and sometimes their significant others. She researches them, listens to their music, and does what she feels best represents them.
Her current project is a piece acting as Cher and Gregg Allman from the time they were in a relationship. She is also working on a portrait of Led Zeppelin's Jimmy Page that an art collector commissioned her to do.
---