Renaissance Singers have fun with old Italian street comedy
By Will Bowen
The La Jolla Renaissance Singers (LJRS) will perform the amusing madrigal comedy hit of 1608, Adriano Banchieri's "Festino Nella Sera del Giovedi Grasso Avanti Cena" (Entertainment for the Eve of Carnival Thursday) on two upcoming Sundays — May 13 and 20 — at different locales.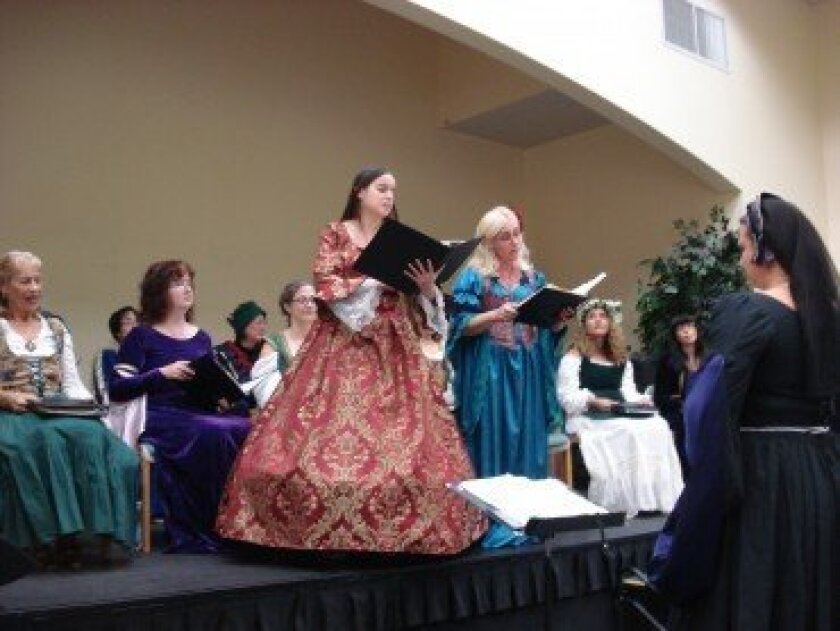 Festino is a one-hour set of 20 a capella tunes, sung in Italian (English text provided in program notes) by a group of revelers who are slightly drunk. The scene is the Thursday after Mardi Gras and the revelers are still tipsy, although they should have been done with their feasting and partying, and attending to the austerities of the season of Lent.
Festino is classed as a madrigal comedy — a precursor to
modern comedic opera. It was only popular for a short period of time, from the late 1500s to the early 1600s. Each of the vocal pieces in the piece, composed by the Benedictine monk Banchieri, follows the form of a humorous lyrical poem. It's interspersed with short monologues from the characters, who are derived from the stock of Italian commedia dell'arte.
According to Wendy Warhame Clemente, who has been the director of the LJRS for the past year, "The singers in this comedy imitate lovers, share inside jokes, sing bawdy songs and clichéd love tunes, mock those who walk by, dance like country folk, and imitate animals and musical instruments.
"It's an irreverent work, full of double entendres and silliness, all wrapped in light-hearted sentiment, with a very entertaining set of songs — not the usual serious fare that one finds at choral concerts."
LJRS was founded in 1964, making the group one of San Diego's oldest early music organizations. Originally, it was made up of scientists and their families, who worked for various organizations in La Jolla. Today there are teachers, doctors, researchers, professors, scientists, linguists, attorneys and professional musicians in the 25-member troupe. They range in age from the early 20s to the 80s.
LJRS specialize in vocal music from the Medieval Ages through the Renaissance, but occasionally foray into the Romantic Movement or Modernism. They like singing a cappella. During the day they work regular jobs, but once a week, on Wednesday nights for 2 hours, they get together in a home in La Jolla to sing and socialize in fancy period costumes.
"The ensemble is fun to work with because all the members are so diverse in their backgrounds," said director Clemente. "We all take turns bringing the refreshments — sometimes the food selection is pretty swanky!"
Ron Clemente, Wendy's husband, is the ensemble manager. He works at a biotech company and is in the Army Reserves. Some of the other members are Bill Propp, a professor of history at UCSD; Wendy Greene, who teaches music at Southwestern College; Dick Harris, who is retired, but used to work in the physics lab at UCSD; and Nancy De Monte, who works at the Scripps Institute.
Members are responsible for their own historic costumes. Some make them, others buy them online or from the Renaissance Faire when it comes to town, or hire a seamstress to fashion them from scratch.
Activities revolve around the semester system, which means the group performs about two different concerts a year, each at the end of a semester. For their last show, they preformed Benjamin Brittens's "Ceremony of Carols" at the San Diego Museum of Art, Scripps Ranch Library, and St. Mary Magdalene Church.
LJRS is always open to new members and holds auditions for people interested in joining. Warhame says, "Potential applicants come in for a private audition with the director and then participate in a rehearsal with the group," said Warhame. "Basically, we're looking for sight-reading ability. Applicants should be able to quickly pick up the music and sing their notes independently."
If you go
What: La Jolla Renaissance Singers in 'Festino Nella Sera del Giovedi Grasso Avanti Cena'
Concert A: 2 p.m.
May 13, San Diego Museum of Art in Balboa Park, free with
paid museum admission
Concert B: 3 p.m.
May 20, Blessed Sacrament Church, 4540 El Cerrito Drive, free-will offering
Contact: (760) 715-8871
Website:
ljrs.org
---