Ravi Shankar, 91, will perform at California Center for the Arts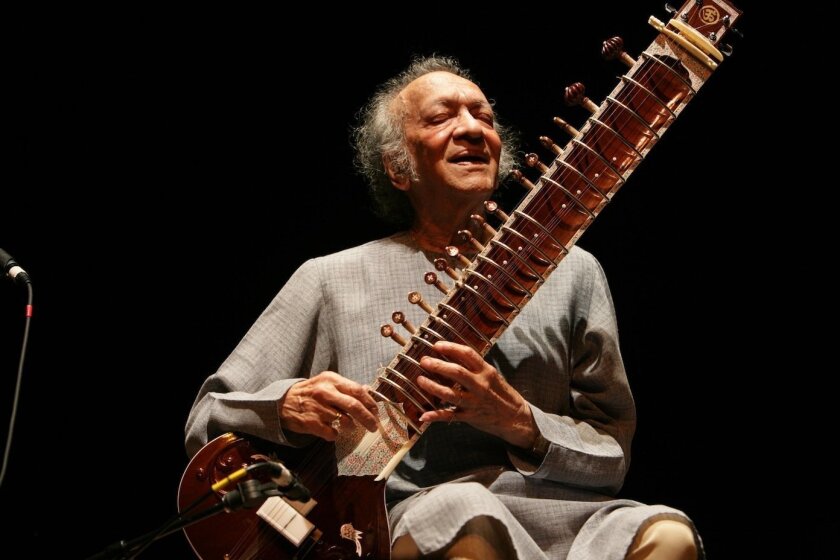 By Lonnie Burstein Hewitt
At 91, legendary sitarist Ravi Shankar is still going strong. The man George Harrison called "The Godfather of World Music" is touring California this month, giving concerts at Davies Symphony Hall in San Francisco and Walt Disney Hall in Los Angeles, culminating with a performance at the California Center for the Arts in Escondido on Sunday, Oct. 9.
Though he divides his time between India and California, living in Encinitas part of the year since the early 1990s, it has been four years since his last concert here, and his upcoming appearance is sure to draw legions of fans.
Shankar has spent most of his life introducing the music of his country to the rest of the world. In 1985, the California Institute of the Arts (CalArts), one of 14 institutions that have granted him honorary doctorates, hailed him as an "adored musical ambassador whose incomparable artistry has created bridges of understanding among the peoples of the earth."
He has been performing, composing, teaching and touring for almost 75 years.
One of his longtime students is his 29-year-old daughter, Anoushka, a graduate of San Dieguito Academy who continues his legacy with her own sitar-playing, recording, and touring. Another daughter, born and raised in Brooklyn, is pop/jazz singer/songwriter star Norah Jones.
Shankar's contributions to world music have been extraordinary. Besides being part of Monterey Pop and Woodstock, he has performed with and composed for Yehudi Menuhin, Jean-Pierre Rampal, and Philip Glass, as well as several lesser-known but equally gifted musicians of Japan.
He has recorded extensively in various countries, written scores for films as diverse as "Charly" and "Gandhi," and created three concertos for sitar and orchestra, the most recent one completed in 2008.
The Escondido concert is a grand co-production of the Indian Fine Arts Academy of San Diego (IFAASD), which offers concerts by masters of Indian classical music and dance; the Center for World Music, which fosters understanding of the performing arts and cultural traditions of other countries; and, primarily, the Ravi Shankar Foundation, a resource center for Indian classical music, including, of course, the works of the maestro himself.
He will be accompanied by a quartet of accomplished musicians who frequently perform with him: Tanmoy Bose on tabla, Samir Chatterjee on percussion, Ravichandra Kulur on flute, and on sitar, Parimal Sadaphal, one of the maestro's senior disciples from Delhi.
"Though Raviji was the inspiration for founding our organization, this is the first time we're producing him, and it's very exciting," said Divya Devaguptapu, a member of the IFAASD board. "We produce concerts by high-caliber touring artists every fall and spring, but it's really a great honor to be presenting Ravi Shankar."
Shankar recently played to sold-out houses in the United Kingdom, and Devaguptapu is predicting a sell-out crowd here. "After all, he is 91," she said.
If you go
What:
Ravi Shankar: An Evening with the Maestro
When:
6 p.m. Oct. 9
Where:
California Center for the Arts, 340 N. Escondido Blvd.
Tickets:
$25-$60
Box Office:
(800) 988-4253
Website:
www.artcenter.org
---