Rashaan Salaam's Heisman Trophy ring to be auctioned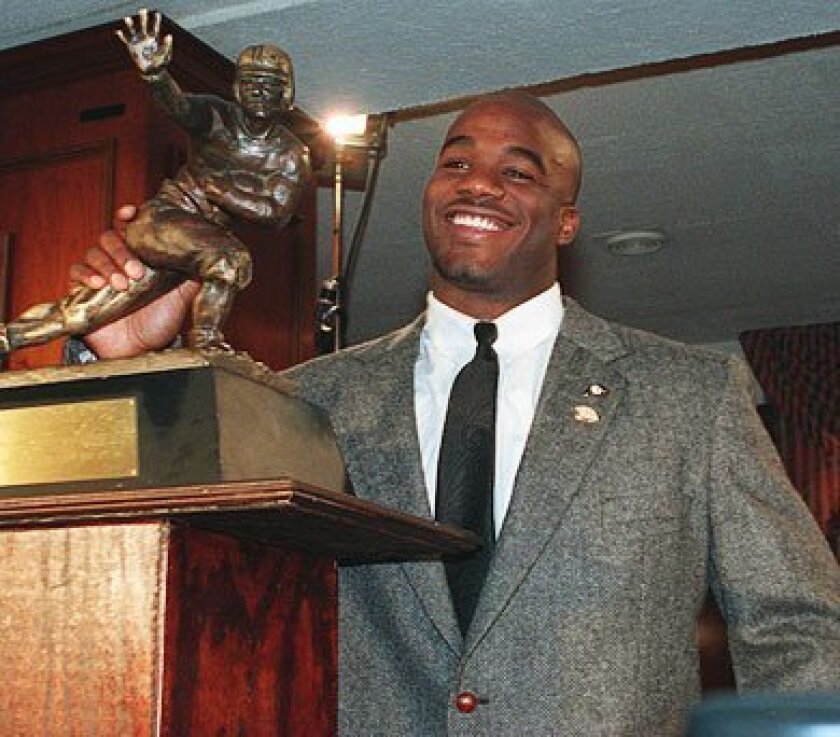 Rashaan Salaam's 1994 Heisman Memorial Trophy ring will be auctioned off at Nate D. Sanders' Tuesday. Aug. 9, auction.
Salaam, a La Jolla, California product played for the Colorado Buffalos from 1992 until 1994. As a junior, he had one of the most spectacular collegiate seasons ever rushing for a school record 2,055 yards and capturing the 60th annual Heisman Trophy. Salaam declared for the NFL Draft after his Heisman winning campaign and was drafted in the first round by the Chicago Bears in 1995. He ran for over 1,000 yards as a rookie, but injuries derailed a promising professional career.
Salaam's Heisman Trophy ring will be showcased to the public at the 32nd Annual National Sports Collectors Convention in Chicago from Aug. 3-7.
The Heisman Trophy issued to the outstanding player in the country is college football's most prestigious award. The Downtown Athletic Club awarded the Heisman Trophy and a ring to Salaam in 1994.
Salaam's stunning gold Heisman Trophy ring with over 20 diamonds is estimated to sell between $15,000 and $25,000. The ring comes with a certificate of authenticity from Rashaan Salaam and Nate D. Sanders Auctions.
The auction ends Tuesday, Aug. 9 at 5 p.m. Pacific Daylight Savings Time. Bids can be placed online at
www.NateDSanders.com
or by phone at 310-440-2982.
Additional information on Salaam's Heisman Trophy ring can be found at
https://natedsanders.com/ItemInfo.asp?ItemID=33883
---