Photos: Promises2Kids gala features concert by Cheap Trick
Rock and Roll Hall of Famers, Cheap Trick, wowed the crowd at the annual "Dream On" sunset concert, a benefit for Promises2Kids, held June 6, 2016 at the hilltop home of La Jolla philanthropist Joan Waitt. The gala featured a cocktail reception, live and silent auctions, dinner, and of course, the private concert. Cheap Trick, originally from Rockford, Illinois, was formed in 1973. It's biggest hit is arguably, "I Want You to Want Me." Promises2Kids was founded more than 30 years ago as the Child Abuse Prevention Foundation of San Diego County.
• Click on VIEW GALLERY to see photos from the event.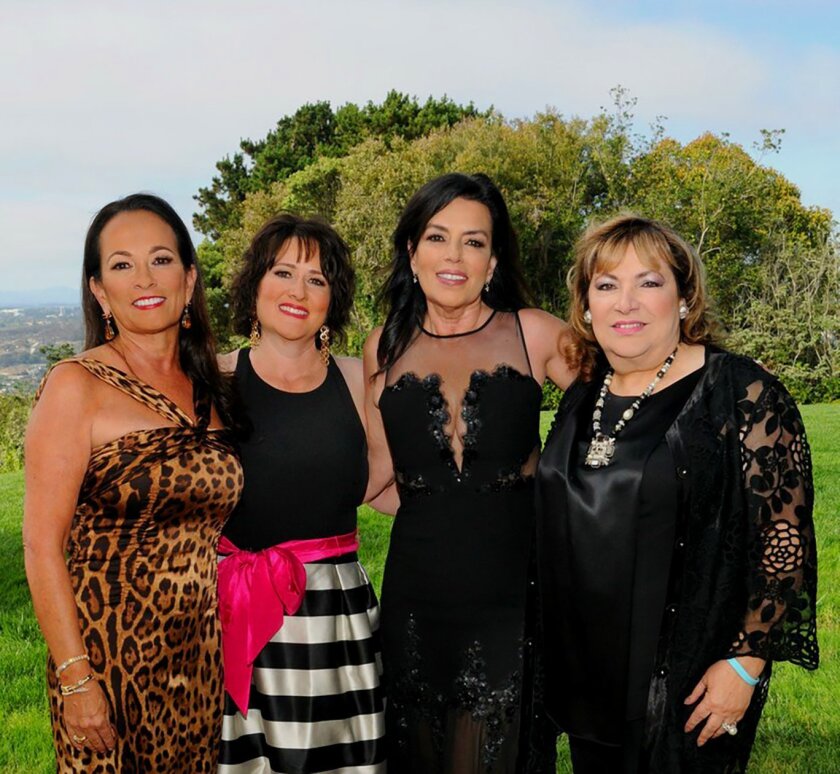 Host Joan Waitt with P2K CEO Tonya Torosian and event co-chairs Deborah Marengo and May Zawaideh
(Vincent Andrunas)
Cheap Trick lead singer and rhythm guitarist Robert Zander
(Vincent Andrunas)
Cheap Trick drummer Daxx Nielsen
(Vincent Andrunas)
Ron and Mary Alice Brady, Joyce Glazer, Sheila and Kirk Walwick
(Vincent Andrunas)
Carolin Botzenhardt, Molly McKellar, Nancy Borrelli, Virginia Luscomb
()
Todd Reinheimer, Betsy Gleijesex
()
Max, Emily and Hailey Waitt with Jordan Gafa
(Vincent Andrunas)
Gisel Hillmer, Debbie Benson
(Vincent Andrunas)
Josh Kordasiewicz, Kaitlyn Foley, Alana Barber, Brent Foster
(Vincent Andrunas)
Molly Bowman-Styles and Shawn Styles, Pilar Cardenas, Machelle Cardenas, Nadia Gastelum, Lee Posnock
(Vincent Andrunas)
Nikki and Ben Clay, Lauree and Monte Sahba, Lidia and Ted Martinez Jr.
(Vincent Andrunas)
Xavier and Christina Serrano
()
Angela Krasner, Alicia Gwynn, Mark Krasner, Anisha Gwynn, Sheila Fortune
(Vincent Andrunas)
Bob Salt and Patti Judd, Kathryn Vaughn, Robin Nordhoff
(Vincent Andrunas)
Summer Albertsen, Moe Razi, Janet Haigg, Skip and Caroline Coomber, Doug Timmons
(Vincent Andrunas)
Tom and Karian Forsyth, J.D. Appodaca, Kinnie Dye, Kristi Pieper, Steve Redfearn
()
Victor LaMagna, Ingrid Hibben, Rajah Gainey, Liz and Chris McCullah
()
Molly Bowman-Styles and Shawn Styles
(Vincent Andrunas)
Lisa D'Angelo, Lauren Hirsh, Ronald and D.D. Sires
()
---