Preliminary redistricting map unifies La Jolla; more meetings ahead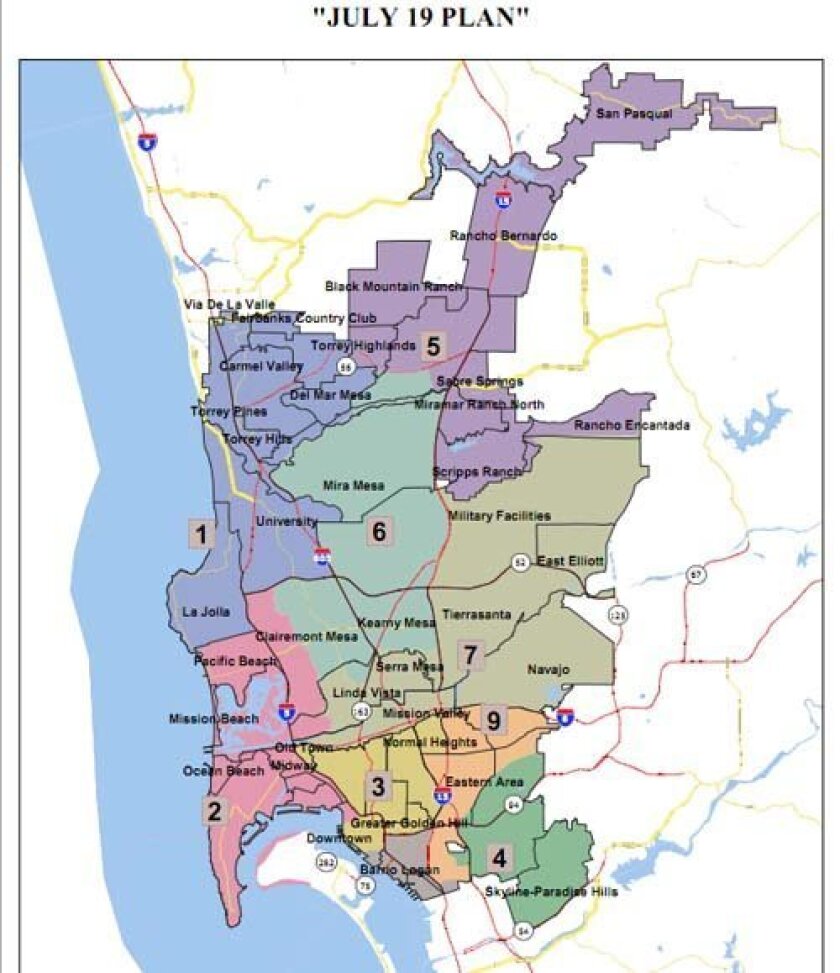 Staff and Wire Reports
San Diego's redistricting commission approved a preliminary plan Thursday to divide the city's more than 1.3 million residents into nine City Council districts, which proposes uniting all of La Jolla in the First Council District.
Joe LaCava, past president of La Jolla Community Planning Association who led a district-wide grassroots campaign for a plan called the "Coast and Canyons" district, said approval of the preliminary plan for redistricting is "very good news for La Jolla."
"The entirety of La Jolla was united in the new Council District 1," he said. "We were also successful in including the entirety of University City within Council District1, which was another of our goals."
LaCava has lobbied for portions currently in Kevin Faulconer's 2nd Council District to be moved to what is now Sherri Lightner's district.
The preliminary map created a new Ninth District to run from the College area to Southcrest with Interstate 15 as the western boundary in the southern part of the area.
The district will be about half Latino, according to demographic data, but only half of the eligible voters are registered. It will contain the largest population of immigrants in the city and will have a large number of low-income residents who were kept together based on economic interests such as affordable housing and transit.
LaCava noted some very difficult decisions had to be made by redistricting commissioners "given the way neighborhoods and freeways in San Diego are laid out."
From here, LaCava said the preliminary redistricting plan will go out for 30-day public review, then will come back with possible revisions from public testimony and be put into a final draft plan for an Aug. 25 vote.
"If there are no legal challenges, that plan will become final in late September," LaCava said.
A series of five public hearings is set to begin Tuesday.
The preliminary map was approved on a 5-2 vote with Commissioners Theresa Quiroz and Ani Mdivani-Morrow casting the dissenting votes, stating the map did not effectively represent an Asian and Pacific Islander community of interest, a sentiment echoed by several activists who spoke out at today's meeting.
"I would like to request to the commission that we consider redoing this and taking note of what it is that the API community is asking of us and drawing lines which reflect their need,'' Quiroz said. "They waited 10 years and I don't think we should make them wait another 10.''
The plan would attach Mira Mesa, which has a large Asian population, to District 6, and the adjusted boundaries will make the district, about one-third Asian.
District 8 would remain mostly intact under the plan keeping a significantly higher percentage of Latino residents at 75 percent.
Downtown San Diego would move to District 3, which would lose part of City Heights in exchange, but would continue to represent North Park and Hillcrest, satisfying the wishes of political activists in the gay community.
The final version of the redistricting map will be drawn after the public hearings are complete and is set to be voted on in August.
City News Service contributed to this report.
---